The Man Whose Lawyer Called Women Good Liars Was Found Not Guilty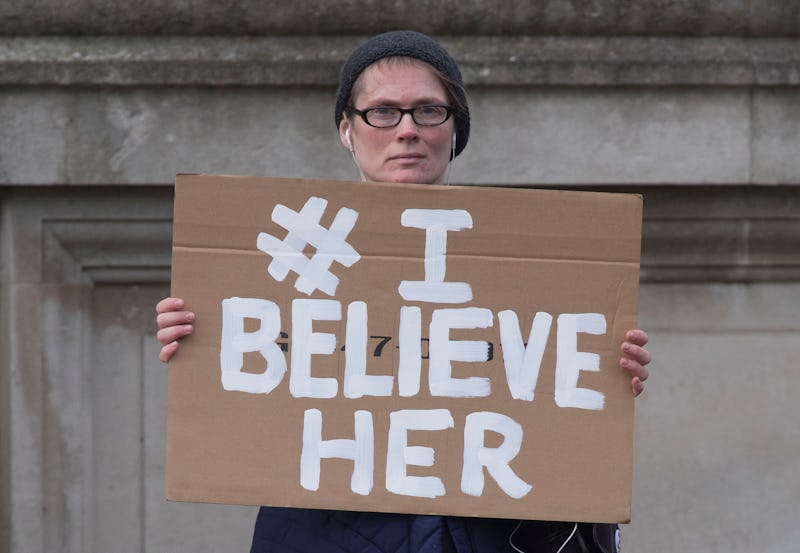 Matthew Horwood/Getty Images News/Getty Images
Defense attorney Steve Farese made a comment in Tennessee millionaire Mark Giannini's trial that stunned listeners. On Friday, Giannini was found not guilty of allegedly raping a woman who sought a housekeeping job at his house in Memphis, Tennessee. In the closing argument, the tech mogul's defense lawyer claimed women are skillful at lying.
Giannini, who was found not guilty, declined to testify, though his defense team argued that the sex was consensual. Farese explained his statement in the courtroom, claiming that women are the "weaker sex."
There's always a reason behind a lie. People can be very good at lying. Women can be especially good at it because they're the weaker sex and we [...] want to protect them and not have anybody take advantage of them.
Farese defended his "weaker sex" comment during the closing argument by saying, "That's what the book says," though it was unclear which "book" Farese was referring to. (Bustle has reached out to Farese for further comment and will update accordingly.)
Giannini was accused of allegedly raping a woman who came to his home to apply for a housekeeping job. The woman claimed that Giannini had raped and choked her during a 2014 interview that took place at his Memphis-area residence.
According to court documents detailing some extremely disturbing scenes, the woman claimed that Giannini had allegedly forced himself upon her after she supposedly gave him permission to drive her to his residence to better explain what the housekeeping job entailed. She accused Giannini of allegedly giving her a drink that contained an unknown substance. Again, Giannini's attorney denied the accusations and claimed the sex was consensual.
Bustle reached out to Fatima Goss Graves, the president-elect of the National Women's Law Center, about Farese's comments. Goss Graves describes Farese's comments as "outrageous" and that he made "a discriminatory argument" that played into the "long list of rape myths that make it hard for women to report violence and abuse."
She adds that it was crucial for attorneys to know that Farese's comments were unacceptable. "If we want women to continue to use the criminal justice system, they need to know that such conduct will be not be rewarded," Goss Graves tells Bustle.
Deborah Clubb, director of the Memphis Area Women's Council, also criticized Farese's comments, saying, "It was so offensive to hear ancient language saying all women lie, connive and can't be trusted. For Farese to stand there and put the blame on [the victim] and say all women are liars is beyond pale."
Later on, during a phone conversation, Farese reportedly said that "My job is not to care if anybody gets offended. Smart people will see it for what it is."
But there are no long-running studies that prove that women are "especially good" at lying. In addition to that, smart people don't call the other half of a population "the weaker sex" in front of a predominantly female jury during a rape trial. Furthermore, they don't engage in victim-blaming behavior like Farese did by calling the victim's halter-top "sexy."
It is incredibly unfortunate that Farese made these comments in the closing argument of an exceptionally graphic case which has garnered a considerable amount of public attention. Farese's comments can carry irreparable damage to the criminal justice system by not only clinging onto arcane ideas about women but also discouraging them from reporting sexual violence lest they be called liars.