Khan Wants Donald Trump's U.K. Visit Cancelled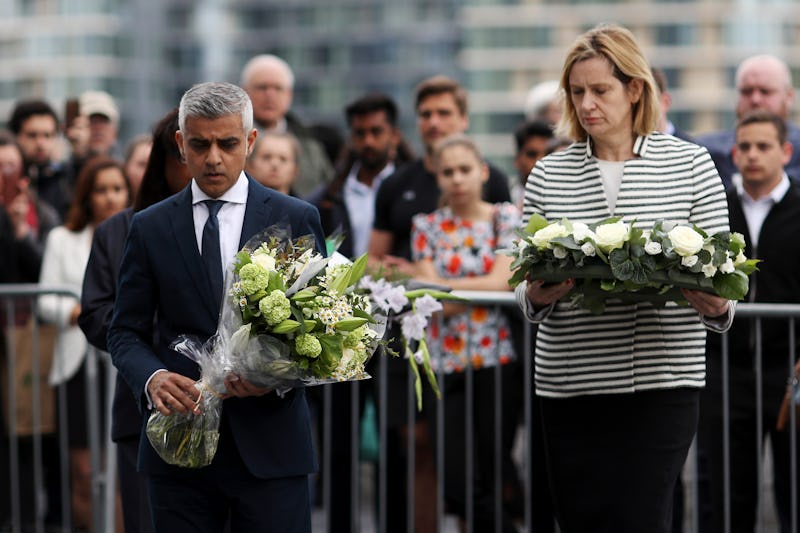 Dan Kitwood/Getty Images News/Getty Images
Saturday's terrorist attack in London — the third in as many months — was a somber occasion for the world. Unfortunately, Donald Trump used the attack as an opportunity to insult the city's leader. In response, London mayor Sadiq Khan wants Trump's upcoming U.K. trip cancelled, and Khan's strong statement against the American president is drawing a lot of attention. Trump is scheduled to make an official state visit to Great Britain in October, but the future of that visit, as well as the future of his influence in the U.K., could be in jeopardy.
"I don't think we should roll out the red carpet to the president of the USA in the circumstances where his policies go against everything we stand for," Khan said in an interview with Channel 4 on Monday. "When you have a special relationship it is no different from when you have got a close mate. You stand with them in times of adversity but you call them out when they are wrong. There are many things about which Donald Trump is wrong."
Khan and Trump have had a bitter back-and-forth in the days since the attack, exacerbating the already tense relationship between the British people and the U.S. government. Trump took to Twitter to criticize Khan after he reassured his constituents that there was no reason to be alarmed about increased police presence in London following the attack.
The original quote said that London is "one of the safest global cities in the world, if not the safest global city, but [will] always evolve and review" to ensure the safety of its citizens. However, Trump chose to highlight one line out of context, rather than Khan's fully stated commitment to the safety of his city.
Khan blew off Trump's attempted insult, delegating the response to a spokesperson who said that Khan had "more important things to do [than] respond to Donald Trump's ill-informed tweet that deliberately takes out of context his remarks urging Londoners not to be alarmed when they saw more police – including armed officers – on the streets."
Most Brits generally side with Khan when it comes to Trump — according to recent polling data, 64 percent of U.K. voters agreed that Trump is a "threat to international stability," and 50 percent associated him with the word "dangerous."
British voters have a chance to make a tacit statement about Trump during the country's snap election on Thursday. Prime Minister Theresa May's Conservative Party is hoping to pick up more seats in Parliament to increase her legislative majority, but her close relationship with Trump could jeopardize that goal.