Kendrick Lamar's VMAs Performance Wasn't Just About All That Fire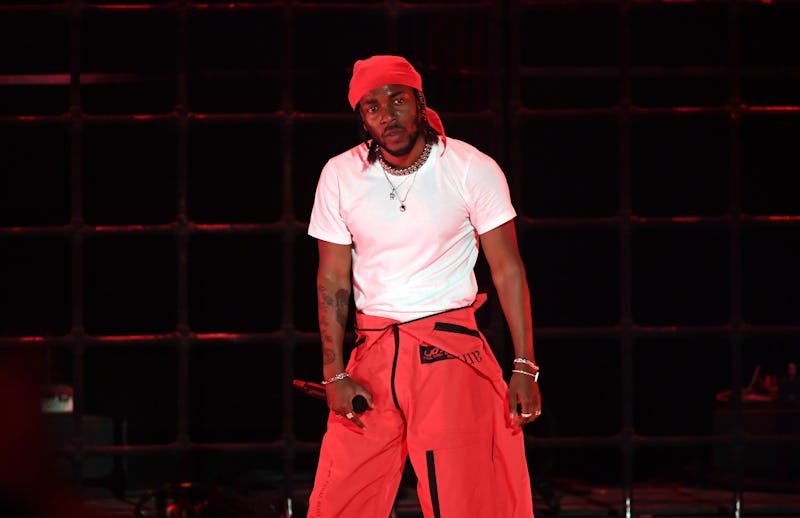 Kevin Winter/Getty Images Entertainment/Getty Images
Perhaps it's no surprise that one of the most exciting performances of the night at the VMAs came from the man who was nominated for the most awards this year. Kendrick Lamar's 2017 VMAs performance started off the show and included two of his big hits, "DNA." and "HUMBLE". Lamar, who is nominated for eight awards, included some of the kung fu references used during his tour performances and also featured fire in a big way. But when it comes to the meaning of his performance, that's more tied to this words than his pyrotechnics.
Lamar's performance opened with the same voiceover that opens his song "DNA." Before the song begins on his album DAMN, Geraldo Rivera's criticism of Kendrick's 2015 BET Awards performance of "Alright" is sampled. In it, Rivera reads lyrics from "Alright" and says, "This is why I say that hip-hop has done more damage to young African-Americans than racism in recent years." Lamar's songs are often politically charged and talk about his particular experience as a black man and about being black in America overall. The way he uses the Rivera sample before "DNA.", which is about his African-American heritage, highlights how ridiculous it is to suggest that hip-hop could be more harmful to young black Americans than racism.
I got power, poison, pain and joy inside my DNA
I got hustle though, ambition, flow, inside my DNA
And says more specifically about his life:
My expertise checked out in second grade
When I was 9, on-sale motel, we didn't have nowhere to stay
At 29, I've done so well, hit cartwheel in my estate
Further making the point that hip-hop couldn't possibly be as harmful to young people as Rivera implyed, as Genius notes, Lamar said in an interview with The Guardian, "These are issues that if you come from that environment it's inevitable to speak on. It's already in your blood because I am Trayvon Martin, you know. I'm all of these kids."
As for Kendrick's next song, "HUMBLE.", is it a comment to his fellow rappers, as well as one to himself. He told Rolling Stone:
"Definitely. It's the ego. When you look at the song titles on this album, these are all my emotions and all my self-expressions of who I am. That's why I did a song like that, where I just don't give a f*ck, or I'm telling the listener, "You can't f*ck with me." But ultimately, I'm looking in the mirror."
Lastly, we have his use of kung fu imagery. This is something that Lamar, who also calls himself Kung Fu Kenny, uses at his live shows for his DAMN. Tour. (The name is inspired by Don Cheadle's character in Rush Hour.) Martial Arts has been connected to hip-hop since the beginning, most prevalently with Wu-Tang Clan. According to Complex, the overlap is rooted in the young people originally involved in creating hip-hop culture watching kung fu movies that were often shown in America theaters at the time. As Complex notes, these movies gave young black people heroes to look up to that weren't white. Complex also reports that Joseph Schloss, who wrote Foundation: B-boys, B-girls and Hip-Hop Culture in New York, explained,
"What martial arts really did for hip-hop was to provide a model for an apprenticeship system that showed how you could respect a teacher or a mentor without diminishing your own self-respect. It was a model where you could be like, 'I'm going to learn to be humble and disciplined, and let this guy tell me what to do, but that doesn't mean that I'm letting him disrespect me.'"
The reason Lamar might be into kung fu as it relates to hip-hop is clear, but when it comes to his VMAs performance the statement he made was more connected to the messages in his song than the showmanship.