Here's How Harry & Meghan May Have Chosen Their Wedding Date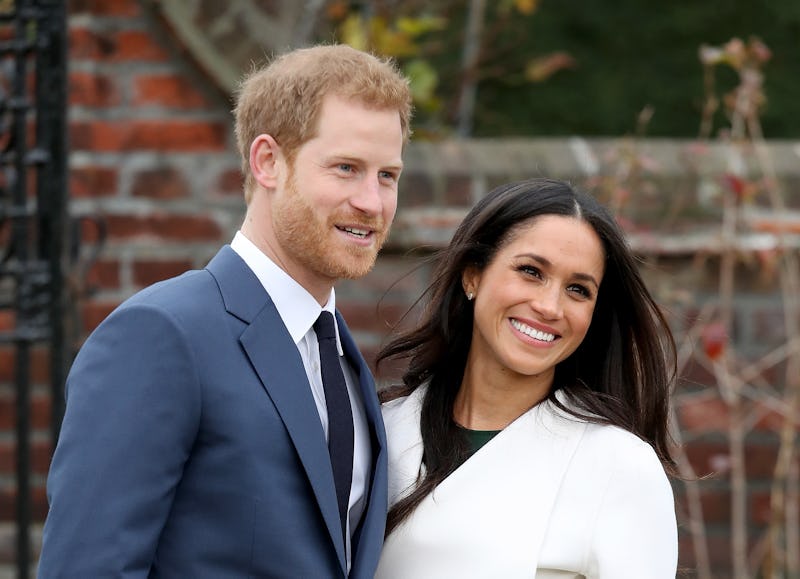 Chris Jackson/Getty Images Entertainment/Getty Images
The world finally knows exactly when the next royal wedding will take place. Kensington Palace announced, via Twitter, that Prince Harry and Meghan Markle's wedding date will be May 19, 2018. What's the meaning behind this particular date? There are some possible reasons why the pair will say "I do" on the May date.
Ever since Prince Charles, Harry's father announced via Clarence House's Twitter account that Harry and Markle were engaged on Nov. 27, there's been speculation as to when exactly their wedding would take place. Kensington Palace previously stated that the pair would get married sometime in May 2018 but did not release an exact date until now. That previous statement also confirmed that the wedding would take place at St. George's Chapel at Windsor Castle, which is where Charles married his second wife, Camilla.
What's the significance behind May 19? Maybe the two just wanted a spring wedding and St. George's Chapel happened to be free that day. But, it's also possible that there's a some kind of meaning behind their wedding date. Could it be because of a connection to Prince Philip? Or is there a humorous connection to Prince William's status as FA President? Here are some things that Harry and Markle could have taken into account when choosing their May 19 wedding date.
They Wanted To Set A New Trend
May 19, 2018 happens to be on a Saturday. This normally wouldn't be too out of the ordinary, as many weddings do take place on the weekend. However, that's not the case when you're a royal. It's typical that royal weddings take place on weekdays, as the Nottingham Post states. Prince William, Duke of Cambridge, and Catherine, the Duchess of Cambridge, got married on a Friday. Queen Elizabeth married Prince Philip on a Thursday. And Charles and the late Princess Diana got married on a Wednesday.
Harry and Markle are totally bucking this trend. It could just be another sign that they're changing with the times, but it also has people upset that they won't get a day off of work.
They Didn't Want To Upstage The Royal Baby
The Duke and Duchess of Cambridge are set to welcome their third child sometime in April 2018. So, it's possible that this later May date is a way for the couple to allow the royal baby to have its own time in the spotlight, and make sure that Middleton will be able to attend the wedding. This way, there won't be any real overlap with the baby's birth day and their wedding date.
They Want To Be Sure Prince Philip Can Witness It
Harry is apparently very close to his grandfather, Prince Philip. According to Entertainment Tonight, the reason why the couple's wedding date is so soon is because Harry wants his grandfather, who is now 96, to be present for the occasion. Katie Nicholl, a royal expert and journalist, said, "Harry thought it was it was a great thing to [have] the wedding sooner rather than later, so his grandfather could be there, fit and healthy."
While this is a sad reason to consider when coming up with a wedding date, that could be why the wedding is coming up quite soon.
They Wanted To Put William In A Tight Spot?
OK, this one may not be entirely meaningful but it is kind of funny. As BuzzFeed UK reporter Mark D. Stefano pointed out on Twitter, May 19, 2018 is the day of the FA Cup Final (the Football Association). And who just so happens to be the President of the FA? Harry's brother, Prince William! Maybe the pair didn't realize what day they planned their wedding for because this is going to put William in a tight spot. In the past, he's handed out the trophy to the winning team of the event, as he did at the 2015 FA Cup Final. He probably won't be in 2018, though. He'd obviously never miss his brother's wedding.
There's no way to tell for sure why exactly Harry and Markle's wedding is on May 19. One thing is certain though: There will definitely be tons of people tuning in that day to watch the lovely event.