Selena Gomez's "Fetish" Video Is Intense No Matter How You View It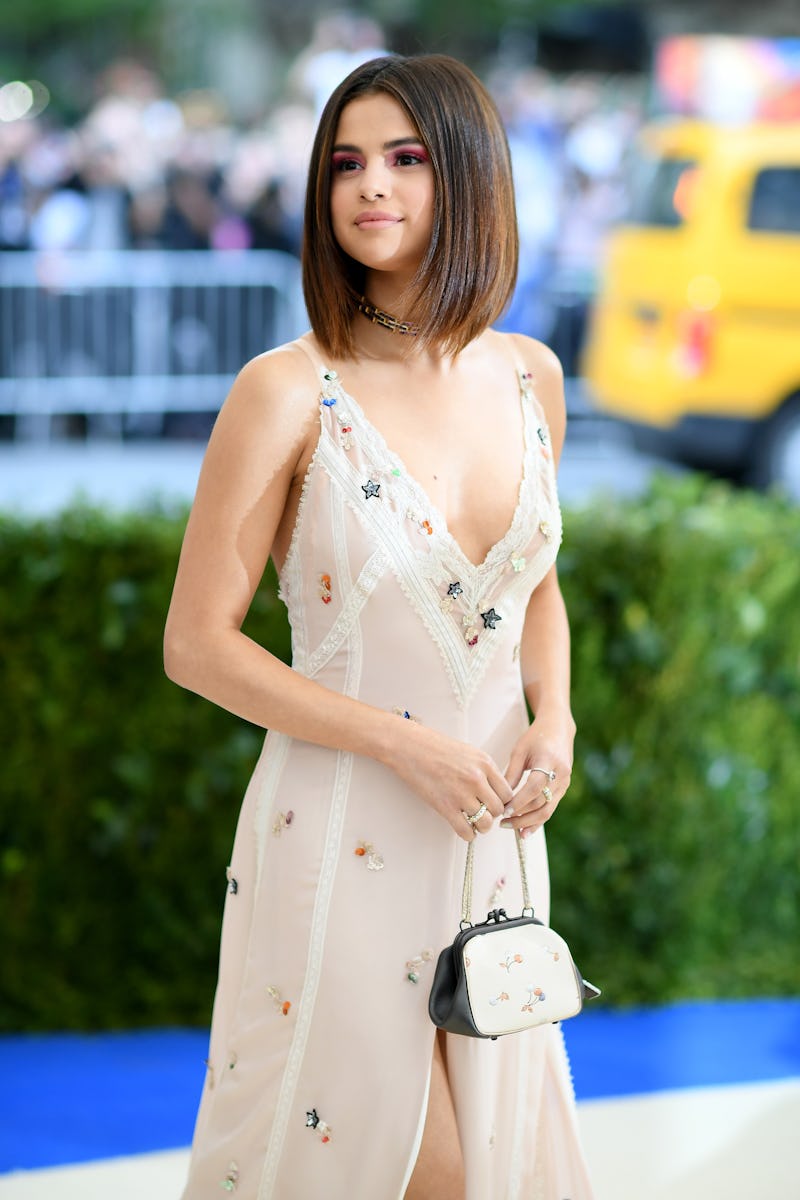 Dimitrios Kambouris/Getty Images Entertainment/Getty Images
"Selena Gomez released her music video for "Fetish" on Wednesday, and it's a surreal glimpse inside one woman's suburban home. The video, directed by Petra Collins, begins with Gomez carrying groceries down an idyllic neighborhood street. Things take turn, though, and soon the singer smashes the bag of groceries, crawls over a table set for a banquet, wraps her tongue in string, and writhes inside a freezer. There is definitely meaning behind the madness in Selena Gomez's "Fetish" video, and if it's unsettling, that's intentional. Whether its a metaphor for unhealthy love or an embodiment of destructive thoughts, the video can be interpreted in many ways.
The vintage-feeling lens through which the video is shot is Collins' signature style, and fans might have spotted the distinct look of her photography from the preview clips. The witchy, faded stills make even Gomez' most bizarre actions look pretty, until you realize that the singer is eating soap or grinding lipstick into her tooth enamel. That contrast is definitely intentional on the part of the video; the romanticizing of some of the grittier moments mirror the message of the song, which is about how fetishizing a partner isn't necessarily healthy. "You got a fetish for my love / I push you out and you come right back / Don't see a point in blaming you / If I were you, I'd do me too," Gomez sings in the song.
It seems like the video might be mimicking this push and pull relationship, as Gomez keeps putting inedible objects in her mouth and spitting them out. As water starts to rain down, it seems even more like she's fighting her environment, which is also her home. Some viewers understood the eating in a more literal sense, feeling that putting a shard of wine glass in her mouth or tasting soap is evoking a genuine addiction to inedible objects. This behavior does exist, and it has a medical diagnosis called pica.
Other fans had a more metaphorical interpretation, and have read the song and corresponding video as being a commentary on society's standards for women and how it encourages self-harm. This is another way to approach the actions in the video, especially because she is eating makeup.
In addition, Gomez has spoken candidly about dealing with the side effects of lupus, which included "anxiety, panic attacks and depression." To some, the self-destruction in the video could be showing a physical embodiment of dealing with similar emotions.
"Fetish" is the second recent single that the singer has released, following May's "Bad Liar." Gomez has yet to announce plans for a second full-length LP, which would follow 2015's Revival. However, this song and video combo might leave fans wanting more.