7 People Tell Us About The Mental Health Impacts Of Their BRCA Diagnosis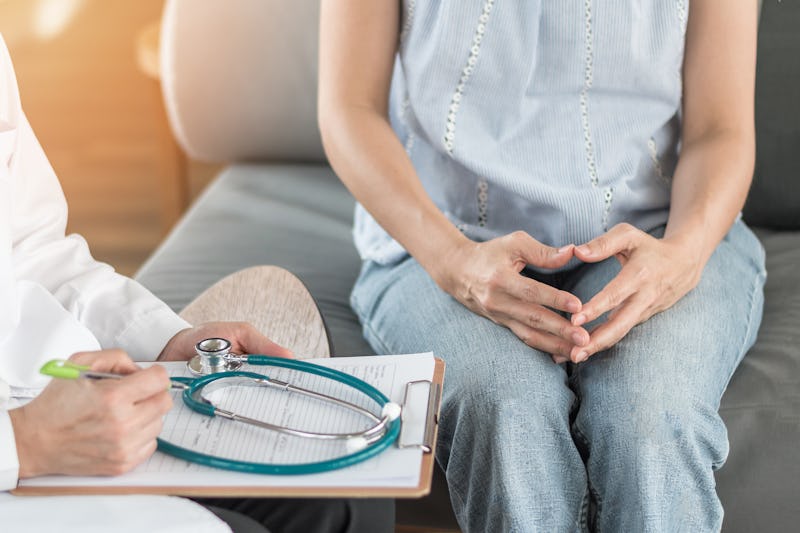 Chinnapong/Shutterstock
Science has shown that some breast cancers have a strong genetic component, and thanks to genetic testing, people can now find out whether they carry genetic mutations that increase their likelihood of breast cancer, years before any cancers develop. Angelina Jolie is a famous example; she decided to have a preventative double mastectomy in 2013 after discovering she carried a mutation of the BRCA 1 gene that increased her risk of developing breast cancer to 50-85%, according to Memorial Sloan Kettering Cancer Center. Getting a phone call from a genetic counselor saying you're BRCA positive is a life-changing experience. People who've gone through the process tell Bustle that a positive BRCA diagnosis can have a devastating mental health impact, and that the emotional repercussions may last for a long time.
First, let's define what these mutations even are. BRCA1 and BRCA2 are genes that suppress the development of breast and ovarian cancer in the human body. When these genes become mutated, which happens if either or both of your parents are a carrier for the mutation, your risk of breast and ovarian cancers is increased significantly, according to the National Cancer Institute. Patients with this diagnosis can choose to take steps to prevent a cancer diagnosis, such as having a preventative mastectomy or oophorectomy, or taking hormone therapy.
A diagnosis can have an impact on mental health, experts say. "Initial reactions to this news can vary greatly from person to person," mental health counselor Heidi McBain tells Bustle. "It's very common to feel anxious about what this means for their future. They may also feel depressed and withdrawal from others while they process this news internally. There can also be feelings of grief and loss."
A diagnosis of BRCA1 or BRCA2 genetic mutations can be life-changing, but the people who've had a positive diagnosis tell Bustle that they're often grateful for the knowledge. "Discovering you are a carrier for a BRCA mutation is not the end and does not mean you are damaged in some way," Susan, 27, who was diagnosed two years ago, tells Bustle. "I've decided being diagnosed with BRCA2 will not hold me back from living the life I have dreamed for myself. And it will not beat me."
Here's what seven people want you to know about what happens after a BRCA positive diagnosis.