This Alarming Factor Determines The Quality Of Mental Health Services You Receive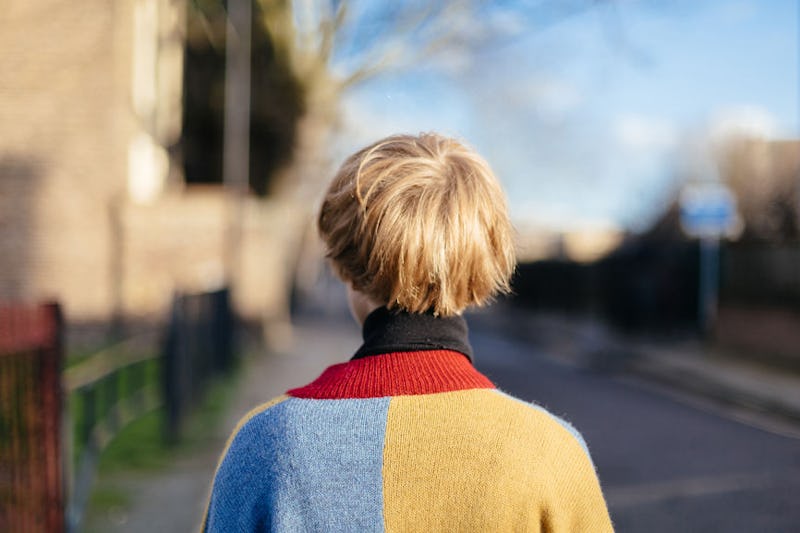 Hex/Stocksy
Numerous studies have demonstrated the existence of significant geographical disparities in the quality of healthcare across the UK. Little wonder, then, that these disparities extend to mental health care, as a new BBC investigation has revealed. According to the broadcaster, a major NHS mental health service is failing to provide adequate care in one in seven areas of England, while there's a "threefold variation in recovery rates between different places." Ultimately, the mental health services postcode lottery in the UK is very real, and a serious cause for concern.
The Improving Access to Psychological Therapies programme (IAPT), which launched in 2008, is an NHS initiative that treats adults with depression and anxiety disorders. It treats about 550,000 patients with depression, post-traumatic stress disorder, anxiety, and similar disorders each year, the BBC says; it's supposed to help half of the people it treats recover, meaning they're no longer described as "clinically mentally ill." But in 28 out of 195 local areas across England, the programme failed to meet this target between January and June 2018 (the target was met nationwide for the first time last year, and has continued to be achieved in every period since.) The failing areas include NHS Manchester, NHS Brighton & Hove, NHS Harrow, and NHS Wakefield; the BBC website also has a tool which allows you to check NHS performance in your area.
Between April to June 2018, patients in some areas of England were three times more likely to recover than patients in others. The BBC notes that fewer than one in four patients were successfully treated in Luton in this period, while only one in three patients in the Wirral recovered; this was due to overcrowded waiting lists and subsequent extended waiting times, NHS bosses in both areas told the broadcaster. In Stoke, meanwhile, two in three patients received successful treatment. Consultant psychologist Dr Mike Scott told the BBC, "The fact there is such a variation in recovery rates raises questions. If you had this with heart bypass surgery, there would be real suspicions."
Clinical psychologist Dr Ryan Kemp, a director of therapies at Central and North West London NHS Foundation Trust, pinned the programme's failings on insufficient funding, resulting in "pressure to move people out of the service."
However, Professor David Clark, one of the creators of the IAPT programme and a clinical adviser to NHS England for the initiative, told the BBC that it's "widely recognised as the most ambitious programme of talking therapies in the world." He said that IAPT met multiple other objectives, including targets for patients' waiting times, concluding, "Most importantly it has helped of hundreds of thousands of people to overcome their depression and anxiety, and better manage their mental health."
Fears about a "postcode lottery" affecting local quality of NHS care resurfaced earlier this month, upon the release of NHS watchdog the Care Quality Commission's (CQC) annual report. "Some people can easily access good care, while others cannot access the services they need, experience 'disjointed' care or only have access to providers with poor services," the report said, according to the Guardian. Again, the Wirral was flagged as a struggling area, as well as Portsmouth, the Isle of Wight, and Kent.
The report also raised concerns about geographical disparities in mental health care, finding that one in five NHS mental health services need improvement. Another faltering area, according to the CQC, is adult social care; a sixth of these services need to improve, the report concluded. A representative from the Department of Health and Social Care responded to the report, saying, "We want the NHS to be the safest healthcare system in the world, and this starts by ensuring every single patient in this country receives the highest quality of care, no matter where they live."