The Millennial Candidates Elected To Congress Will Bring So Much Change To Capitol Hill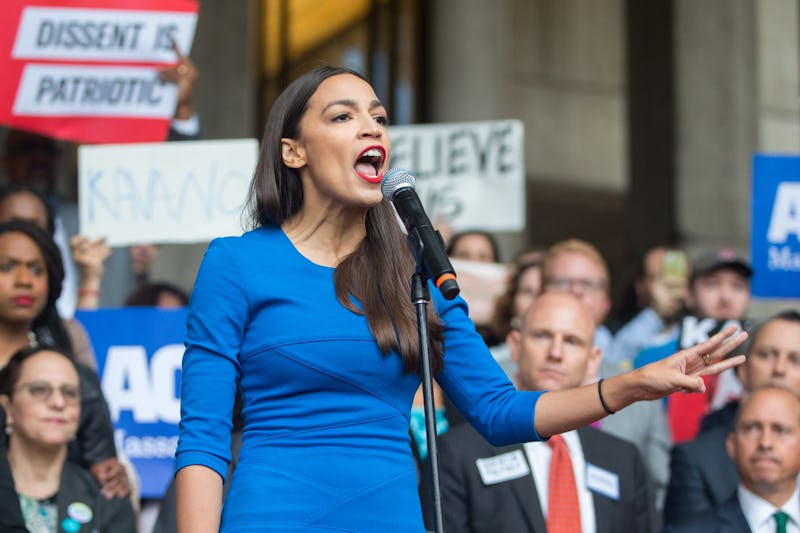 Scott Eisen/Getty Images News/Getty Images
The Tuesday midterms saw a number of historic firsts, including a record-breaking number of millennial candidates running for office across the country. According to Axios, about 700 millennials ran in the roughly 6,000 state legislative races on Tuesday, though far less were running for U.S. Congress. Here are the millennial candidates elected to Congress on Tuesday, and who are expected to make Congress a little more representative of one of the largest voting blocs in the United States.
In 2016, 62 million millennials, who were 20 to 35 in 2016, were U.S. citizens of voting age, according to Pew Research Center. That means millennials will soon outnumber the 70 million Baby Boomers (who were ages 52 to 70 in 2016). Additionally, millennial voters were expected to turn out in record numbers for the midterms — polls projected millennial turnout for both Democrats and Republicans to be 40 percent nationwide, according to CBS Chicago.
Still, despite their increasing turnout and the fact that millennials make up 27 percent of eligible voters, only 6 percent of lawmakers in state legislatures are millennials, Axios reported. In the current U.S. Congress, the average age of a lawmaker in the House of representatives is 58, according to Roll Call. The average age of a U.S. senator climbs to 62.
But after Tuesday, that gap in representation is at least a little bit smaller. Nearly 20 millennials won their primary races back in June, according to Millennial Action Project, and now a handful have officially won congressional seats:
As midterm results were announced on Tuesday, CNN's Van Jones reflected on what he referred to as the "new Democratic Party" and celebrated the fact that representatives of the party are becoming younger and more diverse. As the host described:
My heart has been restored. It is the end of one-party rule in the United States, thank God, and the beginning of a new Democratic Party: Younger, browner, cooler, more women, more veterans.
Prior to her election, New York's Ocasio-Cortez, who is now the youngest woman ever elected to Congress, reflected on why she believes it is so important to have millennial representation in Congress. As the now-congresswoman described to Pacific Standard magazine:
These issues that affect this country affect Millennials arguably the most. Boomers, the generation largely represented in Congress, used our generation as a credit card. They put every war on us, they put every soaring cost of college tuition on us, they put a boiling planet on us. And they have no incentive to fix it because they are not going to experience the world that they are wrecking. ...
It's not only that it's important for young people to run for office — it's really only going to be young people who are going to fight as hard as possible for the solutions that are going to turn this ship around. Our culture only changes when our representation changes.
Millennials certainly made history on Tuesday evening. As the new session of Congress begins in January, many Americans will likely be eagerly watching to see how these representatives implement their campaign platforms and approach proposed congressional legislation.
Sarah Friedmann contributed to this report.