The New 'Mindy Project' Trailer Will Make You Gasp… Repeatedly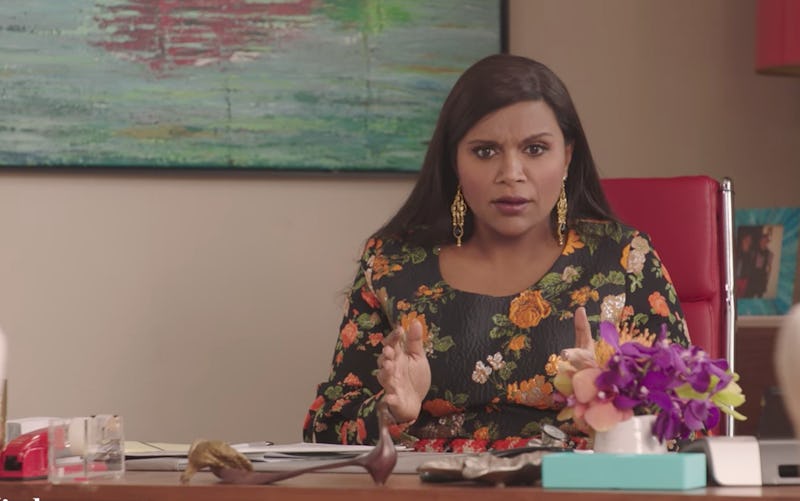 Hulu
Exsqueeze me?! After much anticipation, The Mindy Project Season 6 trailer is finally here. As sad as it is that this is the final season, with only 10 episodes, it sure looks like it will deliver in more ways than one. It was previously revealed that Mindy and Ben will get divorced and that Chris Messina will return as Danny, and as surprising as both of those elements were when first announced, the trailer offers up some even more shocking moments.
First of all, you know it's going to be a good season, when the trailer opens with Anna saying the following line to Mindy: "Oh, you've packed up all your stolen toilet paper, you must be heading out." Classic Mindy Project. But, what makes this particular teaser so gasp-worthy isn't when you see a body falling and discover it's Morgan, who is now in a neck brace (it was previously announced Ike Barinholtz's real-life injury would be written into the show), but when a former couple kisses, an ex of Mindy's shows up, and a Modern Family star gets into a physical altercation with Mindy, among many others.
Yeah, this season isn't holding back — and here is the proof.
When Morgan & Tamra Kiss
Take note that Tamra kisses Morgan first, so, yeah.
Mindy & Morgan's Matching Outfits
That's a lot of sequins.
Everyone's Excited For Jeremy & Anna
Wait, does this mean Jeremy has finally found serious love?
The Return Of Cliff
Is he the one helping Mindy with her divorce?
Morgan's Job Interview
Whoa. Here's hoping this is part of a scheme and not Morgan looking for another job that doesn't involve his BFF Mindy.
Mindy's Fight With Julie Bowen
For those unaware, Bowen is playing a rival mother to Mindy.
Now, go ahead and watch the trailer for yourself.
If you need further evidence that the final season is going to be fabulous, allow this quote from Mindy to convince you: "I got a great job, I got a great son, Will & Grace is back — and b*tchier than ever. I'm doing good!"
Yes, Mindy Lahiri, yes!