'The Mindy Project' Season 6 Will Tackle This Super Important, Mom-Centric Issue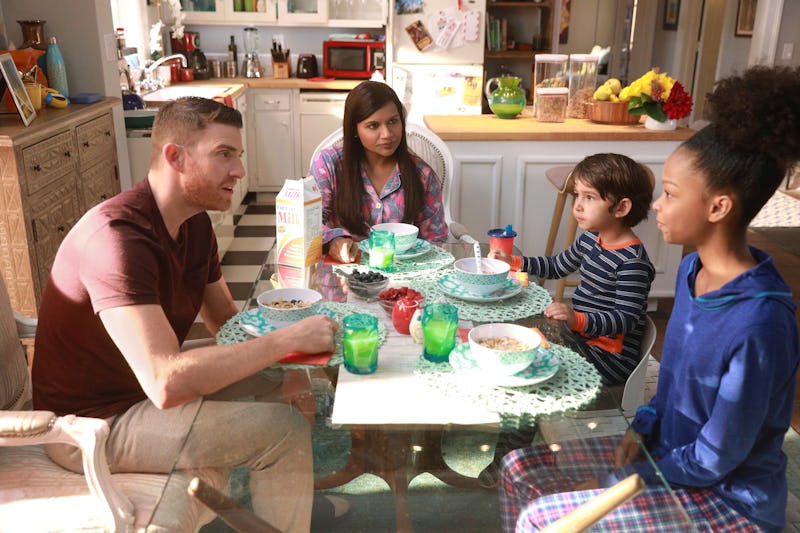 Hulu/Jordin Althaus
Little Leo isn't the only one growing up on The Mindy Project. Set against her real-life pregnancy, Mindy Kaling will tackle mommy-shaming in the sixth and final season of The Mindy Project (which debuted Sept. 12). Mindy Lahiri's journey may be coming to a close, but she still has a lot of learning to do about herself as a woman and a mom in these last few episodes. At the season premiere in LA, cast members describe how tackling mommy-shaming this season will shed light on the inner struggles of Kaling's character and on a much larger social issue.
Back in July, Kaling described her character's rivalry with judge-y mom (played by Julie Bowen), as a "juicy, ripped-from-the-blogger-headline story line." In the world of blogging (and mommy blogging), everyone has something to say about what being a "good mom" entails. Xosha Roquemore, who's been part of the show since Season 1, says the storyline will help open viewers' eyes, not only to the reality of mommy-shaming, but to their own behavior. "I think it'll add a sense of reality," she explains. "I'm sure moms with kids that age probably get mommy-shamed, or have shamed other mommies."
Plus, seeing mommy-shaming happen through Mindy Lahiri's point of view, as someone trying to figure out the world and herself, will allow tons of fans to relate.
Since welcoming baby Leo with Danny (Chris Messina) in Season 4, Mindy's life as a hopeless romantic and kickass career woman has certainly shifted, and that evolution is amped up a notch in Season 6. Rebecca Rittenhouse, who plays Mindy's coworker Anna, sees why so many working moms will empathize. "A lot of women will relate to that, because today women work, they're juggling a ton of responsibilities," she says. "Just because your version of being a mom doesn't fit somebody else's idea, doesn't mean anyone should be shamed for it."
Fortune Feimster, who plays nurse Colette, points out the pressures mommy-shaming can create and how it can make women feel inadequate. "There are some episodes about not getting to be there enough for the kids, definitely feeling guilty — she explores all of that," Feimster says. "It's a different dimension, a lot of moms who aren't represented very much in the entertainment world."
And knowing Kaling's character, nothing will be sugarcoated. "We know that Mindy Lahiri is crazy, I don't think she's gonna handle it sitting down," Roquemore jokes. "She's gonna be popping off in peoples' faces." (Fans already saw a preview of her going after Bowen's character in the trailer.) Feimster adds, "To see Mindy figure it out is fun. She makes apologies for it sometimes, but she's like, 'Hey man, I am who I am.'"
Mindy Lahiri is the first person to shamelessly be her non-perfect self. Hopefully, seeing her navigate this unfortunate side of motherhood will help women see that it's unrealistic to have it perfectly together all the time and that being a good mom is completely subjective.