People Are Still Missing From Ariana Grande's Manchester Concert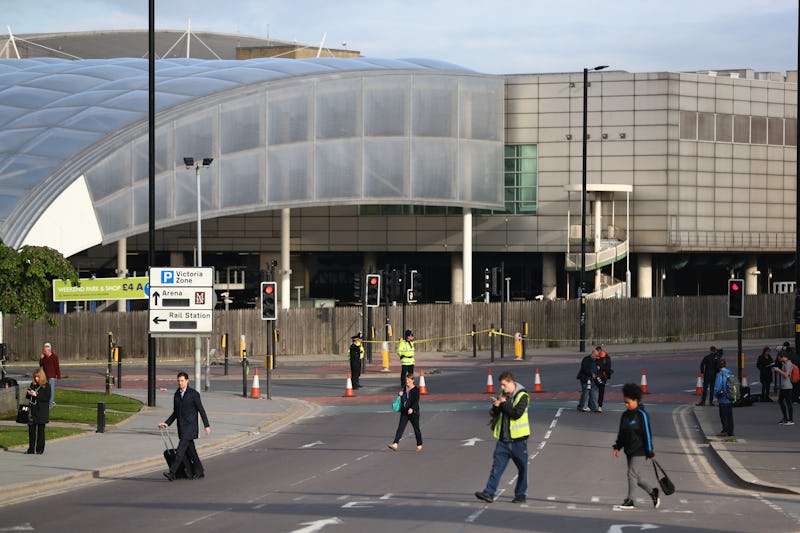 Dave Thompson/Getty Images News/Getty Images
As parents, friends, and family wake up in Manchester, the morning after a devastating bomb attack at an Ariana Grande concert, many are still looking for their loved ones who attended the concert but have not yet been heard from. They're turning to social media and even British television to try and reach them. Currently there are at least 22 dead and another 59 injured from the suspected terror attack. But there are also missing people from Grande's Manchester concert — an exact number is unknown — and their families' worry is devastating.
One such worried family member went on British television Tuesday morning with a plea to help find her daughter, The Telegraph reported. Charlotte Campbell explained how her 15-year-old daughter had been at the concert and hasn't been heard from since.
"All I know is she was at the Manchester Arena with her friend watching Ariana Grande and she's not turned up yet," Campbell told the morning TV show Good Morning Britain. "I can't get through to her. I've called the hospitals, I've called all the places, the hotels where people say that children have been taken. I've called the police. There's no news, I've just got to wait. I'm waiting at home just in case she turns up here."
Campbell is not alone in looking for missing family or friends. Some have turned to social media to try and find the missing. One Twitter post has been retweeted 40,000 times because it starts a thread to pictures of the missing. Katja, with the handle @heyvioletfam, explains that she's starting a thread of missing people to make finding them easier. She and others responded to the post with photos of the missing and Twitter accounts of those looking in case there was any news.
Officially, if you are looking for someone who remains missing, there is a phone number to call, per the Manchester authorities. The Greater Manchester Police told Metro that "an emergency number is available for those who are concerned about loved ones or anyone who may have been in the area. Dial 0161 856 9400 from the area or +44 0161 856 9400 from abroad.
To potentially connect with someone via social media, there is also the hashtag #MissingInManchester. Lots of posts continue to go up, with loved ones focusing on reaching those staying at hotels near the arena. Police put up a cordon and many stayed at hotels within the cordon, next to the arena overnight.
Also, if you do go on Twitter, it is important to note that there are some fake posts circulating too. In addition to the legitimate missing are a number of posts about missing children who are either not missing because their photos were pulled from online articles and posts about other things.
Despite troubling developments like the fake posts, it seems that the majority of the Manchester community is pulling together to help each other get through the atrocity. Emergency services, hotel staff, and taxi drivers have worked through the night to get people home safely.
Manchester's Mayor Andy Burnham said that he sees the city pulling together in the same way London did after the metro bombings there in 2005. "We will stand strong, and stand together, that's what we are. That's what we do. So they won't win. We are grieving, we are hurt today, but as I said we are strong," Burnham told The Guardian.
Part of that coming together will be locating these missing people. For all of the affected friends and family, these hours not knowing will be extremely difficult.
Here are some ways you can help.