A Judge Just Blocked Enforcement Of Missouri's 8-Week Abortion Ban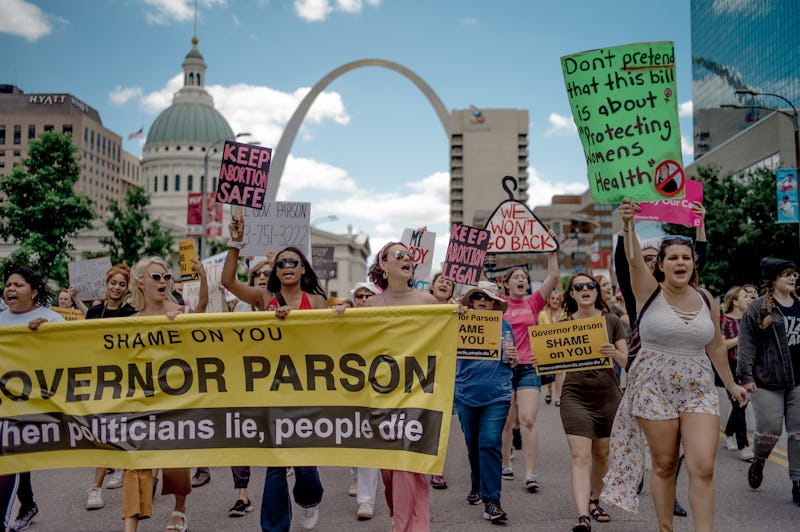 Jacob Moscovitch/Getty Images News/Getty Images
A federal judge on Tuesday blocked enforcement of an 8-week abortion ban in Missouri that had been expected to take effect on Wednesday, Aug. 28. According to the Associated Press, U.S. District Judge Howard Sachs issued the ruling after hearing arguments this week from Planned Parenthood and the American Civil Liberties Union (ACLU), which filed a lawsuit in July contending that the state's anti-abortion law was unconstitutional. The groups had asked Sachs for a preliminary injunction that would stop the law from taking effect, The Kansas City Star reported.
The law would ban abortion after eight weeks of pregnancy, with exceptions for cases where a doctor has said the pregnancy would endanger the pregnant person's life, according to NBC News. The law does not include any exceptions for rape or incest, CNN reported, and it would penalize physicians who perform abortions with prison time or by suspending or revoking their licenses. Sachs blocked every part of the ban except a "non-discrimination" section that bans abortions on the basis of race, sex, or Down syndrome, the Star reported. A court will now decide whether the ban is constitutional.
Sachs wrote in his opinion, "However formulated, the legislation on its face conflicts with the Supreme Court ruling that neither legislative or judicial limits on abortion can be measured by specified weeks or development of a fetus; instead, 'viability' is the sole test for a State's authority to prohibit abortions where there is no maternal health issue."
He continued, "While federal courts should generally be very cautious before delaying the effect of state laws, the sense of caution may be mitigated when the legislation seems designed, as here, as a protest against Supreme Court decisions."
Reproductive justice advocates have opposed the ban because many people don't find out they're pregnant until later in pregnancy, usually around five or six weeks, according to Self, though some women report not finding out they're pregnant until 12 weeks simply because they lead busy lifestyles and attributed their symptoms to stress.
Physicians oppose early bans because they believe pregnancy is a medical condition, and the circumstances surrounding it should be between a pregnant person and their doctor. After court arguments, Colleen McNicholas, the medical director for Planned Parenthood in St. Louis, told the court (via NBC News), "As a physician, I can tell you that Missourians believe that legislators and Governor Parson have no place in our exam room."
Planned Parenthood's lawyers filed the suit last month, arguing that the law would subject patients "to significant and irreparable constitutional, medical, emotional, and other harms for which no adequate remedy at law exists," NPR reported.
The law also includes bans on abortion at 14, 18, and 20 weeks, which could take effect if a court rules against the eight-week ban, according to CNN.
In an email statement, Alexis McGill Johnson, acting president and CEO of Planned Parenthood, said of Sachs' decision:
Today's decision blocks a harmful law that bans abortion before many know they're pregnant. What little abortion access in Missouri is left, will stay in place for the time being. In the meantime, we cannot ignore the part of this law that remains in place, which allows politicians to interfere with the patient-provider relationship. Let's be very clear: these severe restrictions on abortion access do nothing to address disability rights or discrimination. They only stigmatize abortion and shame the people who seek that care. Planned Parenthood won't cower to politicians. We will continue fighting in court and working with every person to ensure they get the health care they need and deserve.
As McGill Johnson alluded to in her statement, only one abortion clinic remains open in Missouri, leaving most of the state without access to those services. Without the ban, the state is also home to some of the most restrictive abortion laws in the country. Prior to an abortion, a pregnant person in Missouri must receive "state-directed counseling that includes information designed to discourage her from having an abortion, and then wait 72 hours before the procedure is provided," according to the reproductive health research organization Guttmacher Institute.
Other laws include: Private insurance and insurance for public employees in the state also only covers abortion in cases of life endangerment; minors can only receive an abortion with their parent's consent; the use of telemedicine to administer medication abortion is banned; and public funding is only available for abortion in cases of life endangerment, rape, or incest.
Sachs' decision falls in line with recent federal court decisions that blocked similar laws in Arkansas, Ohio, North Dakota, Iowa, and Mississippi. The recent flurry of strict abortion laws is part of an attempt by anti-abortion lobbies and legislatures to have a law reach the Supreme Court, where they hope Roe v. Wade would be overturned.