You Can Still Get An Abortion In Missouri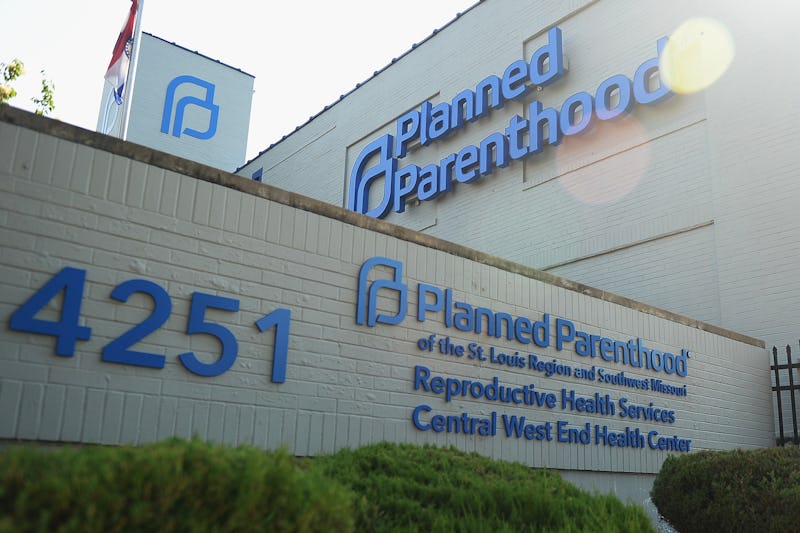 Michael Thomas/Getty Images News/Getty Images
Days after Missouri refused to renew a license for the state's last remaining abortion clinic, a judge has ruled that Missouri's clinic can continue to provide abortion services. Planned Parenthood, which operates Missouri's only abortion clinic, was awarded a temporary restraining order Friday, allowing them to remain open and serving patients until at least Tuesday, when another hearing is scheduled.
"This is a victory for women across Missouri, but this fight is far from over," Dr. Leana Wen, president and CEO of the Planned Parenthood Federation of America, tweeted Friday in regard to the judge's ruling. "We have seen just how vulnerable access to abortion care is in Missouri — and in the rest of the country. We'll keep fighting these attempts to end access to healthcare — no matter what."
According to CNN, Reproductive Health Services of Planned Parenthood of the St. Louis Region filed a lawsuit against Missouri Gov. Michael Parson and the Missouri Department of Health and Senior Services earlier in the week after the state said it would not renew the health clinic's license to perform abortions when it expired on Friday. The Planned Parenthood clinic accused the state, whose governor recently signed a bill banning abortion at eight weeks with no exceptions for rape or incest into law, of seeking to "restrict abortion access and deny Missourians their right to choose abortion," CNN reported.
At a press conference held earlier this week, Missouri Gov. Mike Parson alleged that the state's Department of Health and Senior Services had found "numerous violations of state laws" in March when they'd performed their annual investigation of the clinic, The Washington Post reported. According to Parson, the health department had requested interviews with seven doctors performing abortions at the Planned Parenthood clinic. Only two agreed to be questioned, the paper reported he said, adding the state had "serious health concerns" regarding the clinic.
Parson went on to say a judge would be "reckless" to grant the Planned Parenthood clinic a temporary restraining order. "No judge should give special treatment to Planned Parenthood in this instance," he said, per The Washington Post. "If you break the law, there are serious consequences. If you don't provide a standard of care that supports the safety of women, you shouldn't be able to operate."
In a press release put out earlier this week, Planned Parenthood said it was "not new for politicians in Missouri or elsewhere to use a combination of state laws and regulatory harassment to target abortion providers." They accused the state of using similar means of harassment in 2018 to shut down what had been the state's second abortion clinic.
"Planned Parenthood has served Missouri for more than 87 years and we aren't going anywhere," Dr. Colleen McNicholas, an OB-GYN at Reproductive Health Services of Planned Parenthood of the St. Louis Region, said in a statement to Bustle. "While Governor Parson abandoned our patients, we will not. Our doors are open today, our doors will be open tomorrow, and we will fight to make sure all patients continue to receive the care they need and deserve."
Had Circuit Court Judge Michael Stelzer not issued the Planned Parenthood clinic a temporary restraining order before its license expired Friday, Missouri would have become the first state to be without a licensed abortion clinic since 1974, NBC News has reported. For now, however, abortion remains safe and legal in the state of Missouri.