Why Those Miz Cracker & Aquaria Comparisons Don't Matter On 'Drag Race'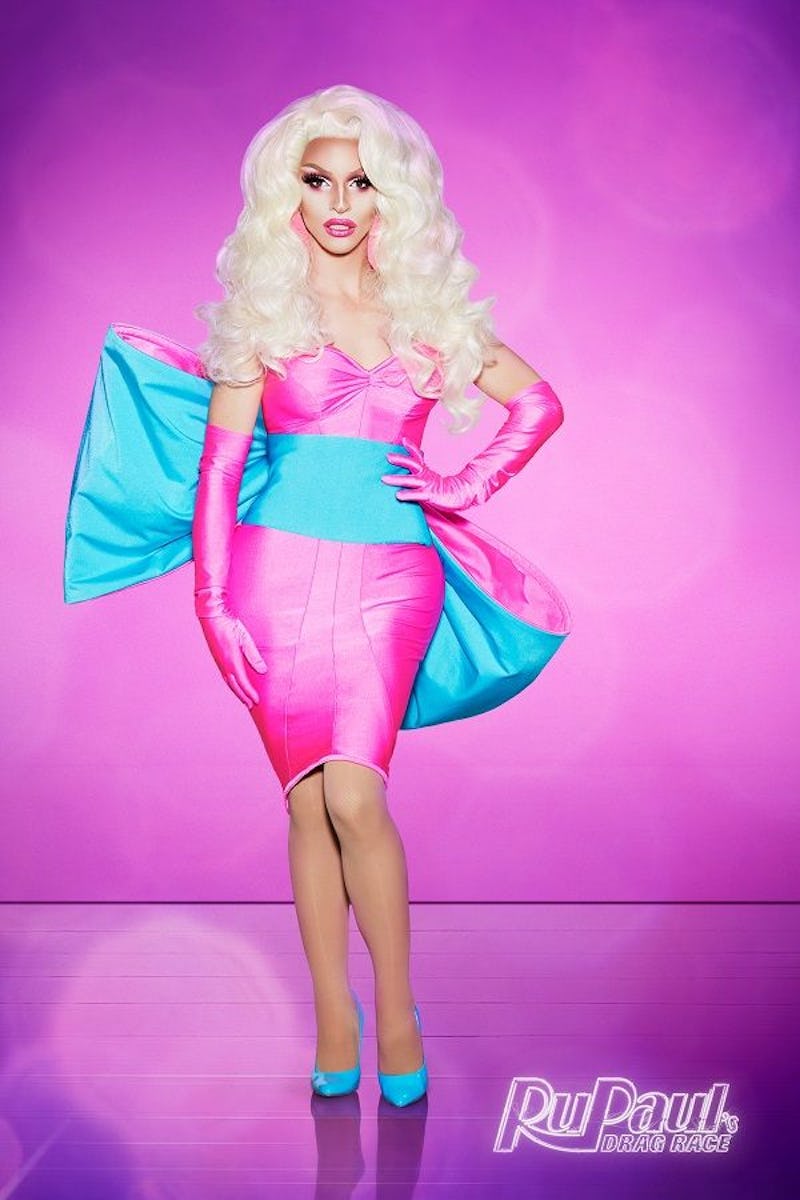 VH1
Since the first episode of RuPaul's Drag Race Season 10 there have been jokes and snide comments made about the comparisons between Aquaria and Miz Cracker's drag. It's obvious that the two resemble one another, but what some may not know is that their relationship was born long before stepping into Ru's workroom.
"Once upon a time, Aquaria and I were close friends," Miz Cracker said in Episode 2 of Drag Race. "I learned makeup skills from her when she did my face for a photoshoot that was about us being twins." Since then, Aquaria has accused Miz Cracker of borrowing from her looks — makeup and outfits — and their friendship has turned sour at times on the show.
During the first Untucked of the season, where the queens gossip about all things related to the latest episode, Aquaria claimed that Miz Cracker not only once allegedly copied a latex yellow dress with a chest cut-out in their shared stomping grounds of New York City, but she also accused her of mimicking her doll-like makeup on the first episode's runway. Despite the accusations, Miz Cracker stood her ground and claimed her looks as her own — she wasn't going to let drama interfere with her goal of reaching the finish line. She said she would never intentionally steal from another queen. "I wanna win with my face, not with Aquaria's," she said on the show.
The other queens are well aware of the drama between the lookalikes, and a few have even stirred the pot. After Aquaria vented to everyone about her distress over Miz Cracker's alleged copy-cat looks, The Vixen brought it to Miz Cracker's attention in the work room, resulting in an outburst from both of them.
In Thursday night's episode, The Vixen tried to strike again when she and Asia O'Hara were tasked with acting out an improv skit with a twinning theme, titled "Why Are You So Obsessed With Me?" The Vixen suggested they embrace the name and characterize themselves as the most iconic pair of twins in drag, Aquaria and Miz Cracker. Time must've impeded on their plan, however, because they went another direction.
While the other queens have been busy stirring up drama, Miz Cracker has consistently slayed the mini and maxi-challenges since episode one with her pristine, creative looks, and most importantly, her hilarious character. Although Aquaria won a challenge earlier in the season, with each episode that passes, she slowly fades into the background.
In Thursday night's sketch with queen Mayhem, whose character had a tragic fear of pickles, Miz Cracker embodied "Dr. Dill" author of "Dill With It: Learning to Enjoy and Relish Life by Opening a New Jar of Joy." By the end of the five minute skit, the audience was practically rolling with laughter, and Miz Cracker was chasing Mayhem across the stage in a pickle suit. Yes, a pickle suit.
She didn't leave the comedic charm at the maxi-challenge, either. She brought it all the way to the runway — themed "Denim and Diamonds" — with her elevated cowgirl braids, dotted-on freckles, and a cooky reveal of two faux bucked teeth. "Of all the looks I've done in the competition, this one shows me in my fullest — my love of beauty, booty, and comedy," Miz Cracker said on the show.
To top it all, her love of making people laugh didn't start with Drag Race. She runs a YouTube channel where she publishes a series called "Review with a Jew," in which she provides witty commentary on Drag Race episodes, including her own, referring to Aquaria as "Aquafina" and making too many hilarious movie references to count.
Although she got beat out by big baby Eureka in Thursday night's episode, the judges nearly gave her a standing ovation for her outstanding improv performance and original runway look, so it's obvious that it was a close call. If I had a future-telling crystal ball in front of me, it would show Miz Cracker in the Drag Race winner's chair.
All I have left to say is, Aquaria who?