You Won't Have Any Fashion Week FOMO By Following The 'Model Squad' Cast On Instagram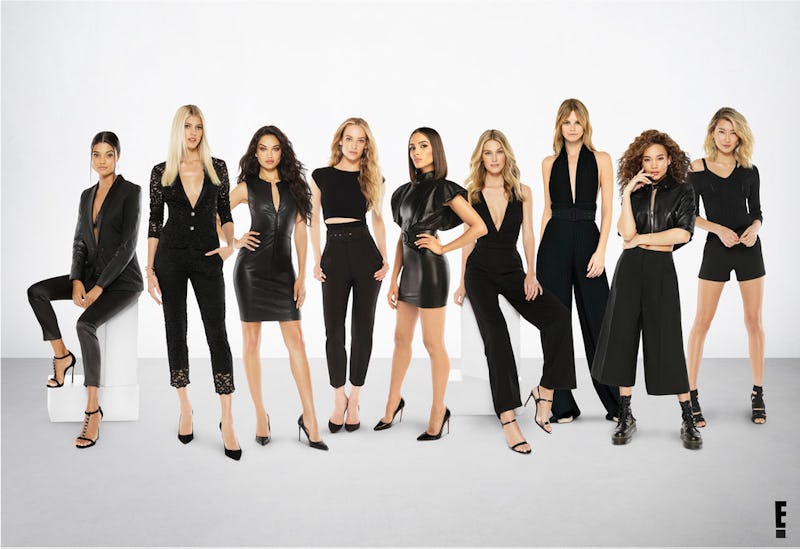 E! Entertainment
E!'s new reality show looks a little like America's Next Top Model meets The Hills, which means if you're like me, you already have your DVR set to record it for the foreseeable future. Premiering on the network on Sept. 4, Model Squad will follow the lives of nine models for a week, documenting how exactly they hustle to make a name for themselves in the fashion industry in the lead-up to New York Fashion Week. And it's not amateur hour over here, either — the cast of Model Squad has a slew of impressive resumes that would make any casting director take a second look.
According to E!'s website, these women have been featured in or graced the covers of magazines like Elle Brazil, Marie Claire Mexico, Sports Illustrated, Vogue China, Teen Vogue, Harper's Bazaar Serbia, Maxim, and many others. Some of them have upwards of a million followers on social media, and, oh yeah, there's even a former Miss Universe in the mix.
To make a long story short, these women are forces to be reckoned with in the modern modeling landscape, and you'll want to be following their every move as Model Squad thrusts them even further into the spotlight. Once you watch them on TV, you'll definitely want to start following their ultra-glamorous Instagram accounts. Don't worry, we found them for you.
Daniela Braga
Daniela is with NEXT Model Management, according to the E! page linked above, and has made a mark with Elle Brazil and Harper's Bazaar Brazil. The article also states she was the official face of Givenchy for two years, so she's kind of a big deal. Her Instagram is filled with couture Brooklyn Bridge-set shots, and moments of her looking picture perfect even as she bakes cookies in a messy bun.
Olivia Culpo
Former Miss Universe Olivia's Instagram bio states that she's a "middle child of five from Rhode Island," which makes her sound way more normal than her feed otherwise suggests. It does give a distinctly down to earth vibe — she goes on to say "I play dress up, play pretend, & eat pretty food." She has a whopping 3 million followers on Instagram, and is now steadily making her way to more and more magazine covers.
Hannah Ferguson
Hannah is repped by IMG Models, and according to E! got her big break in 2014's Sports Illustrated swimsuit issue. Her Instagram feed shows just how big her runway career has gotten, with a new gown around every turn. She can also found lounging on and/or jumping off of boats, which seems to be a pattern among the rich and famous.
Ping Hue
Another staple of IMG Models, Ping is no stranger to photo shoots — E! states she's been found in the pages of Teen Vogue, Elle, Marie Claire, and walked the runway for Polo Ralph Lauren. Her Instagram features some artsy poses, often on or around the beach, as well as evidence of her apparent love for burgers and fries.
Nadine Leopold
Nadine is also with IMG Models, according to E!, and her Instagram reveals she splits her time between London and New York. Her credits include spots in Glamour, Harper's Bazaar Serbia, Marie Claire UK, Self and Elle Bulgaria, not to mention the 2017 Victoria's Secret Fashion Show. She's got some super cute street style looks featured in her feed, as well as bougie vacation spots, and international editorial spreads.
Caroline Lowe
E! reports that Caroline has done campaigns for Tommy Hilfiger, American Eagle and Aeropostle, and even appeared in movies like How to Be Single and War Dogs. Follow her to observe as she wines and dines, looks glamorous even as she prepares to go out, and shares photos with her boyfriend, Heath, who is also a model.
Ashley Moore
E! describes Ashley, who's signed with NOUS Model Management, as an up-and-coming model who's gotten most of her following from being Instagram-savvy. And she certainly seems to have mastered the ultra-cool feed. Quirky supermarket photo with sunflowers? Check. Vintage filters? Check. Stunning headshots? Check. It's no surprise she's at an impressive 760 thousand followers.
Shanina Shaik
Shanina has walked in the Victoria's Secret Runway Show, as well as shows for Chanel, Tom Ford and Stella McCartney, according to the same E! article, and her Instagram confirms that she's runway-ready basically all the time. Check out her throwbacks to Victoria's Secret's 2011 bonanza, her edgy and elegant red carpet looks, and her overall effortlessly chic aesthetic.
Devon Windsor
Last but not least, Devon rounds out the models featured on Model Squad. E! reports that she's been around the modeling block a few times — she's a "staple" of Victora's Secret's annual show, and has also walked in shows for Alexander McQueen and Chanel. She's got a whopping 1.2 million Instagram followers even ahead of the show's premiere, and her feed is nothing short of luxurious. Between beach visits and magazine covers, she's also made time to land a fiance who pulled off one hell of a proposal, also featured on her account.
Model Squad hasn't even premiered yet, and I'm already getting FOMO from the glimpses of these women's lives, and the show will probably only exacerbate it in the best way. They're living a dream and cultivating an IG presence that many of us can only dream of, which makes them all the more fun to watch.