The 'Modern Family' Cast's Reactions To The Upcoming Character Death Are All Over The Place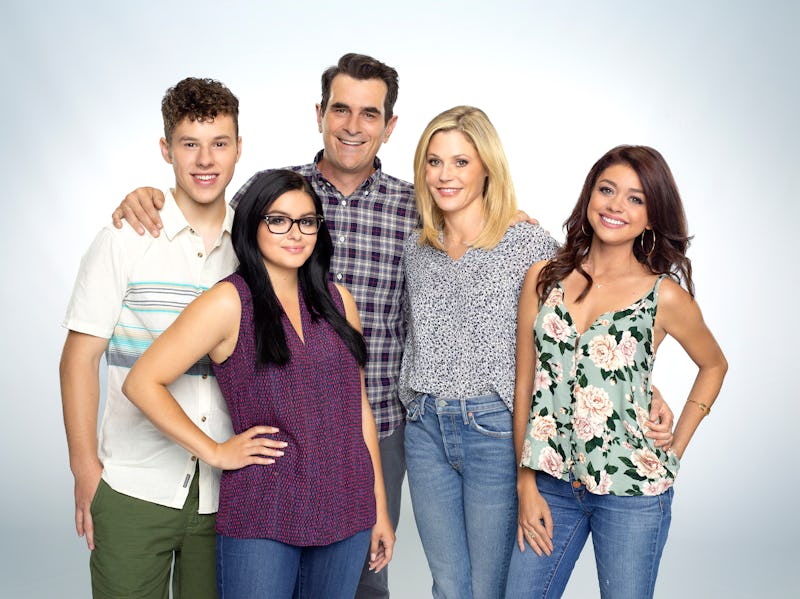 ABC/Robert Ashcroft
For a show that prides itself on being — quite literally — a modern family, it seems only natural that the Dunphys and company would experience a death. After all, death is something we all experience at some point, right? Well, the cast of Modern Family's reaction to the news that a character will be killed off were slightly less chill. Nathan Gould, for example, kind of freaked out, according to Us Weekly — and the rest of the show's cast has pretty much reacted in a similar fashion.
In a recent interview with Entertainment Weekly, Modern Family co-creator Christopher Lloyd revealed some shocking news. "We're handling some bigger life events in this season," he admitted. "We do deal with a death, which is certainly a topic that families have to deal with, and on television, it's not easy to do because that's a heavy subject. But at the same time, it would seem unusual for a family not to go through it."
Fair enough. Here's the thing, though: Lloyd's announcement shocked the cast as much as it likely did fans. Gould (who plays Luke Dunphy) described his reaction to Us Weekly, saying, "When I heard [a character would die], I called my agents, and I was like, 'It's me! Guaranteed. 100 percent it's me. It's a plot they've been trying to kill me for years, now's their chance. They hate me.' I was, like, crying." And he wasn't the only cast member panicking.
Gould's on-screen sister, Sarah Hyland (Haley Dunphy), seemed slightly more accepting of the news when asked about it by Variety — under one specific condition. "If the dog dies, I leave," she told the publication in reference to the family's French Bulldog, Stella. "I'm that person that watches The Walking Dead, and I'm like 'feed the zombie the baby before the dog.' I'm a horrible person I know, but I just love animals so much." On Twitter, Hyland joked about her character's possible impending doom, writing, "Is this how actors on Game of Thrones & The Walking Dead feel?!?!"
For what it's worth, Jesse Tyler Ferguson (Mitchell Pritchett) didn't appear too concerned about the news. "Significant Character is a GREAT drag named," he joked on Twitter. Though, Rico Rodriguez (Manny Delgado) wasn't quite as amused, tweeting, "But, Manny is safe right...RIGHT?!?!"
Gould also told Us Weekly that he's since been a bit more zen about the whole thing. "I'm pretty sure it's not me, but I can't say for sure," he said, before giving an ominous statement: "It could be anyone. No one's safe."
Now, there's been a death in the Dunphy family before, but there are a few things that make this one sound like it's going to be a whole lot heavier. When Phil Dunphy (Ty Burrell) learned about the death of his mother in Season 4, fans had never actually met her character on-screen. It was sad, of course, but the death was somewhat disconnected for viewers.
Lloyd told EW that the character who'll die during Season 10 is "significant," and that the death "will be a moving event — and an event that has repercussions across several episodes." *Insert 100 sad face emojis here*
So, who could it be? Both Gould and Hyland's characters are pretty accident prone, though it would feel uncharacteristically dark for Modern Family to kill off one of the children. Jay Pritchett (Ed O'Neill) is the oldest, and has joked around about his death before, as pointed out by USA Today. No matter who it is, though, the death of any "significant" character will be a major bummer. Let's just hope for Hyland's sake that it's not Stella the dog.