The 'Modern Love' Column Is Becoming A TV Series & The Cast Is SO Good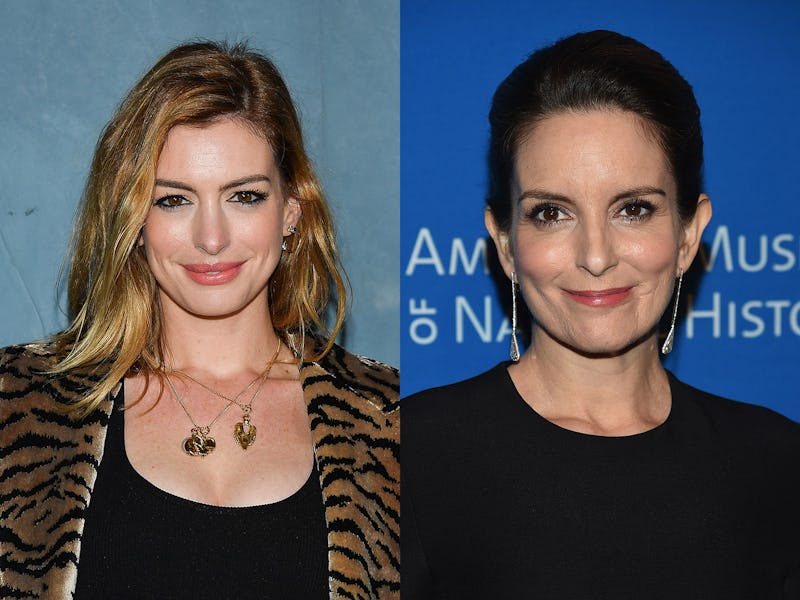 Pascal Le Segretain/Getty Images Entertainment/Getty Images; Dimitrios Kambouris/Getty Images Entertainment/Getty Images
When Amazon TV announced that they would be adapting The New York Times's Modern Love — the newspaper's beloved and widely-read column about the many different ways people experience and share love — fans of the weekly column were understandably thrilled. While it was immediately announced that the series would take the form of a half-hour romantic comedy anthology in eight stand-alone episodes, and that filmmaker John Carney had been tapped to write, direct, and produce, no hint was given about who would star in the highly-anticipated series — until now. Amazon Studios has announced the cast of Modern Love, and its full of A-list, award-winning stars and directors that will have you more hyped for the series than ever.
Just some of the stars who are slated to appear in the series include Ocean's 8's Anne Hathaway, 30 Rock's Tina Fey, Get Out's Catherine Keener, Lion's Dev Patel, Mad Men's John Slattery and Power's Brandon Victor Dixon. In addition, Shameless's Emmy Rossum, Divorce's Sharon Horgan and Sensation's Tom Hall will direct episodes of the anthology series. According to Amazon, Horgan will direct the Tina Fey-John Slattery led episode, which she also penned, while Rossum will direct an episode written by the late Audrey Wells, whose credits include the 2018 film adaptation of Angie Thomas's YA novel The Hate U Give.
In a statement released by Amazon Studios, John Carney says:
"It's like I woke up in the actor candy store. We've managed to assemble a dream cast of my favorite actors. It's a testament to the reach of the original column and of how, now more than ever, love is the only certainty."
And if the rest of 2018's rom-com renaissance is any indication, Carney is not alone in his thinking that love is truly all we need. Modern Love was launched by the New York Times in 2004, and has since become a smash-hit thanks in large part to social media shares that have helped more than one essay go viral. And the column has not only produced some of the most heart-wrenching and hopeful essays about love this side of the internet, it has also helped boost the careers of many writers including Ada Calhoun (author of Wedding Toasts I'll Never Give) and Nina Riggs (whose memoir The Bright Hour was penned before she died of cancer in 2017.)
There is still no word yet on when the series will premiere, but filming is underway now in New York City.