The Most Liked Wedding Dress On Instagram Is Fit For A Disney Princess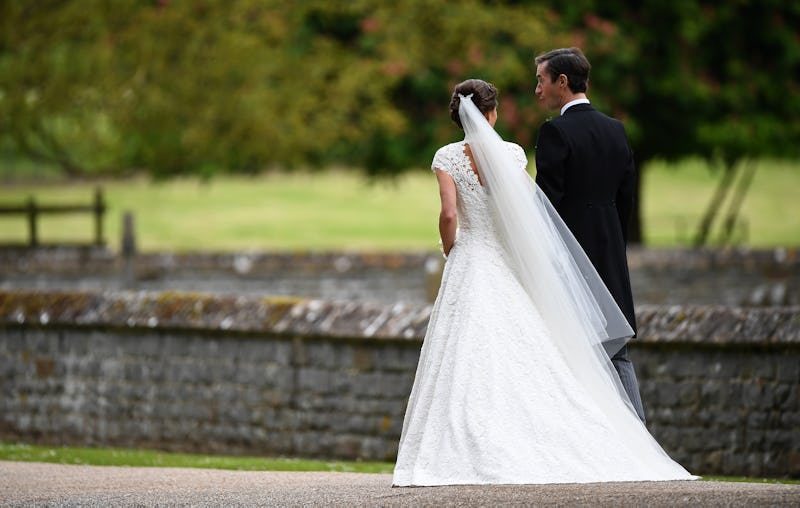 WPA Pool/Getty Images Entertainment/Getty Images
Many makeup artists and models become "Instagram famous" through aesthetics, racking up fans and followers for the visually arresting images that they post. But Indonesian bride Intan Azzahra's ornate and stunning bridal gown has the distinction of being the most-liked wedding dress on Instagram. Her dress, designed by Ivan Gunawan, is indeed as Insta-famous as it should be, thanks to its elegant and intricate design.
According to reports, Azzahra earned over 200,000 likes on the dress on the photo-sharing service. A whopping amount of hearts reigned down on her post, and she ultimately switched her IG account to private to take a break from all the love. Bustle reached out to Azzahra for comment about the Internet's reaction to her wedding gown.
While the bride's account is now private, Gunawan's posts featuring the dress remains live and well-liked. And once you see the dress, you will no longer wonder why.
So what does Instagram's most-hearted wedding dress look like? The dress is essentially a work of art. It features long-sleeves and ornate beading, which give it texture and dimension, and a full skirt with a tulle train. It's a Cinderella ball gown come to life.
Permission to drool hereby granted. Go forth and gawk.
Bustle had reached out to the bride and she replied via email, provided this picture of her dress, in all of its bridal glory.
This isn't a dress. It's a dream.
How pretty, right?
The dress ― and wedding ― was fit for a fairytale. The bride and the designer served up quite a look with those details and that train.
Feasting your eyes on the frock results in an "OMG!" moment, for sure.