The Most Popular Tweets Of 2017 Included Two Of Obama's — But None Of Trump's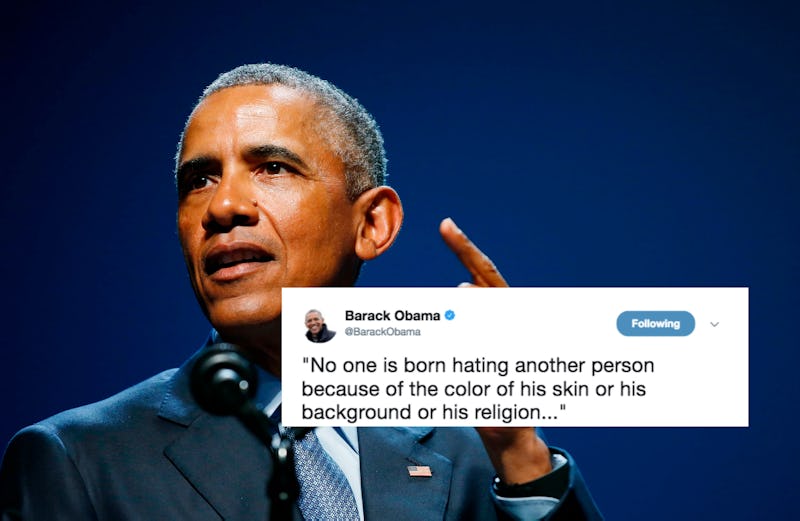 Getty / Isaac Brekken / Stringer
Somewhere out there, Donald Trump might be questioning his Twitter presence right now. Why? Because Barack Obama has the most popular tweet of 2017, while not a single one of his own tweets made the cut. Just saying. You may now take this time to cackle in joy.
Now that that's over, let's move on to the details. On Tuesday morning, Twitter released its most retweeted and liked tweets of 2017 (so far, at least), and even aside from the inherent rivalry between current and former presidents, there are things worth noting. The internet has a reputation for the absurd — please see: any meme from the last 10 years — and like every year, that can be seen in the lists. I'll go ahead and break the news early: The most retweeted tweet of not just 2017, but all time, is a teenage boy asking Wendy's for a year's supply of free chicken nuggets. The fast food purveyor replied that he could realize his dream if he got 18 million retweets, which sounds unachievable.
It was. But 16-year-old Carter Wilkerson still managed to nab his nuggs when he reached more than 3.5 million retweets and impressed Wendy's enough that they offered him a year's supply anyway. The moral of the story: Dreams really do come true, as long as they make for good PR.
The other tweets that got the most attention this year, though, reflect some of the darkest events of 2017. The second most retweeted tweet was from Obama, posted after the "Unite the Right" rally (held to protest the removal of a statue of a Confederate general) in Charlottesville, Virginia. On Aug. 12, white nationalists violently clashed with counter-protestors, leading the state governor to declare a state of emergency. One woman was killed when a nationalist drove a car into the crowd, injuring dozens of others as well.
Following the violence, Obama simply tweeted a quote from Nelson Mandela: "No one is born hating another person because of the color of his skin or his background or his religion. People must learn to hate, and if they can be taught to hate, they can learn to love, for love comes more naturally to the human heart than its opposite." The first tweet received more than 1.7 million retweets.
The rest of the list reads like a trip through 2017's darkest moments. Fundraising efforts for Houston relief, including a promise to donate dog food for every retweet, were also popular, as was pop star Ariana Grande's reaction to the terrorist attack that killed 22 during her concert in Manchester.
Also on the list was a photo of Linkin Park's lead singer, Chester Bennington, following his suicide in July; the number for the suicide hotline, tweeted by former Vine star Seth Joseph; and LeBron James' clapback directed at Donald Trump. After the president appeared to uninvite NBA player Stephen Curry from the White House, James took to Twitter to clear things up.
Obama appears on the most retweeted list no less than three times with the aforementioned Mandela tweet, the final line of his farewell presidential address, and a tweet that serving as president was the "honor of [his] life."
But that wasn't the only area the former president dominated. Of the three most liked tweets in 2017, two were posted by Obama. Third place went to his support for Senator John McCain, whom he described as "one of the bravest fighters I've ever known," after the Republican was diagnosed with brain cancer.
The second most liked tweet was Grande's tweet about the concert bombing.
Finally, with more than 4.5 million likes, the most liked tweet of the year was Obama's Nelson Mandela quote.
As the Guardian points out, Twitter's end-of-year statistics are unconfirmed by a third party, and the action of bots and trolls can make the popularity of a tweet difficult to know for sure. It's also worth noting that while Trump's individual tweets failed to make any of the most popular lists, he was the most tweeted-about world leader this year. Clearly, though, if he hopes to make the most liked list of 2018, he has two options: Become a widely-beloved former president, or publicly crave chicken nuggets.