All The Touching Moments From Fisher & Reynolds' Memorial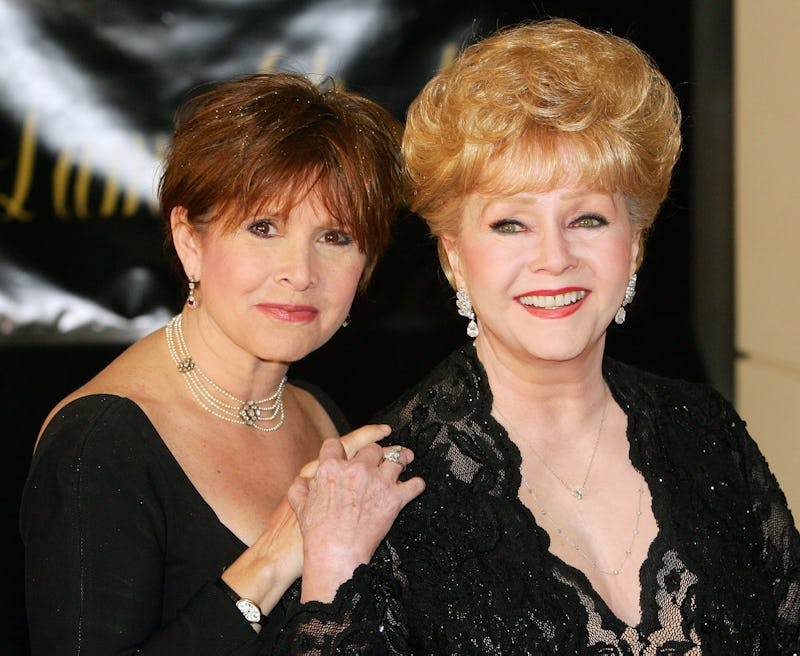 Ethan Miller/Getty Images Entertainment/Getty Images
Saturday's memorial service in honor of the late actors Debbie Reynolds and Carrie Fisher, also mother and daughter respectively, was a lovely service indeed. There were plenty of touching moments in remembrance of Reynolds and Fisher during the service that reminded fans why these actors were so great at and beloved for their work. Arranged by Reynolds' son and Fisher's brother, Todd Fisher, the memorial service was held in Los Angeles on Saturday. While seats were limited, the service was livestreamed on a variety of sites, including on Reynolds' personal website.
The service was full of a variety of acts and speeches, each designed to pay homage to Reynolds and Fisher. People Magazine reported that to honor Reynolds, The Gay Men's Chorus of Los Angeles would be performing. Meanwhile, James Blunt would perform a song for Fisher, specifically written for the occasion. These two moments were some of the many that made the service especially touching.
Looking back at the service as a whole, it becomes clear that Reynolds and Fisher both touched so many while they were alive. They left an indelible mark on the world and will truly be missed. Here are the moments from the memorial service that totally tugged at our heartstrings.
1. This Beautiful Illustration Of Reynolds & Fisher
This illustration was part of the photo montage which preceded the livestream and the actual memorial service. In the picture, you can see Fisher and Reynolds embracing, looking heavenward, and drawn as their respectively iconic characters: Princess Leia from Star Wars and Kathy Selden from Singin' In The Rain.
2. The Color Guard In Honor Of Reynolds
At the beginning of the service, Todd Fisher announced there would be a patriotic opening to the afternoon's events. He mentioned that Reynolds was a deeply patriotic woman who had performed for American troops several times during the Korean War. Because of that, a color guard was first up, setting the stage for the ceremony.
3. Todd Fisher's "Toy Store" Memory Of His Mother
Did anyone else need a tissue when Todd Fisher recounted the memory of when Reynolds took him and Fisher to the toy store as children but were held up by Reynolds' fans? "These are my people," Reynolds' reminded them when they got impatient. It was beautiful and indicative of how deeply Reynolds was devoted to her fans.
4. When Carrie Fisher's Birth Certificate Morphed Into Princess Leia's
At the beginning of Fisher's personalized memorial montage, her baby picture was shown with her birth certificate. Then, in a precious fade in, her real birth certificate morphed into a certificate for Princess Leia. Perfect.
5. R2-D2 Came Out To Say Goodbye To Carrie Fisher
Princess Leia's trusty sidekick and dear friend R2-D2 came out on stage to give one beautiful farewell "beep-boop."
6. Debbie Reynolds Reminding Us To Care For One Another
During Reynolds' personal montage, there was a portion devoted to discussing Reynolds' lifetime dedication to charitable causes. As a founder of the Thalians and a lifetime Girl Scout, fans were reminded just how much Reynolds gave of her time and herself during her life.
7. The Dancing Tribute To Debbie Reynolds
There were a few dance companies that took the stage to pay tribute to Reynolds' legacy as a song-and-dance woman of formidable talent. There were tap, jazz, and musical routines presented that were so great to watch.
8. Ben Mankiewicz's Tribute To Carrie Fisher
Mankiewicz fondly remembered Fisher during the memorial service. Praising her for her "no bullsh*t" attitude, Mankiewicz spoke lovingly of her. It was fantastic.
9. This Star Wars-Themed Chair To Honor Carrie Fisher
It was a blink-and-you-miss-it detail: A director's-style chair was placed onstage for Fisher that had "Star Wars: The Saga Continues" embroidered on back. What a wonderful send-off.
10. The Gay Men's Chorus Of Los Angeles Sang "True Colors"
The Gay Men's Chorus of Los Angeles sang a soaring, beautiful rendition of "True Colors" while a montage of photos played behind them of Fisher and Reynolds during their lives.
11. Dan Aykroyd's Hilariously Warm Remembrance Of Fisher
Aykroyd, a close friend and former boyfriend of Fisher's, took to the stage to remember her. He recounted how she rejected his marriage proposal and sought his counsel in possibly getting back together with her first husband, Paul Simon. He also remembered how kind Reynolds and Fisher were, taking Aykroyd in when he came to Los Angeles and forging a lifelong friendship with him.
12. James Blunt's "You're Beautiful" Montage
The first of two appearances — in voice and spirit — from Fisher's close friend and singer James Blunt was during a photo montage.
13. Billie Lourd's Onscreen Appearance
Fisher's daughter and Reynolds' granddaughter was reportedly in attendance at the memorial service but she also appeared in a video of the three generations of women singing a tune together onstage.
14. James Blunt's Tribute Song
Literally all the tears and chills listening to Blunt's original song played over photos of Fisher's residence, with Blunt, and with her friends in the years gone by. "You broke more than my heart when you left without saying 'Goodbye,'" Blunt sang and it was so heartbreakingly perfect.
The memorial service was a perfect tribute to Reynolds and Fisher; these moments, especially, prove that nothing but love was poured into it to make it a success.