Jennifer Lopez Did Not Learn Pole Dancing To Be Snubbed By The Oscars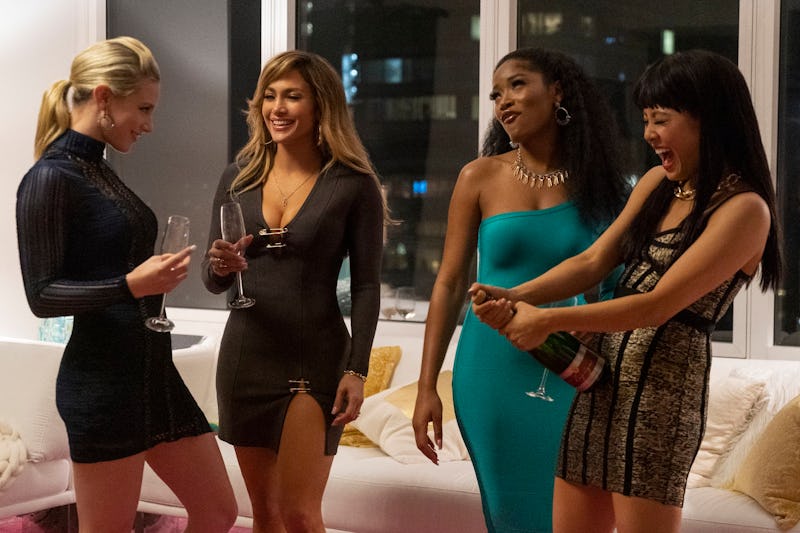 Barbara Nitke/STX
The Oscars nominations have finally arrived. But before celebrating who rightfully received nods today, we need to focus on the most unforgivable Oscar snubs of 2020 first. Every year, some of Hollywood's most powerful performances and inspiring films don't receive their dues, and sadly, this year was no exception.
This year, the Oscars followed in the Golden Globes' footsteps and failed to nominate any female directors. It's a move that's not totally shocking considering the Academy's history with women in the category (only five women ever have been nominated for directing), but a disappointing one nonetheless. And although Parasite scored this morning with nominations in Best Picture and Best Director, the talented cast was left out of the acting nominations entirely this morning.
But perhaps most notably, despite being nominated for the Golden Globes and the SAG Awards, Jennifer Lopez was snubbed for a Best Supporting Actress nod for her incredible and highly buzzed-about performance in Hustlers. She did not endure pole training for this! And her savage character Ramona Vega likely wouldn't stand for other standout women being shut out either. Find out more of the most shocking and utterly heartbreaking Oscars snubs below.
Awkwafina — The Farewell (Best Actress)
Although Awkwafina just won the Golden Globe for Best Actress in a Comedy or Musical for her heartbreaking performance in The Farewell, she was shut out of Best Actress this morning. Sadly, this also means that she didn't become the first Asian-American woman nominated in this category, which would have been a truly historic win in itself.
Zhao Shuzhen — The Farewell (Best Supporting Actress)
Along with Awkwafina, many people were hoping that the woman who plays her adorable, naive grandmother in The Farewell would also receive a nod, a wish that was not realized today.
Lulu Wang — The Farewell (Best Original Screenplay + Director)
Along with being just one of the many women shut out of the Best Director category (insert eye roll here), Lulu Wang was also snubbed in Best Original Screenplay, a category that many people predicted her to get into.
Jennifer Lopez — Hustlers (Best Supporting Actress)
Jennifer Lopez did not undergo months of pole training, deliver a jaw-dropping routine wearing next to nothing, give an emotional and nuanced performance in Hustlers, receive immense praise from critics, and get recognized by other award bodies, only to be snubbed by the Oscars at the last hurdle. The injustice cannot be stated enough.
Lorene Scafaria — Hustlers (Best Adapted Screenplay + Director)
With J.Lo's maddening snub, Hustlers also failed to receive a single nomination elsewhere, including Lorene Scafaria for Best Director (eye roll) and her hard-hitting script in Best Adapted Screenplay.
Lupita Nyong'o — Us (Best Actress)
Despite having to portray two characters in Us, and mastering both of them, Lupita Nyong'o did not receive her due at the Oscars. The Academy really doesn't go for horror films, do they?
Robert De Niro — The Irishman (Best Actor)
Although The Irishman received an astounding 10 nominations, including co-stars Al Pacino and Joe Pesci in Best Supporting Actor, leading man Robert De Niro was left out of the Best Actor race in an utterly puzzling snub.
Taron Egerton — Rocketman (Best Actor)
Taron Egerton may have walked away with a Golden Globe, and been nominated in virtually every other race, for his dedicated portrayal of Elton John in Rocketman, but he didn't get any love from the Oscars. It's an especially shocking move, considering how much the Academy loves great biopics of beloved music icons.
Adam Sandler — Uncut Gems (Best Actor)
Adam Sandler's buzz for his riveting performance in the intense Uncut Gems sadly didn't translate an Oscar nomination, which would have been the comedian's first. In fact, the film as a whole was passed over, much to the disappointment of fans. The Academy clearly prefers their gems to be cut.
Jamie Foxx — Just Mercy (Best Supporting Actor)
Jamie Foxx's portrayal of former Alabama death row inmate Walter McMillian, whose murder conviction was overturned in 1993, earned the actor a Screen Actors Guild Award nomination, but it seems perhaps the Academy wasn't listening — they snubbed him for an Oscar nomination.
The Parasite Cast (Best Supporting Actor and Actress)
Despite Parasite recieving an impressive six nods, and making history by being the first South Korean film to be nominated in both the Best Picture and Best International Feature Film categories, not one actor from the impressive cast got recognized on their own merits. And without their intense performances, what would this film have been?
Greta Gerwig — Little Women (Best Director)
Greta Gerwig is one of the five women who has previously been nominated for Best Director at the Oscars. She also received a nod this year in the Best Adapted Screenplay category for Little Women, while stars Saoirse Ronan and Florence Pugh were recognized in the acting categories (rightfully so). But Gerwig was still snubbed for Best Director. As Ronan's Jo Marsh would say, "I am so sick of people saying that love is just all a woman is fit for."
Frozen 2 — Best Animated Feature
How in the world did this happen? Frozen 2 was somehow forgotten in this year's Best Animated Feature race, despite the fact that its predecessor won the award in 2013 and the sequel's signature song "Into the Unknown" landed a spot in Best Original Song. Oh, and it's now the highest-grossing animated movie in history. Elsa deserves better.
Booksmart — Best Original Screenplay
Olivia Wilde's lovable and heartwarming buddy comedy Booksmart failed to receive love in any category at the Oscars, including in the Best Original Screenplay category, where it had a genuine shot for the brilliant script entirely written by women. Beanie Feldstein and Kaitlyn Dever's characters would have been so proud.
Beyoncé — "Spirit" from The Lion King (Best Original Song)
Finally, it's time for the Beyhive to get in formation — and head down to the Academy's office with witty protest signs. Beyoncé was snubbed for Best Original Song, for her gorgeous ballad "Spirit" from the "live-action" adaptation of The Lion King, and we simply won't stand for it.
Taylor Swift — "Beautiful Ghosts" from Cats (Best Original Song)
Yes, it technically didn't make it onto the nominations shortlist to begin with, but Taylor Swift and Andrew Lloyd Webber's original composition "Beautiful Ghosts" was truly the best part of Cats, and remains one of the most stunning songs of the Oscars season. And yes, I will die on this hill.
Between Hustlers and The Farewell not receiving any love, and female directors being completely shut out (again), it's clear that the Oscars still have some major work to do when it comes to recognizing well-written and thoughtful human stories outside of their comfort zone.