The MoMa Is Standing Against Trump's Travel Ban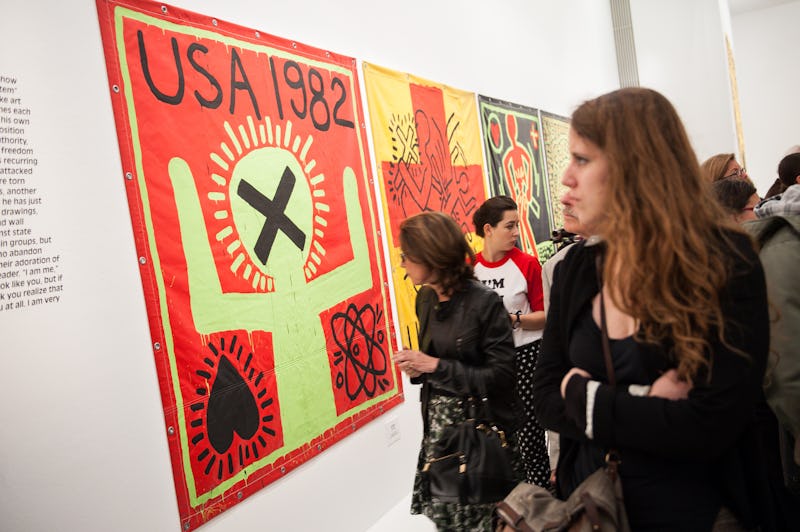 Francois Durand/Getty Images Entertainment/Getty Images
Protests spread across the nation after President Donald Trump signed the executive order banning travelers from seven Muslim-majority nations and halting the country's refugee program. They have taken all sizes and shapes — from the impromptu takeovers of international arrivals halls across the country to the closing of corner stores owned by Yemeni families in New York City. And now one of the country's most prominent cultural institutions is getting in on the action. New York's Museum of Modern Art is standing against Trump's bans through its art collection, quietly rearranging exhibits to highlight artists from the affected countries.
This act of resistance was first reported by The New York Times, which noted that several pieces by artists of Iranian, Iraqi, and Sudanese origin have been moved to the fifth floor galleries that usually focus on late 19th to mid 20th Century Western Art — a popular section where some of the museum's most famous pieces by Pablo Picasso and Henri Matisse are displayed. But now some works of art have been switched out for pieces by artists such as Ibrahim el-Salahi, Parviz Tanavoli, and Zaha Hadid. Their pieces, all part of the museum's permanent collection, will remain in their new locations for months.
In order to make the political statement known to museum-goers, the pieces are all accompanied by a small sign that reads:
This work is by an artist from a nation whose citizens are being denied entry into the United States, according to a presidential executive order issued on January 27, 2017. This is one of several such artworks from the Museum's collection installed throughout the fifth-floor galleries to affirm the ideals of welcome and freedom as vital to this Museum, as they are to the United States.
Gothamist spoke with one of the curators who led the initiative, Jodi Hauptman. "In thinking about what we can do here and how we can show solidarity with artists and viewers, scholars, curators in those countries, we began to look closely at our collection," Hauptman told Gothamist. She and her team agreed that highlighting artists from the affected countries would send the right message. "It was, in a way, philosophically a gesture of inclusion we wanted to offer our public and our staff," she said.
The ban is currently stayed after a federal judge in Seattle at least temporarily sided with the Washington State attorney general, who argued the travel and refugee bans are unlawful and unconstitutional. Most recently, early Sunday morning, the Ninth District Court of Appeals denied an appeal to overturn the stay.
Trump did not respond well, tweeting that he "just cannot believe a judge would put our country in such peril." Trump continues, "If something happens blame him and court system. People pouring in. Bad!" That was after he attacked the judge who issued the stay, calling District Court Judge James Robart, who was unanimously confirmed in the Senate, a "so-called judge."
Therefore, even if the ban is not in force temporarily, these acts of continued resistance are vital. "One of the things that you think about if you see these works of the gallery, is that if you have a ban, then you don't get to see these works," Hauptman told Gothamist. We need similar constant reminders until the courts or Congress overturn the bans.