Some National Spelling Bee Contestants Are Nearly 10 Years Apart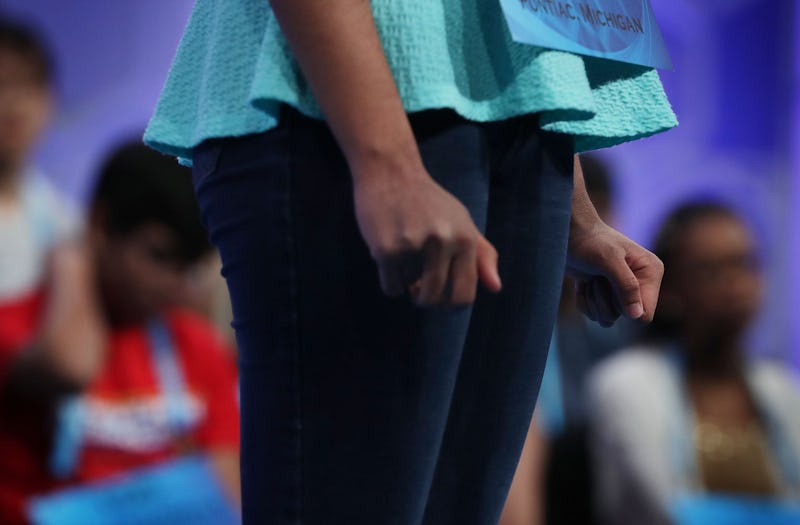 Alex Wong/Getty Images News/Getty Images
About 11 million American students have participated in their local spelling bees, and now some 291 are headed to the finals this week just outside Washington, D.C. The 2017 National Spelling Bee has already made headlines for breaking a new record: The youngest contestant ever will be taking part. Edith Fuller of Tulsa, Oklahoma, qualified as a five-year-old in March at her regional contest. Now she's turned six, but is still two years younger than the second-youngest contestant. So this year, the Scripps National Spelling Bee contestants' ages range 10 years, from six to 15.
The vast majority of contestants are in their teens. Fuller is the only six-year-old, there is one eight-year-old, and there are also two nine-year-olds. At the age of 10, the number of contestants jumps to 16. And then the number of participants grows each year, reaching a peak of 99 13-year-olds. Also rare are 15-year-olds; there will just be three participating this year.
The reason for this odd age distribution are the qualifying rules, two of which would likely affect the age of the participants. "The speller must not have passed beyond the eighth grade on or before February 1, 2017" and "The speller must not have reached the age of 15 on or before August 31, 2016." The older a participant is, the more prepared they tend to be. But then if they turn 15 or finish eighth grade, they're out.
In the case of Fuller, she's "just excited to be here," her dad, Justin, told ABC News. "She understands that it's a contest and she has a desire to do well in it," he added. She's been practicing with her mom before heading to D.C.
She's been going over the spellings and the meanings of the different words and trying to cover the word roots too. My wife has been the one who has worked with her the most.
Fuller and all the contestants have a harder job preparing now than they would have a decade ago. "There's a marked difference in the difficulty of the words in the past few years versus 10 years ago and certainly 30 years ago," Paige Kimble, the Spelling Bee's director, told USA Today. She would know, as she won in 1981.
The pressure on the kids who are participating is huge, as the contest is single elimination. In other words, if you misspell one word, you're out. The contestants have been training for months or years — some even have private coaches who charge about $200 per hour.
So wish the participants luck, whether they are six or 15.