Why I Helped the Jr. NBA Create This Program To Help Young Female Athletes Find Role Models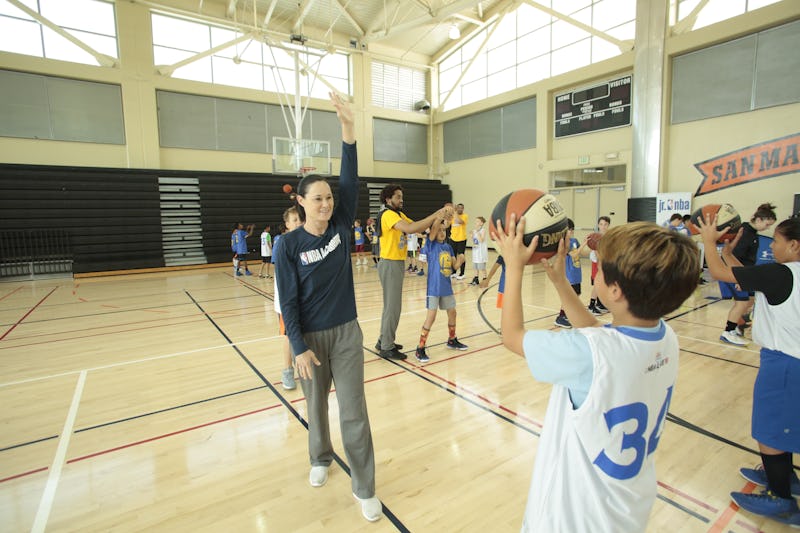 Courtesy of NBA
I remember when I was in junior high school, I sat down and talked to my coach because I was thinking I might not want to play basketball in college. I was getting recruited by a lot of schools across the country and was up for scholarships, but I remember thinking and feeling that I just wanted to be "normal." I didn't want people to look at me like I was a guy because I was so passionate about a sport where you primarily only saw men at the highest level.
I didn't have any strong female role models to show me female athletes were normal. I came from a generation where you didn't see a lot of female athletes on TV because groups like the WNBA just didn't exist yet. I had Magic Johnson, Larry Bird, and Michael Jordan, so I got to watch some great guys, but that still didn't reflect what I could aspire to.
But I think if I'd had strong female role models in my life, I wouldn't have hesitated to keep playing basketball. I would've just gone for it. That's why girls today need strong female role models in their lives. Society is putting pressure on them to be a certain way, and we need to counter that so they have the confidence to be who they really are.
I was very lucky that I succeeded in professional sports without a role model, but so much research shows that so many young girls need strong role models to help them reach their goals. That's why I helped the Jr. NBA create its new Jr. NBA's "Her Time to Play" initiative, which teaches girls life skills and values like teamwork, respect and inclusion, while also recruiting the role models and mentors young women need to play sports in a positive and healthy way. The program is a collaborative effort with theWNBA, USA Basketball, the YMCA, the Women's Basketball Coaches Association, Boys & Girls Club of America, and the Women's Sports Foundation.
Launched during the league's annual Jr. NBA Week, the program will provide hundreds of youth organizations with a free basketball curriculum and life-skills lessons specifically for young women. Her Time to Play will also ensure 500 new coaches are trained to receive their USAB coach licenses, an important step in helping more women obtain leadership positions in the sports industry. It's encouraging to see coach training like that because we also need to support and encourage women to get involved in all levels of athletic leadership, such as refereeing, front office positions, coaching in the NBA, C-suite positions, and more.
Having more women in these leadership positions can be really powerful for young girls who can see themselves in those women. I may not have had strong female role models on TV, but I did have really great coaches who pushed me to keep going, and that made a huge difference in my life.
When girls are able to play sports and be committed to the sport, it just gives us strength like nothing else. I think for young girls to be able to see these role models is so positive for everybody. It could inspire a future generation of professional athletes for girls that are strong and following their goals and dreams, whatever they may be.
As told to Mika Doyle.