Why The NCAA Women's Final Four Upset Is A Big Deal For Female Athletes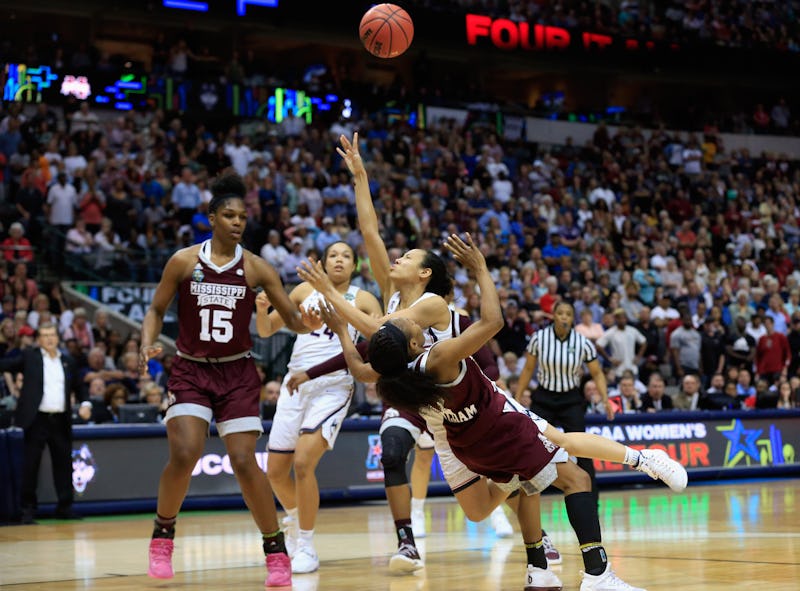 Ron Jenkins/Getty Images Sport/Getty Images
Each year, March Madness gives us edge-of-the-seat drama. Last year's three-point buzzer-beater that secured Villanova's second NCAA basketball title will go down in history as one of the very best moments in the nail-biter, Cinderella story-saturated tourney. But 2017 might have produced one of the most shocking moments in NCCA history after a massive upset in the women's Final Four on Friday.
The longest winning streak in sports history ended in Dallas on Friday night. The University of Connecticut women's squad, which hasn't lost a game in 865 days, fell to Mississippi State after Morgan William buried a last minute shot in overtime, bringing the final score to 66-64.
And there was perhaps no better team to snap UConn's 111-game streak than Mississippi State. During 2016's Sweet Sixteen, Mississippi was trounced by the mighty UConn squad by an embarrassing 60-point margin. And according to the New York Times, Mississippi State was out for blood when it met with UConn for a rematch. In the Mississippi State weight room, there was a ever-present reminder of last year's loss: the number 60, which was posted to a window.
That focus paid off big on Friday night. However, they'll need to keep it a little longer to get through Sunday's final face-off against South Carolina.
NCAA.com writer Mike Lopresti ranked the upset in the top five biggest upsets in sports history. Lopresti noted that Friday night's win for Mississippi State "rates among the greatest upsets in college basketball tournament history, either gender. And for that matter, in all team sports. Because it has to be up there, doesn't it?"
Even that designation that we're looking at "either gender" is an important reminder that women's sports, particularly basketball, gets the short shrift. Amid all of the anticipation of the men's Final Four on Saturday, many people completely missed a stunning women's game the night before.
Women's basketball has long suffered low attendance. In 2016, Georgetown University enticed students to turn out to home games for the women's team by hosting a kale-themed night, and — on the opposite end of the spectrum — student attendance tripled with Kansas State handed out bacon at a women's basketball game.
Similarly, the beleaguered WNBA has struggled to attract even a fraction of the ratings of the NBA. There have been countless attempts to diagnose why women's basketball isn't appealing to sports fans, but I like ESPN's Graham Hays' the best:
Not to come across as a raging feminist, if that's physiologically possible, but the biggest problem most men have with the WNBA is that it scares the heck out of them to see women invading what has long been predominantly male territory.
Maybe this can be a public service announcement, then, that women's basketball can serve up just as much March Madness drama as the men's tournament. But you can only catch it if you take the time to watch.