Netflix's Gloria Allred Doc Is The Feminist Movie You Need To Watch This Weekend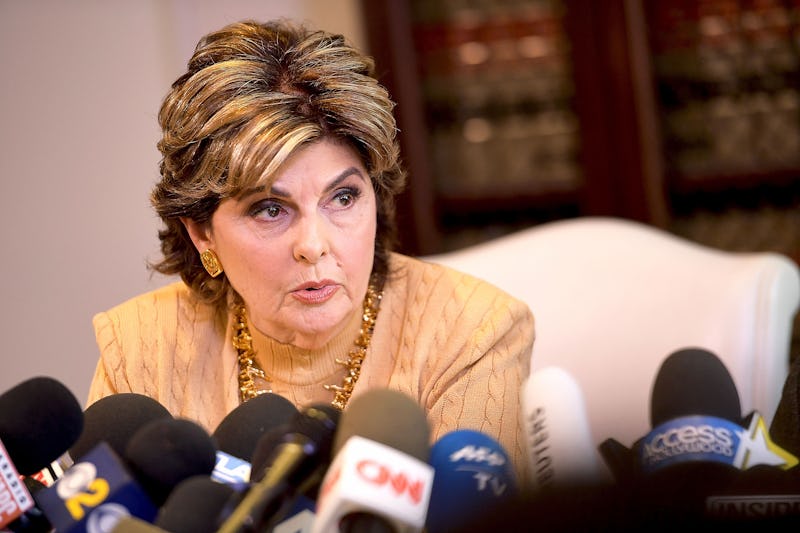 Matt Winkelmeyer/Getty Images Entertainment/Getty Images
She's been branded a publicity-hound and ambulance-chaser by her detractors, but an outspoken voice on behalf of women by her admirers. Though she's taken on patriarchal affronts throughout her 30+ year career, the current generation knows Gloria Allred as the woman doggedly pursuing justice for the many women accusing Bill Cosby of sexual assault, or the lawyer attempting to bring the current POTUS to trial for his alleged sexual attacks against a former Apprentice contestant. One thing everyone can agree on is Allred is no shrinking violet. And yet, it took three years to convince her to make a movie about her work. A Sundance premiere that's hitting Netflix Feb. 9, Seeing Allred is the feminist documentary you need to watch ASAP.
After founding a law firm with two partners in 1976, Allred quickly made challenging gender issues one of her main platforms. She gained public notoriety for an early suit brought against Sav-On Drug Stores, where she successfully lobbied on behalf of seven children and their parents to get the chain to stop having separate aisles for "boys" toys and "girls" toys. While it's easy now to understand the importance of removing these kinds of arbitrary and gender-reinforcing labels today, back then (and, actually, even still in some places today) Allred's actions were seen by many as frivolous and attention-seeking.
A Tablet article called the lawyer's hunger for media attention "almost pathological." An SNL sketch painted her as an attention-hungry fame-seeker. Then-California State Senator John Schmitz, during hearings outlawing abortion, called her a "slick butch lawyeress" in a 1981 press release (and had to pay $20,000 in libel and publicly apologize after Allred sued him for slander and won). In Seeing Allred, watching years of footage from Allred's many public crusades makes it easy to see how a public already suspicious of women's rights crusading would conflate a naturally bold and strong personality with someone seeking media attention for attention's sake.
Allred does actively, and aggressively, court attention, but it's not without reason. In the documentary she explains it simply, "Power only understands power." Part of the power of Allred's very successfully leveraged time and time again is understanding both how to capture media and the public and how to keep them focused on the outlandishness of something long enough to absorb the idea along with it. One of Allred's earliest attention-grabbing press conferences involved infamous kidnapped-heiress-turned-radical Patty Hearst just after her prison release. Allred befriended Hearst in prison and worked to get her out early; at the press conference, Hearst pledged support to the women's movement, particularly on behalf of battered women. It was seen by many as a calculated move to keep women's issues in the public eye by tying it into an irresistible media hook, assuring it would be heard throughout the country.
Still, it's easy to see how detractors could paint such tactics as purely exploitative. Unfortunately for them, Allred's long list of groundbreaking historical achievements in the courtroom trump the spectacle she drums up around them. Successfully suing Aaron Spelling on behalf of Melrose Place star Hunter Tylo, who was fired for announcing her pregnancy, helped pave the way for legislation ensuring female actors could work while pregnant. Allred also fought for and won the rights for same-sex marriage in California, helped end the California practice of forcing female prisoners to give birth in chains. In 1984, she represented Rita Miller, the first woman to go public with charges of sexual abuse against multiple priests. The list goes on; just in 2017, Allred successfully lobbied for the removal of rape statue of limitations in California.
Seeing Allred is essentially a greatest-hits of Allred's successes and setbacks in the women's movement from the '70s to the present day. Just when filmmakers Roberta Grossman and Sophie Sartain thought their doc was finished, the Harvey Weinstein allegations surfaced and #MeToo began to snowball. In an interview with Business Insider, the directors described trying to squeeze in the growing story into the documentary. Sartain said, "I had a day of panic," while Grossman said, "We knew we had to get this moment in as we felt [Allred] in part is responsible for it. It just reframed everything."
The impact of #MeToo is still resonating, and the filmmakers ultimately weren't able to fit in the enormity of the situation. Instead, the movie uses the movement as an end cap, creating a fitting tribute to the still-active Allred's entire career. Just as news about the scandal begins to really unfold, the film ends, with Allred announcing in voiceover, "The fight has just begun." Strong words by a strong force.