The New 'A Wrinkle In Time' Trailer Will Make Fans Of The Book Happy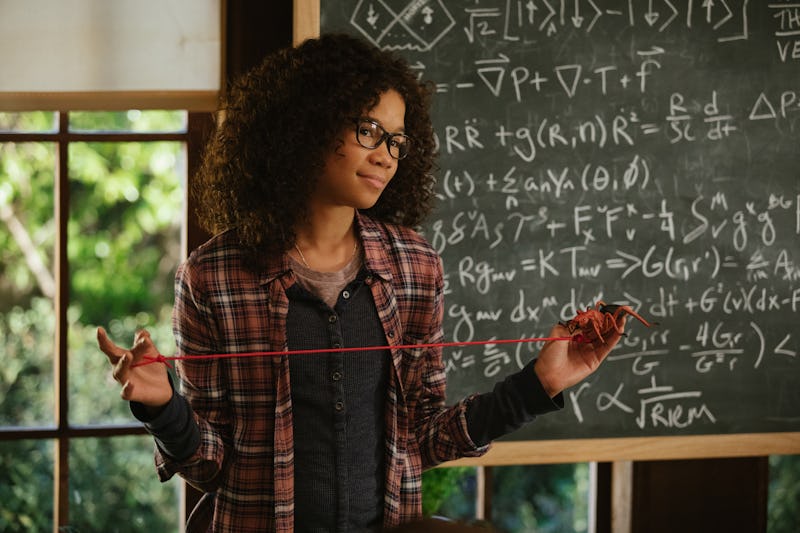 Walt Disney Studios Motion Pictures
Just in case you weren't already hyped up to see your favorite Madeleine L'Engle classic come to life, this ought to do the trick. The full A Wrinkle In Time trailer is finally here, and even though the footage amounts to less than three minutes, it's enough to prove that this movie is going to be just as magical as fans of the book would have hoped.
Until now, Disney had only given glimpses of the movie in photos and posters, and even the short teaser trailer that debuted in July was enough to get people excited. But now, seeing Mindy Kaling, Oprah Winfrey, and Reese Witherspoon in action — and, oh yeah, Chris Pine — really makes it obvious how much potential this film has to be truly epic.
The new promo introduces us to Meg, who's played by Storm Reid, and the journey she goes on to find her missing scientist father, this time with a modern twist. It's clear this movie is going to be action packed, and in combination with the star-studded cast list, it's enough to convince anyone to go see it, even those who didn't consider A Wrinkle In Time a part of their childhood.
Here's the trailer, in all its glory:
There's so much to take in that it's hard to know where to start. Kaling, Winfrey, and Witherspoon look incredible as Mrs. Who, Mrs. Whatsit, and Mrs. Which as they try to convince Meg that she has the ability to become a warrior and fight what their light can't overcome in order to save her father.
It seems that everything about this movie is beautiful and fantastical, from the costumes to the settings to the incredible CGI. And A Wrinkle In Time's tagline, "The only way to defeat the darkness is to become the light," couldn't be a better message for the world as 2017 ends and rolls into 2018.
And as if the trailer itself wasn't enough to get excited about, new stills from the movie were also released, including some of the earliest images of the cast in character, including Zach Galifianakis as The Happy Medium:
There are also new stills of Meg, joined by her brother, Charles (Deric McCabe) and friend Calvin (Levi Miller). Even the trailer all on its own suggests that these three are going to be so much fun to watch.
And of course, there's the stunning image of Witherspoon, Kaling, and Winfrey, looking totally capable of saving the universe as they stand out in a field together. If one photo will convince someone to go see this movie, this one is it — and it's what many fans have been waiting for since the cast was first announced.
It's impossible to look at these women without wanting to join them. Can we talk about how amazing they look?
It's always risky when a beloved book is transformed into a movie, but so far, it looks like this cast was able to do L'Engle's masterpiece justice. It's incredible to see how everything has come together to make this movie possible after more than a year of speculation, set photos, and impatiently waiting for updates on what the film would be like.
The only bad news here? A Wrinkle In Time doesn't hit theaters until March 9, 2018, which means there's still awhile to go until the countdown to the movie is over — and possibly more trailers and clips to be released in the future. Fortunately, the trailer gives fans plenty to look forward to next spring, and it definitely seems like this movie will be worth the wait.