The Allegations Against R. Kelly, Explained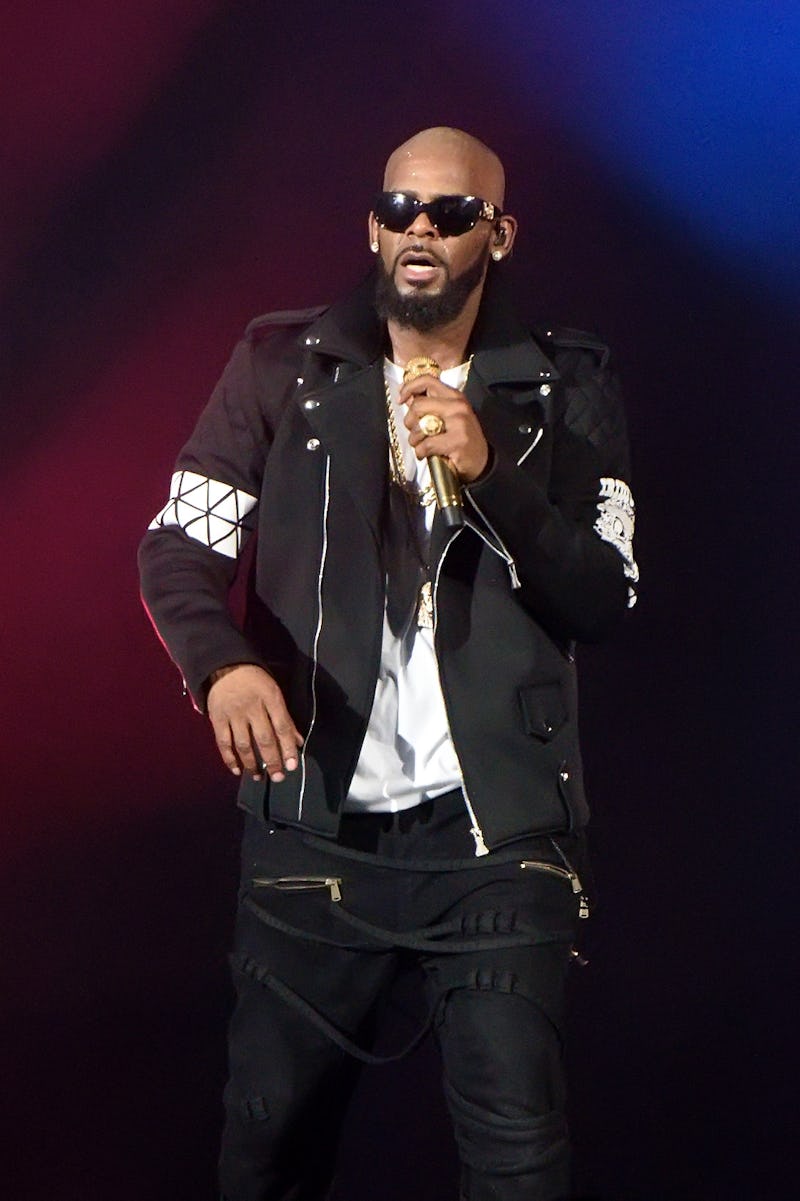 Daniel Boczarski/Getty Images Entertainment/Getty Images
In the midst of his After Party tour, accusations against R. Kelly have surfaced, claiming that he is allegedly running what's being described as a "cult." On Monday morning, Buzzfeed published an investigation into allegations that R. Kelly is holding women against their will. The report included interviews with women who were once part of Kelly's inner circle, as well as parents of women who are reportedly living with him or in houses he owns now, and the claims being made against him alleged that he has lured these women in under the guise of helping them with their music careers.
UPDATE: Kelly's lawyer, Linda Mensch, released the following statement to Bustle:
Mr. Robert Kelly is both alarmed and disturbed at the recent revelations attributed to him. Mr. Kelly unequivocally denies such allegations and will work diligently and forcibly to pursue his accusers and clear his name.
EARLIER: Bustle has reached out to Kelly's lawyer, rep, and to RCA Records for comment on the report, but did not receive a response at the time of publication. Kelly's lawyer told Buzzfeed,
"We can only wonder why folks would persist in defaming a great artist who loves his fans, works 24/7, and takes care of all of the people in his life," Mensch wrote. "He works hard to become the best person and artist he can be. It is interesting that stories and tales debunked many years ago turn up when his goal is to stop the violence; put down the guns; and embrace peace and love. I suppose that is the price of fame. Like all of us, Mr. Kelly deserves a personal life. Please respect that."
In Buzzfeed's report, a woman only identified as J. claimed that in 2015, she and her 19-year-old daughter, who is not named in the story, had the chance to meet R. Kelly backstage at a show, and after he found out she was recording demos, he offered to help her get her career off the ground. Now, she and her husband, identified as Tim, claim that they haven't seen their daughter since December, and have only heard from her twice since then. J. claimed to Buzzfeed:
"It was as if she was brainwashed. [She] looked like a prisoner — it was horrible. I hugged her and hugged her. But she just kept saying she's in love and [Kelly] is the one who cares for her. I don't know what to do. I hope that if I get her back, I can get her treatment for victims of cults. They can reprogram her. But I wish I could have stopped it from happening."
Reportedly, J.'s daughter and a record producer named TONE secretly recorded a phone call with Kelly after she reportedly claimed he would change the topic to sex when she tried to talk to him about her career. The audio was obtained by Buzzfeed. During the call, Kelly reportedly says, "I want you to get in the habit of telling me what color panties you got on every day."
Buzzfeed also spoke with Cheryl Mack, Kitti Jones, and Asante McGee, who were once close to Kelly. According to them, six women allegedly live in Kelly's homes in Chicago and Atlanta, and he allegedly controls what they eat and wear and records the sexual activity he has with them. According to Mack, he also allegedly requires the women to wear track suits so as not to attract attention from other men and allegedly exchanges their phones for ones he gives them, instructing them to only call those he gives them permission to speak to. Mack and Jones alleged that punishment for breaking one of Kelly's rules could include physical and verbal consequences.
Mack claimed:
"This is R. Kelly, I'm going to live a lavish lifestyle. No. You have to ask for food. You have to ask to go use the bathroom. … [Kelly] is a master at mind control. ... He is a puppet master."
J.'s daughter's roommate at Georgia Gwinnett College, identified as T.S., claimed that J.'s daughter would put Kelly on speakerphone while having sexually explicit conversations with him. She also claimed that J.'s daughter once told her that when she was on her way to a club with other women in Kelly's circle, she laughed at something the cab driver had said and one of the other women texted Kelly to let him know she'd broken a rule. T.S. claimed that when J.'s daughter arrived at the club, Kelly "bent her over and he whupped her behind because she laughed at the cab driver, who happened to be a man."
J. and her husband have asked police to perform welfare checks on their daughter on multiple occasions. J.'s daughter told the Cook County Sheriff's Department that she was "fine and did not want to be bothered with her parents because her father was threatening people." (Tim denied this.) Texts between the woman and her grandmother that were obtained by Buzzfeed revealed that she thinks her parents want to ruin Kelly's career.
A mother from Florida, who asked to be called Theresa, claimed that her 17-year-old daughter was pulled out of the audience at one of Kelly's shows and also told she could get help with her music from. Soon, once she was over the age of legal consent, she was allegedly living with Kelly and stopped communicating with her parents after asking them not to contact her. McGee claimed that the Florida woman was left on a tour bus for three days after not finishing her "homework," and also claimed that Kelly is "obsessed" with her. Her father, Angelo, also claimed that his daughter told him that Kelly had recently paid for her to have breast enhancement surgery.
J.'s husband Tim told Buzzfeed:
"It's not about my daughter, per se. It's about all the girls. It's about my daughter, and I understand that. But the abuse that my daughter is actually enduring, nobody should go through."
J. and her husband have spoken with the FBI about their daughter's whereabouts, and they hope they will be able to help bring their daughter home. Kelly has only spoken out so far through his lawyer's statement, above.