These Cat-Shaped Lip Glosses Are Every Cat Lover's Dream Product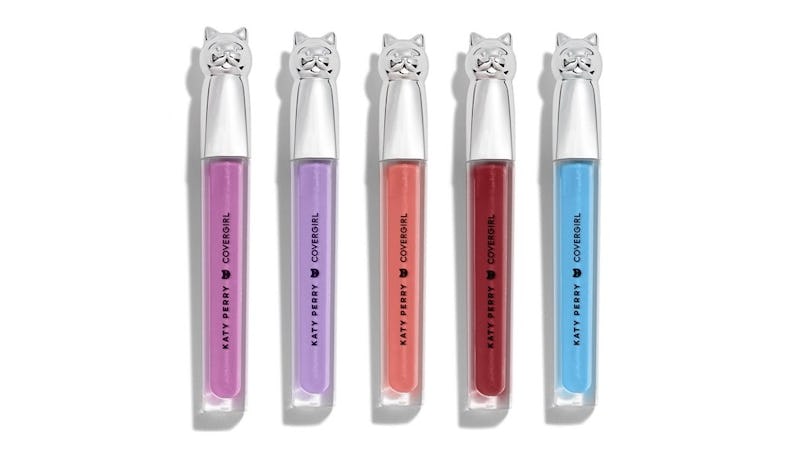 CoverGirl
Cat lovers, rejoice. Katy Petty has your back. If you're the type that pounces on anything and everything cat-related, then the new CoverGirl Katy Kat Lip Gloss is going to make you want to do cartwheels.
Katy Perry and the brand linked forces almost a year ago, and this cat-inspired gloss is the third lip product they put out onto the market together. If you missed the previous ones, there were the Katy Kat Matte lipsticks, which were demi-matte lipstick bullets that had a velvety texture that didn't leave your lips feeling flat and dry like other formulas. There were 11 shades in all, and most of them were conservative. They went through a gradient of pinks and mauves, then detouring into a pastel purple and ink black shade to shake things up. Then there was the Katy Kat Pearl Lipstick collection, which got a touch more exciting. A limited edition collection of four pearlescent shimmery shades, the formula was infused with shea butter and luxurious oils for a creamy and hydrating texture. The colors spanned from a glittery red, to a soft pink, to a bright coral, and then finally, to an icy unicorn blue.
But this newest makeup addition to the collaboration - the Katy Kat Lip Gloss — is the most fun one yet. Spanning a rainbow of different colors, the glosses aren't encased in normal plastic tubes. Instead, they're long and willowy, with caps in the shape of cats! Finally the Katy Kat line ran with the pun. But instead of feeling kitschy the caps feel sleek, thanks to the silver modern design.
The color range itself has stepped out of its "neutrals" comfort zone and has gone with more unconventional colors this time around, spanning everywhere from icy blue to pastel lavender. And unlike the pearl lipsticks, there are a whopping 12 different high-pigment shades to choose from.
As far as the gloss formula goes, this isn't one of those products that looks super pigmented in the tubes but glides on clear. What you see in the bottle is what you get on your lips, which makes the candy-land shade selection even more exciting. Check out the options below.