These New Details On The 'Arrested Development' Incident Reveal So Much About Gender Roles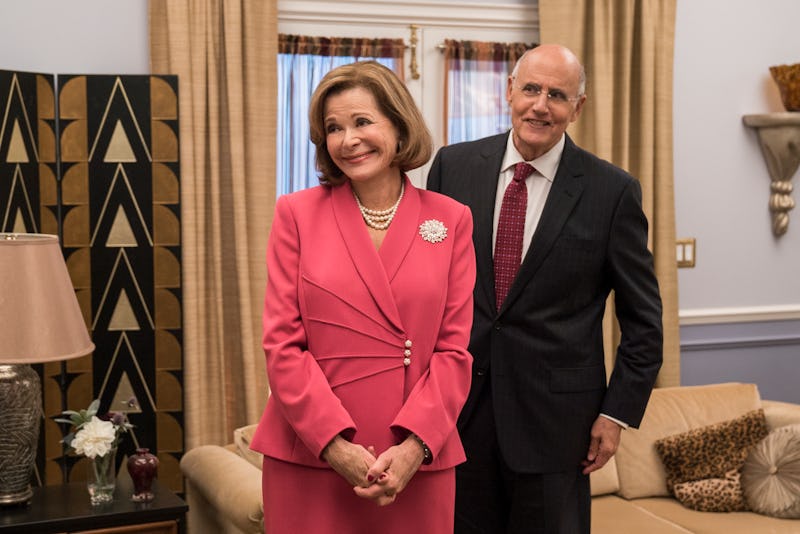 Saeed Adyani/Netflix
Two weeks ago, there was a backlash after the male actors of the Arrested Development cast defended Jeffrey Tambor in a New York Times interview, in regards to Tambor's previous admission of verbally harassing co-star Jessica Walter. On Wednesday, June 6, the creator of the series, Mitch Hurwitz talked about the Tambor and Walter incident in an interview with Deadline. Hurwitz's take on what happened reveals something about the gender dynamics on the set of the show, and perhaps, all of Hollywood, in that women's feelings are not always taken into account. As Hurwitz told the publication, "I'm guilty of not realizing how deeply upsetting that was for Jessica." (Bustle has reached out to the reps of Tambor and Walter for comment on Hurwitz's comments, but did not receive an immediate response.)
In the interview with Deadline, Hurwitz talked about the incident between Tambor and Walter publicly for the first time, shedding new light on what exactly happened between the actors, who play husband and wife on the series. He said the incident seemed to stem from their differing approaches to a "minor" scene. Hurwitz explained,
"[Walter's] a perfectionist, which I have a horrible case of myself, and [Tambor's] sort of loose with it, finds his way back if he gets off course within the speech, for instance… And she was resetting and he got upset and was like, 'Oh, come on! You always do this!' He continued for a bit and she apologized. 'I'm sorry, Jeffrey, I'm sorry.' But he continued and then walked off—the set apparently, but he walked out of frame."
Hurwitz also claimed that despite not being on set at the time, he had "heard about it and saw parts of it in the dailies, although the part I saw didn't seem that—I don't know—momentous." The creator admitted, though, it wasn't his place to downplay Walter's experience. "I misinterpreted what I understood to have played out," he said, "and more importantly the depth of Jessica's pain about it."
Hurwitz told Deadline, "I feel so bad about that" and that he wishes he's "made a greater effort to know, the pain that it caused." Unfortunately, at the time, he assumed Tambor's apology was enough to overlook what had happened. Especially since Walter went back to doing her job after the incident without any complaints about Tambor — although that doesn't necessarily make it OK.
"Jessica was really gracious about that—and, you know, was professional in that she didn't let on that it was still upsetting and present for her," Hurwitz told Deadline regarding the incident. "She's a total pro and the set went back to functioning as well as it always has due to her professionalism, and that's to her immense credit."
According to Hurwitz, Tambor could be "difficult" to work with, and it's a word that Tambor used to describe himself in an interview with The Hollywood Reporter in May. "I drove myself and my castmates crazy. Lines got blurred," he said. "I was difficult."
Hurtwitz told Deadline the following about Tambor: "He's not a rager, although clearly there was an outburst to Jessica." He added that he knows Tambor to be an "emotional guy who either likes his performance or he doesn't like his performance, and he's outspoken about it all."
It's certainly to Walter's credit that she kept working, but it perhaps shows how little concern there is for one's well-being on set, as far as verbal harassment. After watching the footage Hurwitz felt it wasn't a big deal, to him as a man, but he never talked to Walter about how having her male co-star yell at her in front of cast and crew affected her as a woman. Hurwitz seemed willing to brush off Tambor's behavior as just who he is as a man, in some ways okaying his behavior and making it difficult for Walter to speak up.
This incident also shows how few resources there are for those victims of this kind of harassment on-set, though times seem to be changing. #MeToo and Time's Up have forced Hollywood to put rules in place to help stop sexual misconduct in the workplace. SAG-AFTRA, the Hollywood actors union, issued a "Code of Conduct on Sexual Harassment" earlier this year that will "help better define what harassment is, and what members' rights are in real world situations," according to SAG-AFTRA president Gabrielle Carteris.
Following Times interview, there was a backlash against the Arrested Development male cast's seeming defense of Tambor in regards to his outburst. In the interview, Tambor said, he "profusely apologized" to Walter for the incident. Like Hurwitz, Jason Bateman apologized to Walter in the days following the interview for overlooking her feelings about the incident.
"I'm horrified that I wasn't more aware of how this incident affected her," Bateman tweeted last month. "I was so eager to let Jeffrey know that he was supported in his attempt to learn, grow and apologize that I completely underestimated the feelings of the victim, another person I deeply love."
Hurwitz's apology, along with Bateman's, is a step forward, but there's much more to be done when it comes to addressing on-set behavior. Specifically, when it comes to how women are feeling on set. Men need to be willing to ask their female co-stars and co-workers how they're feeling instead of making assumptions.
There also needs to be more transparency when it comes to addressing how to make sure everyone feels safe in the workplace. It's not just about apologizing for handling these kinds of incidences wrong, it's about figuring out how to make sure these kinds of incidents are handled right moving forward.