These New 'Game Of Thrones' Season 8 Posters Will Give You Major 'Real Housewives' Vibes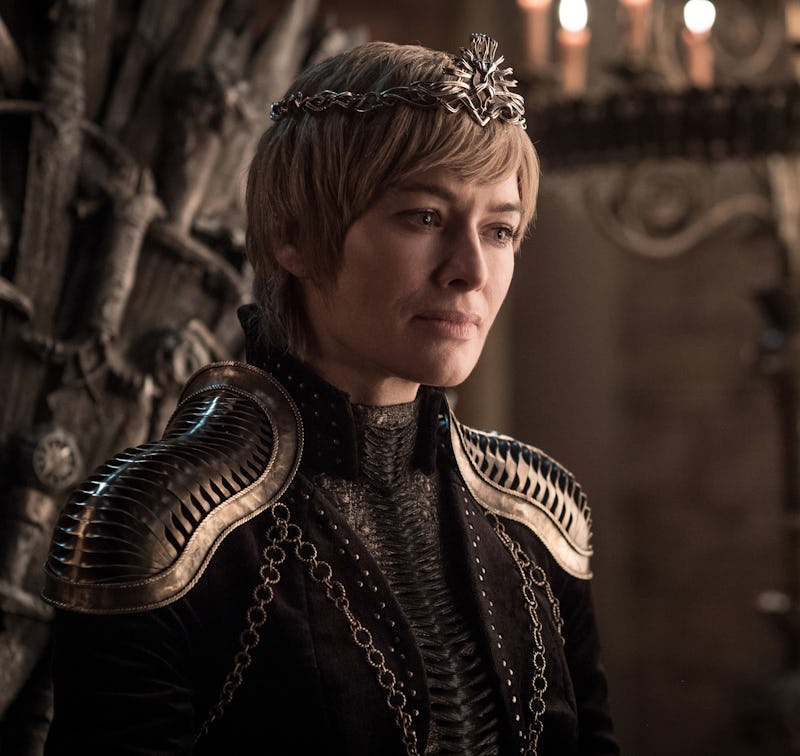 Helen Sloane/HBO
The Iron Throne is up for grabs and from the looks of the new Game Of Thrones Season 8 posters it's clearly still anybody's guess who will take it. Something that might be hard for the throne's current occupant, Cersei Lannister, to hear. The new ads for the upcoming final season of the HBO hit, premiering April 14, show all 20 main GoT characters looking quite regal atop the Iron Throne, not to mention quite comfortable. Seriously, just look at Jon Snow's cool guy lean.
Even better, Daenerys Targaryen, Tyrion Lannister, Arya Stark, and the rest of the GoT gang are giving off some serious Real Housewives vibes in these new images thanks to their custom taglines. These catchphrases would make RHOBH's Lisa Rinna or RHOJ's Teresa Giudice jealous — or, at the very least mad enough to flip a table.
For those who aren't quite sure who to bend the knee to, these remaining characters are making one final bid for the seat. Even the Night King is getting into the mix, which should frighten everyone in the Seven Kingdoms. So, whose catchphrase is good enough to warrant a spot in the big chair? That's for you to decide.
1. Daenerys Targaryen
That deadly stare should be enough to convince anyone Dany is ready, but her message of "my reign has just begun" is a threatening reminder of just what she can do.
2. Jon Snow
Jon Snow might not really want the throne, but his followers sure do. This is clear from his tagline, which he definitely didn't write. "We know no king, but the King in the North," sounds like something Davos might have workshopped for him, no?
3. Cersei Lannister
"Long may she reign," is Cersei's message to all those haters who think she's not gonna fight to the death for this top spot.
4. Jaime Lannister
Jaime is a warrior, which is why he thinks he can muscle his way to throne. "There are no men like me," he claims. "Only me." Oh, we'll see Jaime, we'll see.
5. Tyrion Lannister
Tyrion is all in his feelings as he prepares himself for the final battle. "Never forget who you are," he states. "The rest of the world will not." It will definitely be impossible to forget this hard stare Tyrion's giving us.
6. Arya Stark
"The North remembers," but Arya never forgets.
7. Sansa Stark
"The lone wolf dies, but the pack survives," perhaps thanks to Sansa's leadership, who's shown throughout the series she knows a thing or two about surviving.
8. Bran Stark
Bran's tagline is straight to the point: "I'm the Three Eyed Raven now." It'll be interesting to see what that means for the rest of the Seven Kingdoms.
9. Brienne of Tarth
Brienne might not be of noble birth, but she's closely aligned herself with those in power. Perhaps that's why her message to the world is, "This goes beyond houses and honor and oaths."
10. Davos Seaworth
The Onion King heeds a warning for all of the Houses: "We have to fight, and we need to do it together."
11. Euron Greyjoy
According to Euron, "there's only one reward I want." But, is it really the throne or the woman who currently sits on it?
12. Grey Worm
"Unsullied fear nothing," but perhaps King's Landing should fear Grey Worm.
13. Jorah Mormont
Jorah is still alive and kicking thanks to the kindness of Samwell Tarly. Perhaps that's why his message is "no one can survive in this world without help." Is Jorah planning to help himself to the throne?
14. Melisandre
The Red Witch is back with an ominous message: "The night is dark and full of terrors." Um, thanks?
15. Missandei
Missandei makes her allegiance clear and no surprise, she's Team Khaleesi: "She's the queen we chose."
16. Samwell Tarly
Sam is a lover not a fighter, but he's looking to win this one for the thinking man. "I'm tired of reading about the achievements of better men," he says, clearly looking to be the best man in this scenario.
17. Theon Greyjoy
Theon is not known as a hero, but he'd like to become one. "I always wanted to do the right thing," he says, leading us all to wonder what that might be.
18. Varys
Varys doesn't "believe in saviors," but it will be interesting to find out who he does think deserves the Iron Throne.
19. The Hound
Be afraid, be very afraid because The Hound is on a mission. "You know who's coming for you," he says. "You've always known." I'd think about sleeping with one eye open until the series is over.
20. The Night King
"Fear is for the Winter," but since it's finally here it's time to fear this guy, who looks a little too relaxed in that chair.
These posters might be #ForTheThrone, but they feel more like ads for The Real Housewives Of Westeros. Perhaps, another GoT spinoff HBO should consider.