The 'My Friend Dahmer' Trailer Reveals Chilling Details Of The Serial Killer's Teenage Years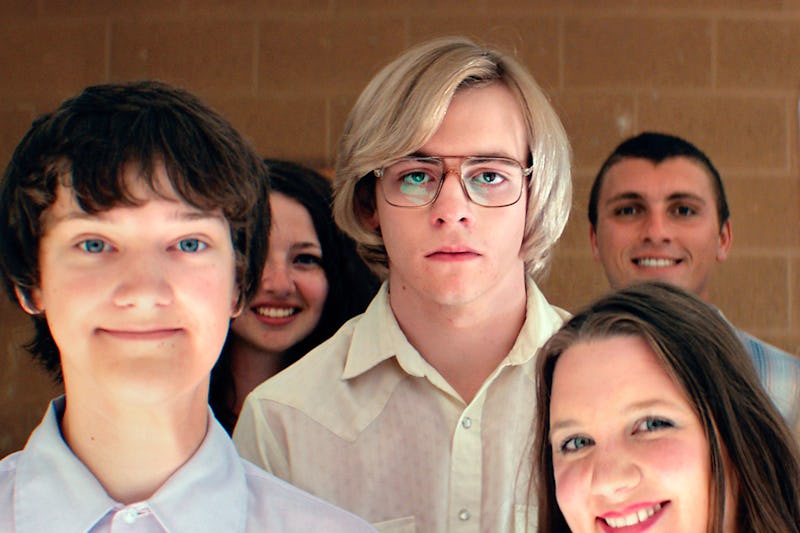 Ibid Filmworks
The world gets to see a different side of Jeffrey Dahmer in the new My Friend Dahmer trailer. The movie is based on John "Derf" Backderf's 2012 graphic novel of the same name who remembers what it was like growing up in Ohio with Dahmer back in 1978 when he was just a teenager, and not the infamous cannibalistic serial killer he would become known as to the world. Of course, those watching the movie probably already know what Backderf's friend Dahmer becomes, but the movie asks you to put that aside — if only for a moment. My Friend Dahmer paints a portrait of Dahmer before he was a serial killer that shows he wasn't always a monster but actually was a real person, a fact that is easy to forget all these years later.
The coming of age film looks at how Jeffrey Dahmer becomes the Jeffrey Dahmer, and explores what his formative years were like. It's Backderf's attempt at making sense of how his high school friend could eventually go on to gruesomely kill 17 people. He does this by taking a closer look back at Dahmer, played by Disney Channel star and R5 member Ross Lynch, and his behavior during senior year, which at the time maybe didn't seem so weird.
In the trailer there are little clues that Dahmer wasn't like the other boys. He's fixated on dead animals, explaining that he "likes bones," for one.
"Jeff's a little off," one of Dahmer's classmates says in the trailer after Dahmer has a "spaz" attack in the middle of the hallway. But Backderf, played by The Naked Brothers Band star Alex Wolff, simply says, "I think he's kind of hilarious."
There's also moments in the trailer that suggest Dahmer wasn't much different than the average teenager. He was a shy kid who was bullied by his fellow classmates. He was confused about his own sexuality. He had a mom (Anne Heche) who struggled with her own mental illness and a dad (Dallas Roberts) who wasn't sure how to handle it, which made him tough on his son. "I see things in you that I don't like about myself," he tells his son, later asking him to "be more normal."
Dahmer was a disturbed kid who supposedly drank to forget the questionable thoughts he had in his mind — thoughts that everyone around him seemed to ignore. In the trailer, after his doctor tells him he's fine, Dahmer asks, "What about what's on a patient's mind?"
Dahmer's backstory is like a ticking time bomb since we know that he committed his first murder only three weeks after graduating high school. The trailer plays that up with every second, giving us new answers about Dahmer's young life that only lead to more questions. Could someone have stopped him from doing what he did? Shouldn't have someone, anyone, noticed that something wasn't quite right? In Backderf's opinion, the answer is yes. "My Friend Dahmer is, at its heart, a story about failure," he told Vulture back in April. "Across-the-board failure. Particularly the adult world."
"I'm just like anybody else," Ross' Dahmer says to end the trailer. While that seems like an outlandish idea now, it's something Backderf truly believes in the case of Dahmer. He told Rolling Stone last year that this story makes people "so uncomfortable because it's so familiar. What I hear over and over is 'Oh, I knew a guy just like Dahmer.'" But do we already know too much about Dahmer to give his life a second look? Audiences will make that decision for themselves when the film hits theaters November 3.