The VMAs Make An Exciting Change For The 2017 Show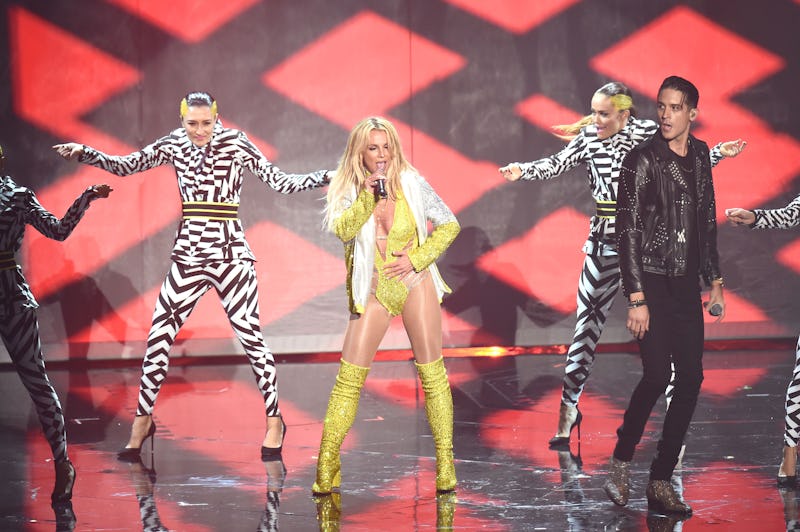 Michael Loccisano/Getty Images Entertainment/Getty Images
Award shows are entering a new chapter. The MTV Video Music Awards will have non-gendered categories in keeping with the progressive precedent the music channel set earlier this year. In a press release about the new VMAs categories for 2017, MTV explained that due to the praise received for ending gendered categories at the 2017 MTV Movie & TV Awards, the VMAs would follow suit.
The former Best Female Video and Best Male Video categories have now been combined for Artist of the Year. The 2017 Artist of the Year nominees are Bruno Mars, Kendrick Lamar, Ed Sheeran, Ariana Grande, The Weeknd, and Lorde. This change levels the playing field for male, female, and gender non-conforming nominees to be judged on their contributions to music alone regardless of how they identify by gender.
MTV previously replaced its Best Actress and Best Actor categories at the inaugural Movie & TV Awards in favor of Best Actor in a Movie and Best Actor in a Show. The show itself had been changed from the MTV Movie Awards to include honoring television shows as well. In May 2017, nonbinary actor Asia Kate Dillon presented the first gender-neutral acting award — Best Actor in a Movie — at the MTV Movie & TV Awards. Emma Watson won for her portrayal of Belle in Disney's live action version of Beauty and the Beast. Millie Bobby Brown won Best Actor in a Show for her role as Eleven from the Netflix's show Stranger Things.
However, MTV's award shows aren't the only programs to eliminate gendered categories. The Grammy Awards ended gender distinctions among male and female singers and in the categories for collaborations and group performances in 2011. As underrepresented and often misgendered members of society demand more screen time, proper use of pronouns, and equal opportunities to an audience for any role in entertainment they choose, MTV's non-gendered categories are a step in the right direction for Hollywood.
Regarding the Movie & TV Awards category changes, MTV, VH1 and Logo general manger Amy Doyle told The Hollywood Reporter the non-gendered categories were inspired by MTV's young, progressive audience members who are "uniformly rejecting obsolete labels and embracing fluidity."
"It really was a cultural statement. And it really is reflective about the audience's views and when you look at the culture as a whole, you had a man against a woman running for president [last year]. It just felt like a dated construct for a category."
It comes as no surprise that the VMAs would carry the forward-thinking torch and continue to put the power in the hands of the fans. Starting today, MTV viewers can begin voting for Video of the Year, Artist of the Year, Best Collaboration, and more at vma.mtv.com to see who will take home the coveted MTV moon men on Sunday, Aug. 27.