Watch The New 'Wonder Woman' Trailer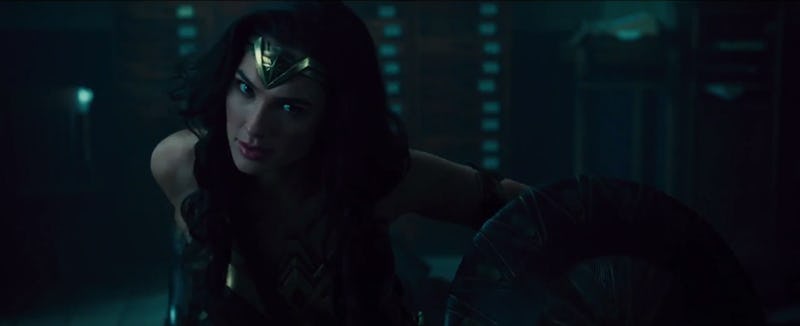 Warner Bros. Pictures
While Hollywood stars were getting slimed on Nickelodeon's Kids Choice Awards, superhero fans got a real treat: the new Wonder Woman trailer premiered during the award show on Saturday night. The preview of the movie, which is released in theaters on June 2, shows that Wonder Woman (a.k.a. Diana Prince, an Amazon princess) is the superhero we need right now. If you missed it, you can watch the new Wonder Woman trailer on YouTube and check out just how kickass Gal Gadot is as the titular hero.
The new trailer shows a bit of Wonder Woman's origin story, which means that her backstory will probably be explored in detail in the full length feature film. As a young girl, Diana was told by her mother Hippolyta that she wasn't among "the fiercest" who could wield a special sword — the one that would later become Wonder Woman's trademark weapon. Diana, though, has other plans. The trailer shows her training hard with other Amazon women, but a narrator states that Diana "must never know the truth about what she is." Later, Chris Pine shows up as military man Steve Trevor and he has some bad news for Diana: "Whoever you are, you are in more danger than you think," he tells her.
Finally, present-day Diana gets her hand on that sword and declares, "If no one else will defend the world, than I must." She goes to London with Steve, who gets some clever one-liners in and thinks he needs to shield Diana from a bullet — but instead, she deflects it for him. Welcome to 2017, Steve. Wonder Woman has got this.
Watch the full Wonder Woman trailer in the video below and check out all the action for yourself.
Wonder Woman opens in theaters on June 2.