How The Nigerian Army Used Trump's Words To Justify Shooting Protesters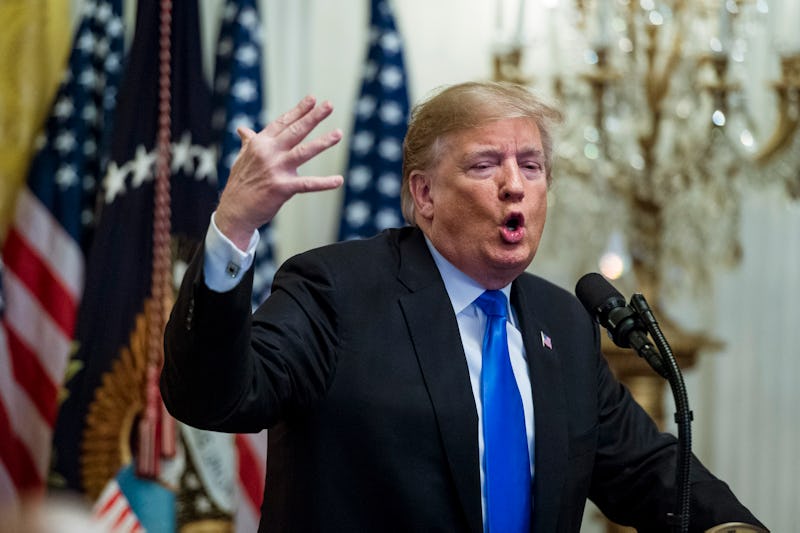 Pete Marovich/Getty Images News/Getty Images
In an immigration speech Thursday, President Trump said that if any migrants throw rocks at the U.S. military, they'll be met with deadly force, because there's "not much of a difference" between a rock and an assault rifle. Days later, the Nigerian Army tweeted Trump's comments about firing at migrants to justify its own shooting of protesters days earlier. Bustle has reached out to the White House for comment.
"Anybody throwing stones, rocks, like they did to Mexico and the Mexican military, Mexican police — where they badly hurt police and soldiers of Mexico — we will consider that a firearm. Because there's not much difference," Trump said in a speech at the White House on Thursday, discussing the migrant caravan making its way to America's southern border. "We're not going to put up with that. If they want to throw rocks at our military, our military fights back. We're going to consider — and I told them, consider it a rifle."
Days before Trump made those comments, the Nigerian military opened fire on a group of Shi'a protesters in two separate incidents. Amnesty International says that the protesters were peaceful and that 45 of them were killed, while the Nigerian military maintains that the demonstrators were armed and only six people died. In court documents obtained by Agence France-Presse, the military argued that the protesters "started throwing stones at the police officers and other members of the public and thereby caused them bodily harm."
On Friday, the official Twitter account of the Nigerian Army tweeted out a video of Trump's remarks from Thursday along with the caption, "Please Watch and Make your Deductions." A spokesperson for Nigeria's defense department confirmed to Agence France-Presse that the tweet was a response to claims that the Nigerian military had acted unlawfully against the protesters. Since then, however, the tweet has been deleted.
As many as 8,000 migrants have joined a caravan (or possibly two caravans) en route to the United States from Honduras. As of Friday morning, the northernmost caravan was in the southwestern Mexican city Matias Romero — still weeks away from the U.S. border, according to PolitiFact.
The Trump administration has sought to depict the caravan as a dangerous group of criminals. Trump wrote on Twitter that the caravan included "criminals and unknown Middle Easterners," while the Department of Homeland Security claimed that "over 270 individuals along the caravan route have criminal histories." When asked by PolitiFact how it had come to this number, DHS called that information "law enforcement sensitive," while the president later acknowledged that "there's no proof" in the caravan is from the Middle East.
Nevertheless, Trump announced earlier in the week that he plans to send 5,200 U.S. troops to the Mexican border in anticipation of the caravan's arrival, and he made his comments about rocks and rifles while discussing what approach the military would take if confronted with caravan members at the border.
On Friday, however, Trump attempted to distance himself from those comments, stressing to reporters that "I didn't say 'shoot.'"