Tiffany Haddish Makes Your 'Catfish' Revenge Fantasies Come True In The 'Nobody's Fool' Trailer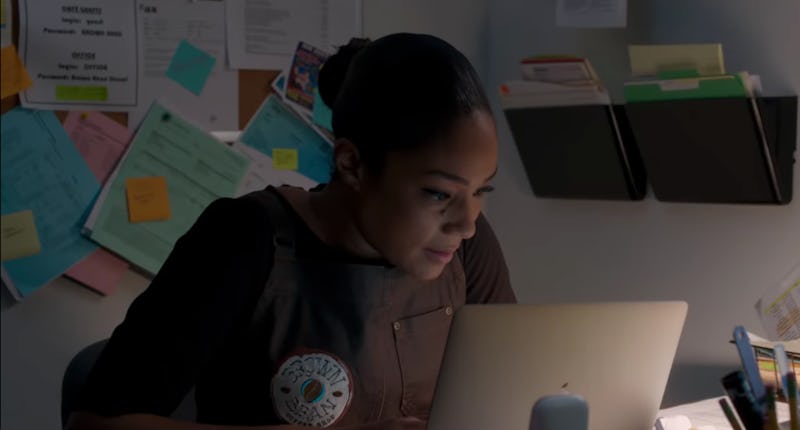 Paramount Pictures/YouTube
By now, most single folks are likely well-aware of the medley of potential risk factors that can sometimes accompany the modern world of online dating. But for those who might be prone to catfishing, Tiffany Haddish has some words of wisdom: "If a man looks too good to be true, he is." At least, that's the advice Haddish's character gives her sister in the new trailer for Nobody's Fool, which Paramount just released on Monday afternoon, June 18.
The Nobody's Fool trailer marks fans' first glimpse at the upcoming comedy, which was directed by Tyler Perry and stars Tika Sumpter, Whoopi Goldberg, and Amber Riley — in addition to Haddish, of course. "Some of you Caucasians might recognize me from the Oscars," Haddish says into the camera at the start of the trailer video, right before the actual content kicks off.
If the trailer is any indication, it looks like Nobody's Fool is planning to capitalize on the comedic merits of its stacked cast of funny people. That's probably a smart move, since the trailer alone sees Haddish pulling a series of characteristically Haddish stunts (did everyone catch that tongue-out moment about mid-way through?) and they're already seriously hilarious. Pair that with a bizarre premise involving the woes of modern-day romance, and what do we get? After watching the trailer, it seems like the answer basically boils down to this: a laugh-out-loud dramedy about a former inmate who enthusiastically aims to take down the man who has been catfishing her sister.
The trailer, which plays out to the tune of Cardi B's triumphant hit, "I Like It," opens on Sumpter's character, Danica, a high-powered businessperson with a mission. (And really good taste in home decor.) "If I close this deal, I'll be the first black woman to be a VP in the company," Danica says. Her game plan is temporarily interrupted, though, when she gets a call from her mother (played by Goldberg).
"Listen, it's your sister. She's getting out," Danica's mother tells her. "If you could pick her up, I'd appreciate it." And while Danica doesn't exactly look thrilled to fulfill the request, she doesn't argue. Enter: Tanya, Haddish's wild character who hops in the back of Danica's car with all the dynamism (and, rest assured, all the absurdity) of the famed comedian herself. "Free at last! Free at last! I'm about to go out here and shake this *ss," Tanya sings, before asking, "Can we go to the club?"
The real drama comes a little later, after Tanya inquires about her sister's love life. Danica tells her she's been dating "an amazing guy" named Charlie, though Riley's character informs Tanya that the two have never actually met in real life. "She met him online a year ago, but she's never even seen him," Riley's character reveals. After a little bit of research, this tidbit of information leads Tanya to a sort of "aha" moment. "You're being catfished!" she tells her sister.
For as wild and unpredictable as she may seem, Tanya goes into full on revenge mode for her sister. Exactly how Tanya ends up taking down "Charlie" remains unclear at this point, though the trailer suggests it might involve crashing a wedding, and maybe just a little bit of comedic violence. And fans will just have to wait until November to see how it all ends up. Until then, feel free to revel in the standalone hilarity that is the Nobody's Fool trailer. Catfishing premise aside, it's clear these women are in there element here, and that alone seems like a pretty huge victory. Here's to hoping they catch the catfish in the process.