The NRA Is Suing Seattle For Requiring People To Safely Store Their Guns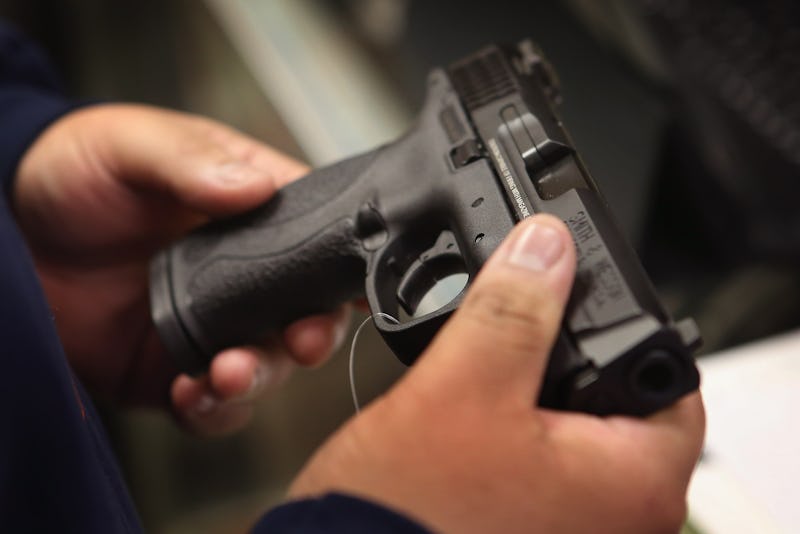 Scott Olson/Getty Images News/Getty Images
Seattle's attempts to make gun owners in the city safely store their guns is under attack by Second Amendment activists and groups like the NRA. In protest, the NRA sued Seattle for its gun ordinance. They even named the mayor, police department and police chief in the court papers.
The city's ordinance would charge residents up to $10,000 for the most severe infractions, like when an unsecured firearm is used to commit a crime or causes an injury or death. Mayor Jenny Durkan, a Democrat, announced the suit on Twitter on Friday. Attaching a photo of the court filing, the mayor wrote:
The @NRA decided to sue me and @carmenbest in addition to @CityofSeattle. If they think we are intimidated, they are mistaken. I will continue to fight for our kids.
The NRA is joined by pro-gun group The Second Amendment Foundation and two Seattle gun owners in the suit. They argue that the Seattle ordinance is superseded by state law, which limits the options that a municipality has to regulate guns.
The Second Amendment Foundation detailed their argument in a press release. "The City of Seattle has been trying to erode state preemption almost from the moment it was passed back in 1985," SAF founder and Executive Vice President Alan M. Gottlieb said in the statement. "We should not have to repeatedly remind Seattle that they are still part of Washington State and must obey the law." He pointed to past cases in which city ordinances on guns were struck down for the same state law.
But Durkan seems committed to pushing ahead anyway. "While they go to court — kids go to the hospital," Durkan told local news channel KOMO. We can't prevent every gun death or injury, we can take steps to help prevent tragedies. I am grateful that legal experts who share our commitment to reducing gun violence are standing with us and standing up for safer communities."
"We will prevail and will continue to push for more protection for our children," the mayor added.
The ordinance has lots of different fines worked into it, and not all are $10,000. For example, a gun owner must report a lost or stolen gun to police quickly or could face fines. Not keeping a gun in a locked container would cost $500. If a minor were to access an unlocked gun, the fine jumps to $1,000. The top fine is reserved for when someone is hurt or worse.
Regardless of the merit of the law, the gun lobby groups are against it. The SAF press release said:
The state legislature has sole authority to adopt gun laws including, but not limited to, registration, licensing, possession, purchase, sale, acquisition, transfer, discharge and transportation of firearms.
KOMO reported on a University of Washington study that showed two-thirds of the state's gun-owning households don't lock their guns properly. Erin Morgan, a researcher at UW's School of Public Health who worked on the study, said that in addition to the findings on safe storage, the study showed an "increased risk for suicide among gun-owning household."
At the time the study came out, Dave Workman, a senior editor at the Second Amendment Foundation criticized it. "Everybody will store their firearms differently. What some people believe isn't safe is perfectly adequate for other people," Workman told KOMO.
The Seattle government is committed to making a difference. "This is the kind of action we need to save lives," Durkan when the measure passed. "While we can't prevent every gun death or injury, we can take steps to help prevent future tragedies."
Whether it actually is applied come January will now depend on the courts.