The NRA Told Doctors To Stay Out Of The Gun Control Debate — And They Clapped Back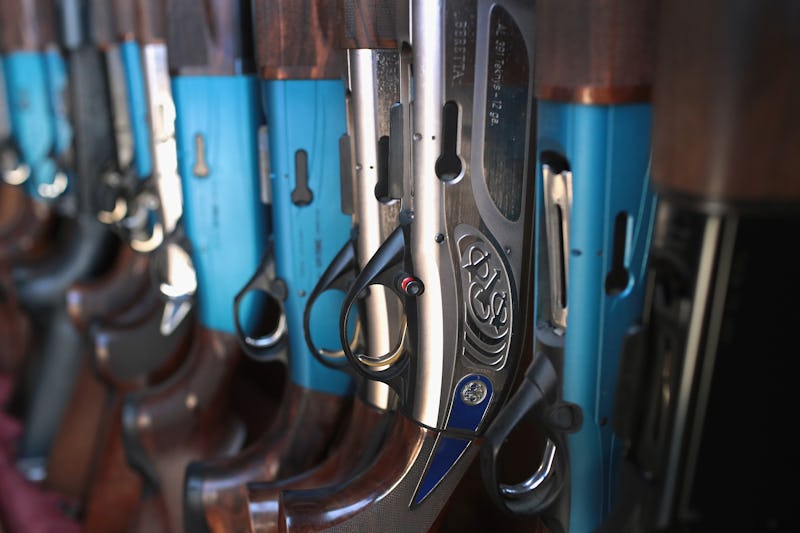 Scott Olson/Getty Images News/Getty Images
The day before America's latest mass shooting occurred in Thousand Oaks, California, the National Rifle Association took to social media to attack a surprising target: doctors across the country. The NRA told doctors dealing with gun violence to "stay in their lane" on Wednesday, taking issue with "self-important anti-gun" doctors who have spoken out as proponents of gun control. Furthermore, it contended that the medical community at large had "consulted NO ONE but themselves" regarding the issue of gun safety and violence.
The source of the NRA's fury had to do with a "Latest from Annals" email, which contained several articles regarding proper gun violence prevention and treatment. As a result, the NRA took on the American College of Physicians, which represents over 150,000 internal medicine specialists.
"Someone should tell self-important anti-gun doctors to stay in their lane," the NRA tweeted. But many doctors had no interest in doing in that. Instead, they began to clap back with profound messages to the NRA on social media.
One emergency physician tweeted, "Hi @NRA — I'm an ER doctor. Gun violence *is* in my lane." She added in a follow-up tweet, "But I'm glad you brought up lanes. Maybe @NRA should stay in *its* lane by not attempting to control what doctors can talk with their patients about."
Another doctor, trauma surgeon Joseph Sakran, wrote, "Not only are we not going to 'stay in our lane', but we are going to do everything in our power to ensure that Americans in communities all across this nation our protected from these senseless tragedies."
Still another doctor wrote, "I saw a child drowning in a community pool once. Instead of consulting with the lifeguard, I waded over and lifted him out. The NRA would say I should've stayed in my lane."
Dr. Esther Choo of the Oregon Health & Science University addressed each of the NRA's claims and broke them apart, one by one: "We are not self-important: we are important to the care of others; We are not anti-gun: we are anti-bullet holes in our patients; We consult with everyone but extremists; Most upsetting, actually, is death and disability from gun violence that is unparalleled in the world."
Lastly, the Annals of Internal Medicine responded to the NRA, as well. It wrote, "The @NRA tells doctors to "stay in their lane" re #GunViolence. We wish we could. Instead, we pledge to talk to our patients about gun violence whenever risk factors are present." Then it linked to a site offering more information on firearm safety and prevention.
In recent years, the NRA has grown increasingly outspoken as an organization on its social media accounts, as have politicians who are publicly backed by the NRA. Following the Thousand Oaks shooting, in which a gunman used a legally purchased gun to fire into a crowd that held half a dozen police officers, NRA-backed Sen. Marsha Blackburn argued that it was essential to protect the Second Amendment.
To Fox News, she said on Thursday morning, "What we do is say, how do we make certain that we protect the Second Amendment and protect our citizens? We've always done that in this country. Mental health issues need to be addressed."
The NRA contributed over a million dollars to Blackburn's campaign for the recent midterms.