The Number Of U.S. Citizens Applying For Asylum In Canada Skyrocketed Under Trump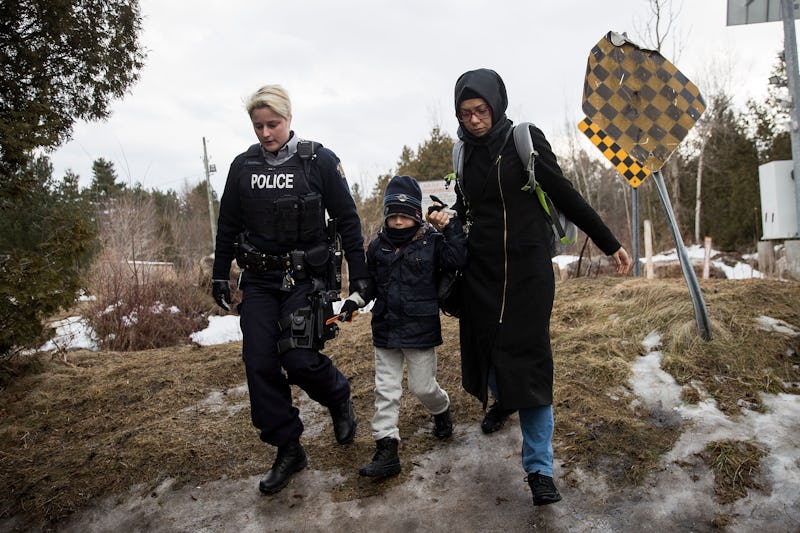 Drew Angerer/Getty Images News/Getty Images
All of your friends who joke about moving to Canada seem to be onto a very real trend in the United States: the number of U.S. citizens traveling to Canada for asylum has jumped six-fold under Trump. According to The Guardian, which notes data from Immigration, Refugees and Citizenship Canada, the number of U.S. citizens who applied for asylum in Canada in 2017 reached 2,550. That's the largest number of American asylum-seekers to Canada since at least 1994.
To put it in perspective with other nations, Americans were the third largest contingent of asylum seekers to Canada overall, following Haitians and Nigerians. The Americans seeking asylum aren't fleeing the same conditions that other asylum seekers traditionally are, though, such as war, violence, and religious persecution. Rather, a large number of American asylum seekers are children of unauthorized immigrants living in the United States who have a newfound fear of being deported, per Business Insider.
Stéphane Handfield, a Montreal-based immigration lawyer, told The Guardian,
Most of the Americans applying for refugee status are the children of non-residents. They are US citizens because they were born there, but they come across the border with their parents because they don't want to be separated.
One couple who fled the United States for Canada in 2017 told The Guardian, "We left because President Trump said he wanted to deport people."
Of course, it's worth noting that Canada isn't necessarily letting in all asylum seekers at its border. In fact, Canada aims to increase deportations itself; specifically, to increase the number of deportations of failed refugee claimants by as much as 35 percent, per The Guardian.
For now, though, the Canadian border still appears to be more welcoming than the United States, both for undocumented citizens and children born in the United States with undocumented immigrant parents. This is especially true, given Trump's recent announcement that he intends to end birthright citizenship as a policy.
In an interview with Axios on HBO, Trump said, "We're the only country in the world where a person comes in, has a baby, and the baby is essentially a citizen of the United States for 85 years with all of those benefits."
Many publications have since pointed out that over 30 countries offer birthright citizenship policies similar to that of the one offered in the United States. That includes Canada, though the Conservative Party in Canada has made its own efforts to end birthright citizenship. More specifically, there was an effort in the summer of 2017 to end the policy unless one of the parents of the child born in Canada is a citizen. For now, though, Canada maintains its birthright citizenship policy.
In terms of political leaders, there's no doubt that Canadian Prime Minister Justin Trudeau appears far more welcoming to asylum seekers than Trump. In a radio interview in July, Trudeau said, "The premier [Doug Ford] asked me a question that a lot of people have asked me: 'Why don't we just stop them at the border? Why don't we just prevent them from crossing?'"
Trudeau continued, "We have to provide due process for people according with Canadian law and values. When you're playing up divisions and fear, you're playing a very dangerous, short-term game."