The NYPD Has Opened A Criminal Investigation Of Harvey Weinstein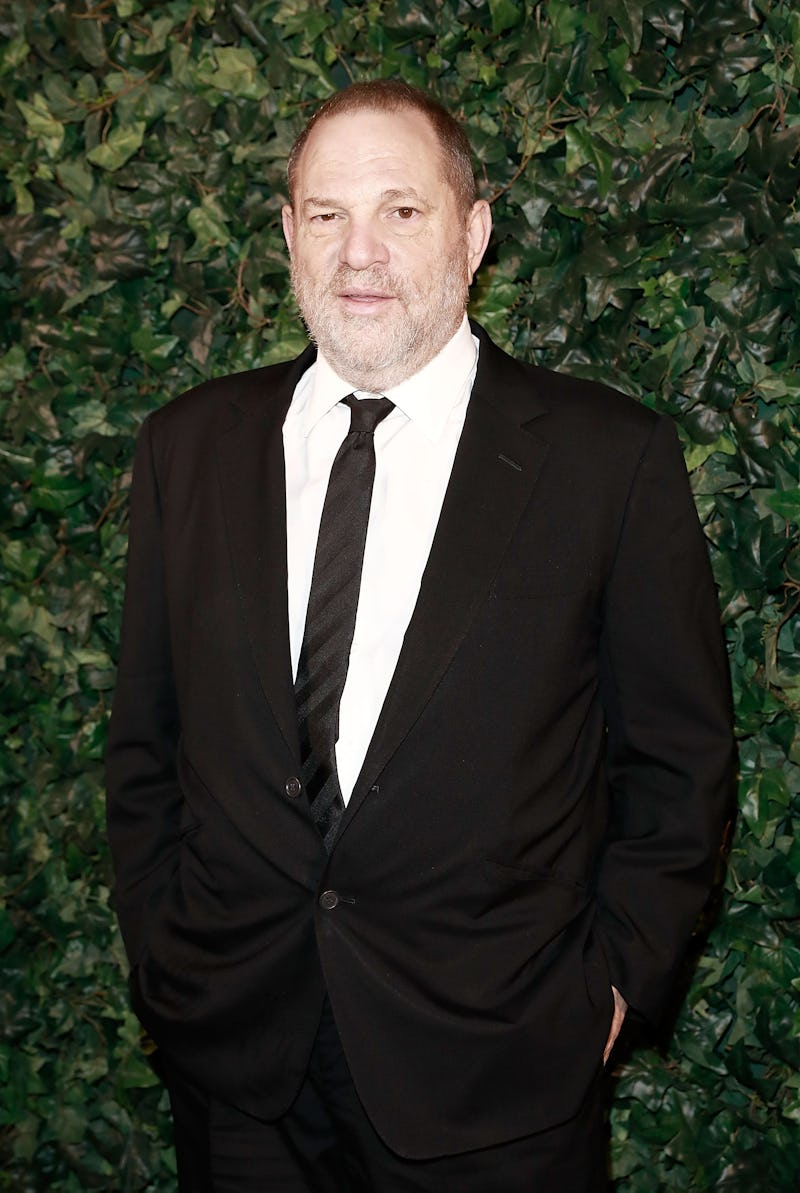 John Phillips/Getty Images Entertainment/Getty Images
On Thursday, The Hollywood Reporter confirmed that the NYPD is investigating Harvey Weinstein. Variety also reports it has confirmed Weinstein is under criminal investigation by the New York City Police Department. Weinstein's spokesperson had no comment for Bustle regarding the matter. Bustle has also reached out to Weinstein's lawyers, but did not receive an immediate response. The NYPD told THR in a statement:
"Based on information referenced in published news reports the NYPD is conducting a review to determine if there are any additional complaints relating to the Harvey Weinstein matter. No filed complaints have been identified as of this time and as always, the NYPD encourages anyone who may have information pertaining to this matter to call the CrimeStoppers Hotline at 1-800-577-TIPS."
Update: On Thursday, BuzzFeed reported that the NYPD confirmed that it is investigating an allegation that Weinstein sexually assaulted someone in 2004. "A complaint was never filed with the NYPD. The NYPD is investigating an allegation of sex assault from 2004," an NYPD spokesperson reportedly told BuzzFeed. Bustle reached out the NYPD regarding this report and was directed to this line from its original statement: "No filed complaints have been identified as of this time."
Earlier: This news comes on the heels of Ronan Farrow's piece published on Tuesday for The New Yorker. In it, 13 different women came forward with allegations against Weinstein, including actors Mira Sorvino and Rosanna Arquette. Three of the 13 women also alleged Weinstein had raped them. (All allegations of non-consensual sex have been denied by Weinstein's spokesperson.) One of the accusers is Lucia Evans, who reportedly first met Weinstein at a club in New York in 2004. She claimed that Weinstein's assistant called one day to set up a meeting, which would be held at the Miramax office in Tribeca. She claims at the time of the call she was told both Weinstein and a female casting executive would be present. "I was, like, 'Oh, a woman, great, I feel safe,'" Evans told The New Yorker.
However, she alleges that upon arrival at the office, she met with Weinstein alone. "The type of control he exerted, it was very real," she said. "Even just his presence was intimidating." Eventually, after some allegedly "demeaning" conversation, Evans alleges that Weinstein sexually assaulted her. "He forced me to perform oral sex on him," she alleges, despite claiming she repeatedly asked him to stop.
Weinstein's spokesperson, Sallie Hofmeister, told The New Yorker, "Any allegations of non-consensual sex are unequivocally denied by Mr. Weinstein." The rest of the statement read:
"Mr. Weinstein has further confirmed that there were never any acts of retaliation against any women for refusing his advances. Mr. Weinstein obviously can't speak to anonymous allegations, but with respect to any women who have made allegations on the record, Mr. Weinstein believes that all of these relationships were consensual. Mr. Weinstein has begun counseling, has listened to the community and is pursuing a better path. Mr. Weinstein is hoping that, if he makes enough progress, he will be given a second chance."
The New Yorker piece came out after The New York Times' Oct. 5 exposé, which described sexual assault and harassment allegations made against Weinstein that spanned decades. Weinstein released a written statement to the Times. "I appreciate the way I've behaved with colleagues in the past has caused a lot of pain, and I sincerely apologize for it," a portion of his statement reads. "I realized some time ago that I needed to be a better person and my interactions with the people I work with have changed." In his statement, Weinstein didn't confirm or deny any of the specific allegations against him. On Oct. 8, The Weinstein Company fired Weinstein and there were also four other resignations from his all-male board.
On Oct. 5, Weinstein's lawyer, Charles Harder, told The Hollywood Reporter that his client would be suing the Times. "The New York Times published today a story that is saturated with false and defamatory statements about Harvey Weinstein," Harder wrote. "It relies on mostly hearsay accounts and a faulty report, apparently stolen from an employee personnel file, which has been debunked by nine different eyewitnesses. We sent the Times the facts and evidence, but they ignored it and rushed to publish. We are preparing the lawsuit now. All proceeds will be donated to women's organizations."
According to THR senior staff writer Ryan Parker, police informed him that at this time there are still no investigations into Weinstein in Los Angeles.
If you or someone you know has been sexually assaulted, call the National Sexual Assault Telephone Hotline at 800-656-HOPE (4673) or visit online.rainn.org.