The Obamas Could Become College Football Captains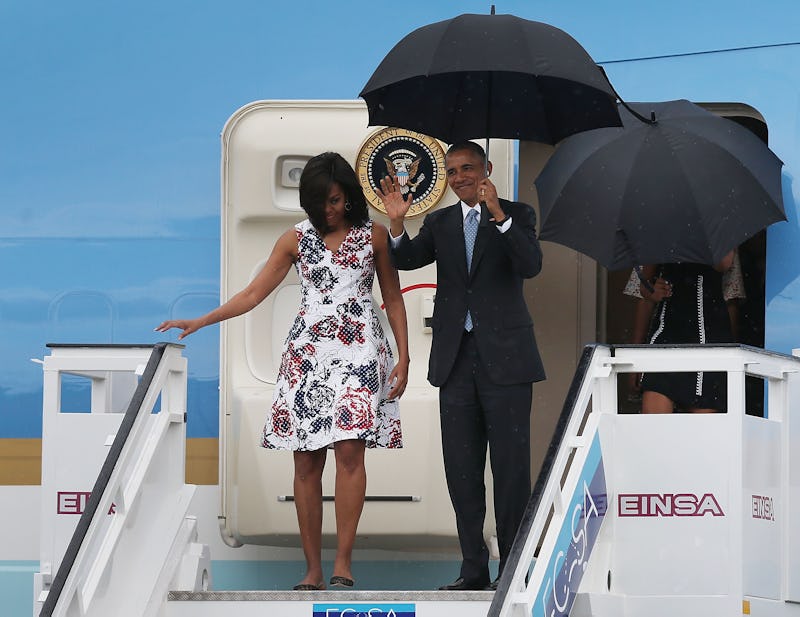 Joe Raedle/Getty Images News/Getty Images
While President Trump seems set on dismantling his predecessor's legacy one healthcare program or Cuba policy at a time, former President Barack Obama has no shortage of opportunities for the road ahead. In a meeting last week in Washington, D.C., University of Michigan head coach Jim Harbaugh reportedly offered the Obamas an honorary football captain position with the Wolverines. Harbaugh made the announcement on Sunday at a football event in Ann Arbor, where the university's flagship campus is located.
"Well, we're going to ask. He's still a busy man," Harbaugh reportedly told his audience at Saturday's quarterback camp. "[But] that'd be something."
He also referenced some of what was likely keeping the former president busy, including a book he reportedly has in the works. Harbaugh met with Obama and the former first lady last week, calling the meeting "a great learning experience." It wasn't the first time he had met the couple, as he worked with Michelle Obama during her time in office on a campaign to promote higher education.
"Spent 39 wonderful minutes with President Obama [last week], saw Mrs. Obama as well," he said on Saturday. "He was great. He's relaxed working on a lot of things. A book."
Beyond their connection to Harbaugh, it's not clear if the Obamas have any connection to the University of Michigan. The former president graduated from Columbia University and Harvard University's law school. Meanwhile, the former first lady graduated from both Princeton University and Harvard's law school. During their professional careers, both Obamas worked for a time at the University of Chicago.
Personal connection or not, a football captain position at the University of Michigan comes with a certain aura of esteem. The Wolverines hold the record for most all-times wins in college football history. Earlier this year, some of the most recent Michigan players set a school record, with 11 players being selected in the 2017 NFL draft.
It's not unusual for former presidents to serve as honorary football captains. Last October, former President George H. W. Bush tossed the coin to begin an NFL game between the Houston Texans and the Detroit Lions; he also served as the Texans' honorary captain. In February, Bush also tossed the coin at the start of the Super Bowl game between the New England Patriots and the Atlanta Falcons, held at the NRG Stadium in Houston.
For their part, the Obamas had not publicly commented on the invitation from the Wolverines' head coach, as of Sunday morning. The team will kick off its upcoming season on Sept. 2 in Arlington, Texas, as the Wolverines take on the University of Florida Gators. They'll be closer to the Obamas' home in Washington, D.C., later in the season, as they visit the University of Maryland Terrapins on Nov. 11.