The Obamas & Netflix Are Teaming Up And It's So Major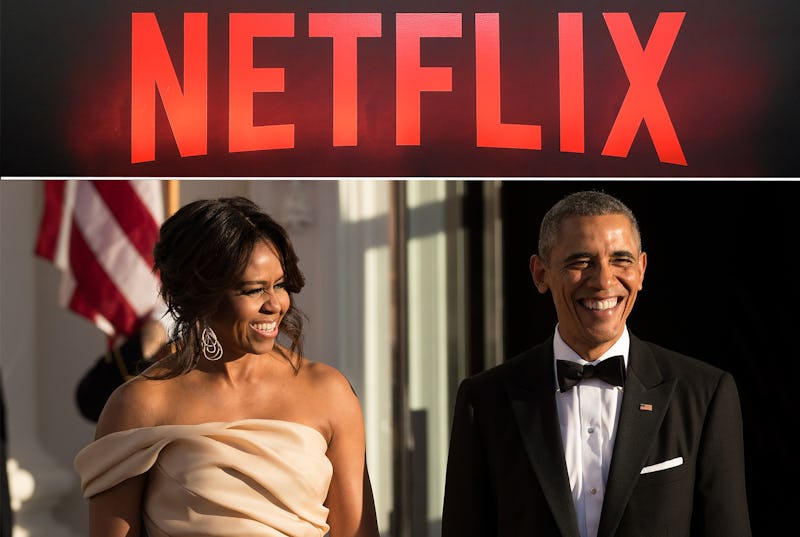 Alexandre Loureiro/Getty Images Entertainment/Getty Images / Drew Angerer/Getty Images News/Getty Images
Netflix regularly offers its subscribers reasons to be very excited, but their latest news will likely bring it to another level entirely. Netflix has just announced that Barack and Michelle Obama signed a Netflix contract to produce content for the media company. According to Netflix's Twitter post announcing the collaboration, this could include scripted and unscripted series, documentary series, documentary films, and feature films.
According to the New York Times, the former first couple created a production company called "Higher Ground Productions." Through this company, they will produce content for Netflix, which all of Netflix's subscribers will then have access to.
"One of the simple joys of our time in public service was getting to meet so many fascinating people from all walks of life, and to help them share their experiences with a wider audience," former President Obama said in a statement, the Times reported. Their aim, the paper said, was not to fight back against President Trump or more conservative-leaning media organizations like Fox News, but instead to promote the issues they had worked for during their time in the White House.
"That's why Michelle and I are so excited to partner with Netflix," Obama said. "We hope to cultivate and curate the talented, inspiring, creative voices who are able to promote greater empathy and understanding between peoples, and help them share their stories with the entire world."
CNBC reported that Netflix chief content officer Ted Sarandos spoke about the announcement in a statement as well. The Obamas, he said, "are uniquely positioned to discover and highlight stories of people who make a difference in their communities and strive to change the world for the better."
Barack Obama, CNBC reported, has worked with Netflix before, when he appeared in "My Next Guest Needs No Introduction with David Letterman," also a Netflix production.
In March, the New York Times reported that the Obamas were working on striking a deal with Netflix, but there was no word on how long the negotiations would take. As of right now, Netflix has not announced any specific plans for what the Obamas would produce, but the Times report in March listed out a couple of potential ideas. Perhaps Barack Obama could act as a moderator on a discussion show that would cover the main issues of his presidency, like health care, immigration, or climate change. Michelle Obama, on the other hand, could play a role in shows championing the same causes she worked for as First Lady, like nutrition and exercise.
According to NBC News, this new deal will give the Obamas a platform that spans more than 190 countries and 120 million subscribers. While Netflix offerings change by country, the content produced directly through Netflix is available to all subscribers. NBC News further reported that the financial terms of the deal are not yet public, but that previous contracts between Netflix and A-list celebrities have been worth tens of millions of dollars. The Obamas have not worked in entertainment or production, but having their names attached to any production will be sure to cause a splash.
The Obamas have kept themselves busy in the time since they left the White House. They started the Obama Foundation, which has rolled out program after program aimed at, as their website states, "[inspiring] and [empowering] people to change their world." The Netflix shows that they produce, the New York Times said, would have a similar aim.
"We are incredibly proud they have chosen to make Netflix the home for their formidable storytelling abilities," the Times reported that Sarandos said. There's no word about when the first Obama productions will hit your computer screen, but you can be sure that Netflix will make sure you know as soon as it happens.