The Obamas' Statement On Aretha Franklin Perfectly Captured What She Meant To America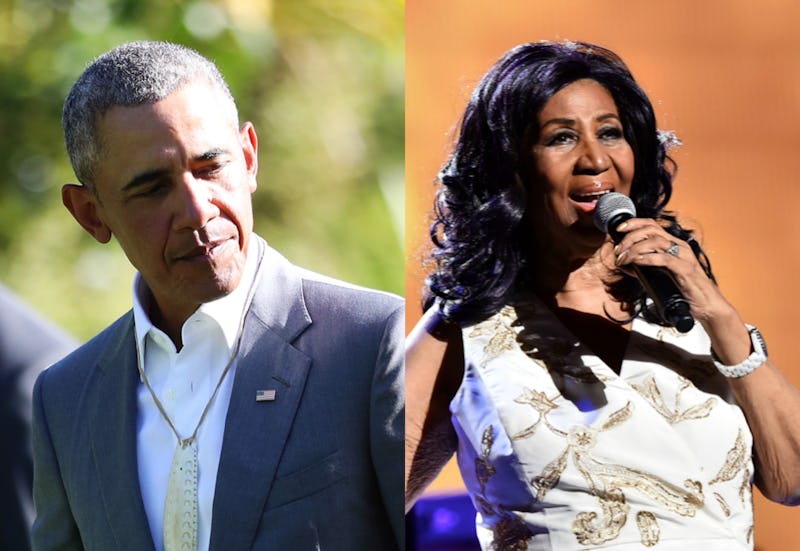 Hannah Peters/Getty Images News/Getty Images and Theo Wargo/Getty Images Entertainment/Getty Images
Barack Obama made a point of celebrating musicians, and black artists in particular, during his presidency. One of the most memorable moments of his tenure was when he was brought to tears by the Queen of Soul's 2015 performance of "(You Make Me Feel Like) A Natural Woman." So it's no surprise that he and Michelle immediately commented Thursday after the news of her death broke. The Obamas' statement on Aretha Franklin's death perfectly captures why the singer moved so many Americans.
The couple's statement weaves together praise of Franklin's musical talents with extolment of her significance as an American figure:
America has no royalty. But we do have a chance to earn something more enduring. Born in Memphis and raised in Detroit, Aretha Franklin grew up performing gospel songs in her father's congregation. For more than six decades since, every time she sang, we were all graced with a glimpse of the divine. Through her compositions and unmatched musicianship, Aretha helped define the American experience. In her voice, we could feel our history, all of it and in every shade — our power and our pain, our darkness and our light, our quest for redemption and our hard-won respect. She helped us feel more connected to each other, more hopeful, more human. And sometimes she helped us just forget about everything else and dance.
Aretha may have passed on to a better place, but the gift of her music remains to inspire us all. May the Queen of Soul rest in eternal peace. Michelle and I send our prayers and warmest sympathies to her family and all those moved by her song.
Franklin passed away on Thursday at the age of 76. Obama's love for her music has been known for years; on the 2008 campaign trail, he told Blender magazine that "Think" was one of his top ten favorite songs. Franklin attended one of his campaign events, and he acknowledged her presence by singing a couple lines from "Chain of Fools" to the audience. She then joined him for his 2009 inauguration, where she sang "My Country, 'Tis of Thee."
Six years later, Franklin performed at one of the White House's many music events, "Celebrating Gospel Music: 'Where Their Dreams Took Flight,'" which also featured singers like Shirley Caesar and Emmylou Harris. The Obamas brought in 130 students from around the country to sit in the audience and hosted a Q&A between them and the performers before the event began. It was a hot night, and the air conditioner broke, causing the Queen of Soul to borrow Michelle's program to fan herself.
The heat didn't stop her from performing for nearly half an hour. During his closing remarks, Obama said, "We've been to church tonight. It feels like old-time religion here — air conditioner broke, women all fanning themselves." Franklin joked, "That's getting it the old-time way."
The former first lady remembered that evening with her own personal statement on Twitter on Thursday. "Watching Aretha Franklin perform at the White House, and on so many other occasions, made time stand still," she wrote, adding that she and her husband "are holding Aretha's family in our hearts right now."
The most iconic moment between Franklin and Obama occurred that same year at the Kennedy Center's tribute to Carole King. She made a surprise appearance to perform "(You Make Me Feel Like) A Natural Woman," a song that King wrote but that's best known as Franklin's 1967 cover. A camera showed the Obamas, who were sitting in the audience next to King, rocking out and visibly moved throughout her performance. Obama pumped his fist during her high notes and famously wiped away a tear after the first verse.
"American history wells up when Aretha sings," Obama told The New Yorker after the event. "That's why, when she sits down at a piano and sings 'A Natural Woman,' she can move me to tears." He added that her rendition of the song "captures the fullness of the American experience, the view from the bottom as well as the top, the good and the bad, and the possibility of synthesis, reconciliation, transcendence."
Obama has been eloquently putting into words what Franklin meant to him and to the country for years. His latest statement speaks to the powerful emotions many are feeling as they mourn her death.