The 'Ocean's 8' Group Text Is Over For A Sad, But Understandable Reason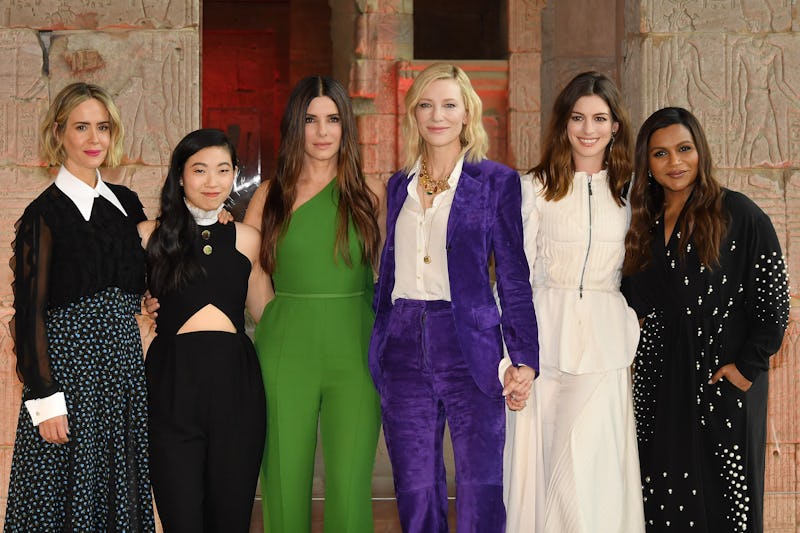 Mike Coppola/Getty Images Entertainment/Getty Images
Based on the Ocean's 8 press interviews so far, it sounds like the cast has gotten super close off screen. There's one record of their friendship that doesn't exist anymore, though. Apparently, Sandra Bullock made the Ocean's 8 cast delete their group text, because she was afraid they'd be hacked.
Bullock revealed during an interview with Entertainment Tonight on Wednesday that she made her co-stars delete the text thread. She told ET,
"Now we're worried about being hacked... Last night, we read through all our texts to each other. 'Remember that moment,' we said, and delete."
Awkwafina confirmed to ET that Bullock did make the other actors delete the group texts, too. "Sandy made us delete them all!" she explained. "They no longer exist." And Cate Blanchett joked that the group of stars now communicates through "lip reading and telepathy."
Rihanna talked about the Ocean's 8 group text during an earlier interview with ET, and said that the text chain hadn't been active since the movie wrapped. The singer and actor, who wasn't on the press tour with her co-stars, told ET she wondered if they'd taken her off of the group text. Fortunately, it sounds like that wasn't the case, and there's no bad blood against Rihanna. Instead, Bullock made the decision to end the chat, just in case hackers got ahold of the thread.
Bullock's justification for getting rid of the group text makes sense, but it's also a sad reminder of the pressure celebrities face. No matter how famous you are, you should be able to have a silly group text with friends without worrying that it's going to fall into the wrong hands. Still, the actor is probably right to play it safe, just in case.
Despite the privacy concerns, though, it sounds like the group text was quite a lively one. And it seems like the group of actors have become close friends offscreen, too. During a press conference at the Metropolitan Museum of Art on Tuesday (the museum and the Met Gala are the setting for the movie's heist), the Ocean's 8 stars shared how much they all love Blanchett. As The Cut notes, at one point, Anne Hathaway referred to her co-star as "Madam President" — the group is definitely close.
Mindy Kaling also shared that she had to speak Hindi, a language she doesn't speak IRL, in the movie. During Kaling's statement, Blanchett apparently interjected to say she was fluent in Hindi, as The Cut reported. But it's pretty clear Blanchett was joking, since she told her co-star, "Oh, you should have told me, I'm fluent."
Kaling also revealed that her Ocean's 8 character, Amita, was one of her more challenging roles to date, both because of the Hindi and because her character is more shy than her typical roles. She said at the press conference, as Popsugar reports,
"I think everyone maybe thinks because I'm Indian I was raised speaking an Indian language, but I wasn't. That part was challenging. But it was fun, because I always play these delusionally overconfident characters, and this character is just like, 'I get to be involved?!' So that was very nice, to play someone who is more shy and gets to come out of her shell. No one's ever accused me of being shy before, so this was a nice character."
Blanchett, for her part, also made a joke about the movie's woman-led cast. When asked if she thought the movie would inspire young women, the actor responded that it would inspire them "into a life of crime," according to Vulture associate editor Jackson McHenry.
Clearly, the Ocean's 8 cast has more than a few jokes up their sleeve, and that hilarity will likely play out on camera in the movie. Whether or not the actors' group text still lives on, it looks like their friendship will continue offscreen long after the film's premiere.