Actress Clare Danes & Translator Emily Wilson Have Breathed New Life Into 'The Odyssey'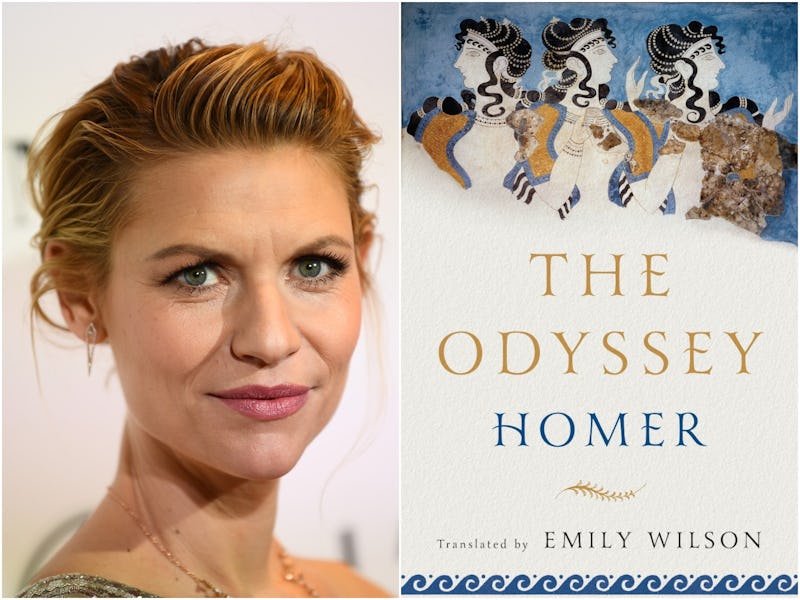 Dimitrios Kambouris/Getty Images Entertainment/Getty Images
In 2017, Emily Wilson made history when she became the first woman to translate The Odyssey into English. Her interpretation Homer's classic breathes new life into the three-millennium-old poem, and so does the new audiobook performance of it by actress Claire Danes. Out now for the first time from Audible, it's the perfect long book to listen to on your drive home this holiday, and Bustle has an excerpt from it below.
Written sometime in the 8th century BC, The Odyssey is a cornerstone of literature's Western canon. An epic poem about war, violence, power, and family, it follows warrior-king Odysseus on his 20-year journey home after the Trojan War. First translated into English around 1615, The Odyssey has been told and retold dozens of times over the centuries. But out of the 60-something English translations to date, only one of them has been written by a woman. That woman is Emily Wilson.
Written in iambic pentameter verse and spanning the same number of lines as the Greek original, Wilson's The Odyssey honors the work's classic poeticism while managing to feel refreshingly modern. Her translation has been praised for its clarity, its creativity, its beauty, and perhaps most notably, its accessibility. It has also been heralded for its complicated portrayal of Odysseus. In Wilson's interpretation of Homer's classic, the hero is not entirely heroic. His questionable actions, namely the murder of his wife's suitors and his ordered execution of the female slaves, are presented with warts and all. Rather than downplay, sugarcoat, or ignore the problematic components of his life — his philandering, his ownership of slaves, his thirst for violence, the inequality in his marriage — Wilson's The Odyssey offers each one up to the readers to examine, reflect on, or judge as they see fit.
Of course, the story's hero isn't the only one to get a makeover in Wilson's translation. The poem's female characters, including the major ones like Athena and the minor ones like Odysseus's sister, are given more space and depth in this new translation than any other. When it comes to The Odyssey, "There's more than one way to be a girl," Wilson told Bustle. "I love that about it."
On Nov. 20, Audible released the first audiobook performance of Wilson's translation of The Odyssey. Read by acclaimed actress and Homeland star Claire Danes, this exciting rendition of the epic poem brings to life all of the action, adventure, magic, and mayhem that make The Odyssey such a beloved work of literature. With the help of Danes's measured narration, Wilson's poetic text vibrates with emotion and offers readers a brand new way to experience an old favorite.
Don't believe me? You will once you listen to this audio excerpt, which features Danes reading the opening lines of Wilson's The Odyssey.
Fresh, lyrical, and fascinating as ever, this audiobook version of The Odyssey allows listeners to enjoy, and maybe even understand, Homer's epic like never before. Danes, who has tackled roles in classics like Little Women, Les Miserables, and Romeo + Juliet, has the perfect voice for bringing to life this tale of adventure, violence, and heartache. Her delivery of Wilson's intended iambic pentameter verse makes what is already an enjoyable read that much more satisfying.
Of course, The Odyssey is not the first time Danes has used her voice talent for audiobook narration. In the past he narrated Barbara Cooney's American Book Award-winning children's book Miss Rumphius, Michael Cunningham's The Snow Queen, and not one but two versions of Margaret Atwood's The Handmaid's Tale.
The Odyssey translated by Emily Wilson and read by Claire Danes is available from Audible now.