'The Office' Auction Sold Props For THOUSANDS Of Dollars — Including Michael's Neon Sign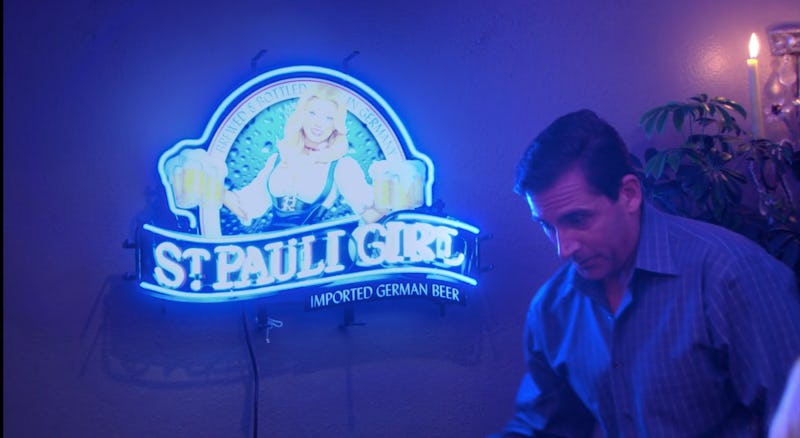 NBC
Give the people a chance to bid on 500 props from The Office and they'll dig deep into their pockets. Let's just hope no one has to declare bankruptcy now that this is all over. One of the The Office prop auction's biggest sellers was from everyone's favorite episode "The Dinner Party." Yes, it's Michael's neon St. Pauli Girl Beer sign that brought in the big bucks. And while that might be a bummer for Jan, who really never liked that sign, she might be happy to see some of the other memorable and slightly odd Office items that sold big.
So this neon sign, which was the catalyst for a Dundee being thrown through Michael's flatscreen, went for $14,000 on 73 bids. And that's not even counting the shipping fees, which start at $14.95 within the U.S., according to Screenbid, but increase based on item size and fragility. It's currently the third best selling item in the auction tied with Michael's desk. Obviously, the sign will really tie the room together whatever room it ends up in.
It was only beat by the huge Dunder Mifflin, Inc sign, which sold for $29,000 on 56 bids, and the Dunder Mifflin Suite 200 glass door, which went for $22,000 on 68 bids. It's clearly understandable why The Office fans would want these particular pieces of the show's history. But, let's be honest, it's much more fun to see which of those less obvious items sold big. Like say, Jan's Pop Art canvas that had her looking like a Warhol, which went for $6,500 and is also from "The Dinner Party" episode.
Dwight's 18 x 12 sign for Kelly's birthday, which he made when he and Jim were head of the party planning committee, also sold for $6,500. For comparison's sake, the "Work Bus" script signed by Dwight himself, Rainn Wilson went for $3,200. For just a thousand dollars less, one fan got a Dwigth's framed photo of teenage Dwight.
Other items that sold for more than $3,000? Michael's mouse pad ($3,600), Michael's Hangman game about Stanley's affair ($4,200), and Jim's phone and desk, which went for $4,500 and $4,600, respectively. Some of the more random items to sell big was Ryan's University Of Scranton Masters in Business degree, which went for $900. As did Stanley's set of puzzle books, Toby's desk lamp, and Pam's mouse.
Not every item in the Screenbid auction, which kicked off on Sept. 20 and ran until Oct. 5., went for thousands of dollars. Fans looking to spend a little less picked up things like Kevin's University Of Scranton cup for $400, Creed's tissue box for $425, and Meredith's books, which include the self-help book Understanding Yourself, Laura Esquivel's Like Water For Chocolate, and The Soul of a Chef, a deep dive into Michael Ruhlman's life as a chef. That set went for $300.
The best bargain went to the fan who spent just $175 for Meredith's paper desk pad, which is a one of a kind since each character only had one of these. Don't worry, all of these items come with a certificate of authenticity so the buyer knows it's legit. While Michael might be sad to know his sign is gone, he should be happy to know someone will be able to stick it some place nice. That's what she said.