This New Wearable Could Be Revolutionary For The 75% Of Women Who Experience Painful Sex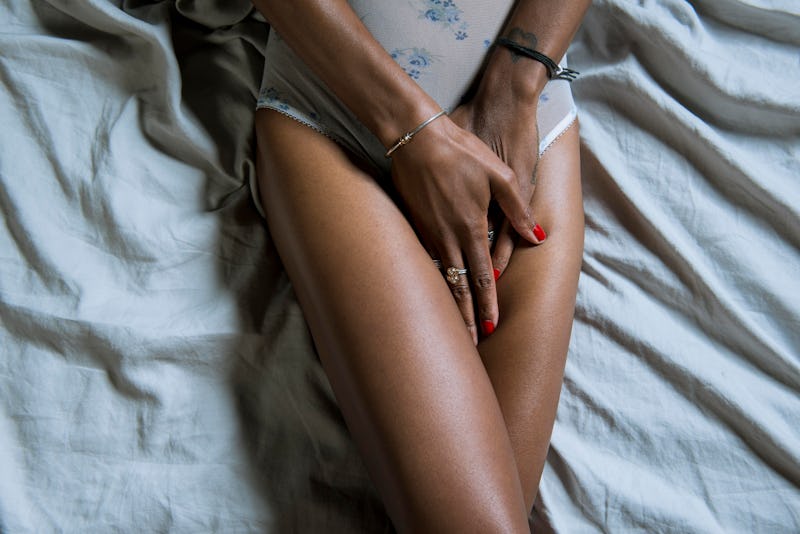 BDG Media, Inc.
A couple years ago, a close friend asked me for advice. He had a new girlfriend and she was in a lot of pain after sex. He wanted to know: Was there anything he could do to help? Was he doing something wrong? From what he described, it sounded to me like he was bruising her cervix during intercourse.
As a sex educator, I know that pain during sex is common for people with vaginas. So common, in fact, that three out of four women experience painful sex during their lifetime, according to The American College of Obstetricians and Gynecologists. And I was dismayed to learn that bruised cervixes certainly aren't the only type of vaginal pain people are suffering through.
"It can be anything from pain with urination, pain with sitting, pain with erections/ejaculation/orgasm, pain with sexual activity or pain with bowel movements," Dr. Rachel Gelman, DPT, PT, tells Bustle. "Patients may report vulvar pain which can be provoked by having something inserted into the vagina (finger, dildo, penis, etc.) or they may have vulvar pain without provocation. They may be unable to tolerate things like wearing tight clothing."
For the suspected bruised cervix of my friend's girlfriend, I had a couple recommendations: Let her be on top, so she can control penetration, and focus more on arousal, as the vagina gets longer when a person is turned on. Also, remember that — just like penises — vaginas come in different sizes and shapes, so what works for one person might not work for another. If I was giving the same advice now, I'd also recommend they check out the Ohnut.
The Ohnut is a new device that's basically a bumper for someone's penis. Worn at the base of the shaft during intercourse, it's made of a body-safe polymer, looks kind of like a dog chew toy, and is size-customizable. Its patent-pending technology allows it to compress easily, but not so much that the person wearing it is able to get to full penetration. It can be put on even when the penis is flaccid, worn in any position, and can even be worn with condoms. (Some users even report that it helps keep the condom from sliding up during intercourse.) The idea is to control penetration for people whose partners are experiencing pain when they go full-penis.
You might be thinking why would someone want to wear a bumper on their penis? Totally reasonable question! I think that most people probably wouldn't ideally want to wear a bumper on their penis — from what I've heard from lovers and friends with penises, it feels pretty good to get it all the way in there. But I also know that any caring, loving person isn't going to want their partner to be pain when they have sex. And if that means wearing a bumper sometimes, then that means wearing a bumper sometimes.
An Ohnut user Michael tells Bustle that it takes the same amount of time to put on the device as it does a condom and that he hardly notices it during sex. And he not only finds the Ohnut to be unobtrusive but also has found that it has some pretty big benefits, including good foreplay and better orgasms.
The Ohnut has also gotten rave reviews from users with vaginas. One user, J — who suffers from vulvar vestibulitis — says it has completely changed her relationship with sex.
"I felt like my body had suddenly changed and was no longer allergic to me having sex," J tells Bustle. "And then I thought 'Oh, people actually enjoy this!' which is kind of a messed-up revelation to have, especially at age 30. Now, my partner and I alternately suggest using the Ohnut (a 'Go get that thing!' or 'I'll go get that thing' is how we usually broach the topic) and it's made me look forward to sex more since I can fully enjoy it."
Ohnut was founded by Emily Sauer, who experienced "deep pain dyspareunia" (dyspareunia is a fancy word for painful sexual intercourse) for 10 years. Not wanting to seem "melodramatic," she lived with the pain until her frustration led her to develop a solution to her own problem. Since then, Sauer has not only created a medical board of pelvic health and pain specialists for her innovative product but also regularly gets requests from doctors looking to get their hands on her product for their patients.
But those doctors will have to wait until Ohnut's Kickstarter campaign — which launched May 15 — is complete. Sauer and her team are raising the funds to bring Ohnut to full production and put their bumper in the hands of as many people suffering from vaginal pain during intercourse as they can.
As for my friend, he took my advice. And a couple of weeks later, his new girlfriend had her first orgasm with another person ever — like an earth-shattering orgasm. Lesson learned: Solving the pain during sexual intercourse pays off, for all involved.