The Oldest Spelling Bee Contestant Will Make You Feel Ancient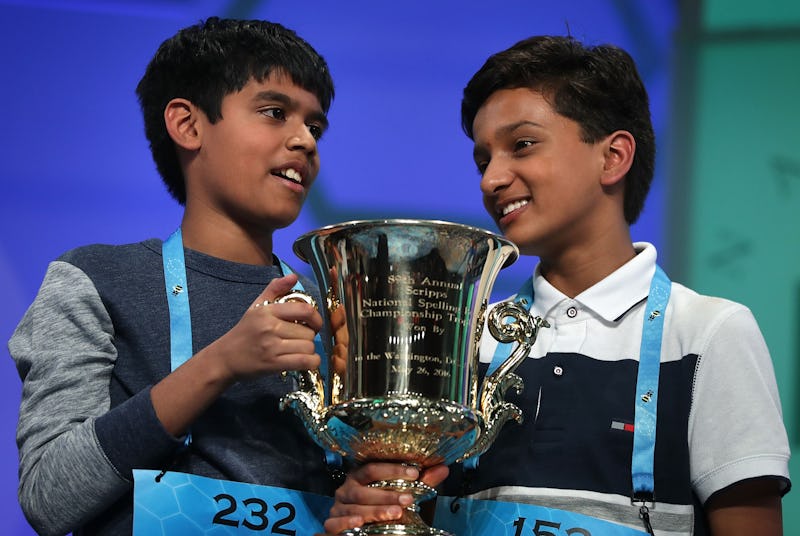 Alex Wong/Getty Images News/Getty Images
The Scripps National Spelling Bee kicks off this week in Washington D.C., and the pressure is on for young contestants vying for the top cash prize of $40,000. The participants, who will compete over the course of two days, are young indeed — even the most senior contestants aren't able to drive without an adult present. 2017's oldest spelling bee contestants are 15 years old, and the majority are several years younger.
The by-laws for the spelling bee are crystal clear. For eligibility in this year's competition, "The speller must not have reached his/her 15th birthday on or before August 31, 2016." That means that between September 1, 2016 and today, three of the 15-year-old contestants had a birthday. But with 291 young people participating, the eldest competitors make up a small minority.
In fact, this year marks a first for age-based competition, but in the opposite direction. Edith Fuller of Oklahoma will be the youngest competitor in the competition's history. Winning her local spelling bee at just five years of age, she beat out the previous holder of that title, Akash Vukoti, who last year became the then-youngest competitor at 6. Fuller won her local competition by correctly spelling "jnana," a word from Hinduism that means "knowledge."
The majority of contestants fall in the 11 - 14-year-old range. Of this year's contestants, there are 35 who are 11 years old, 50 who are 12 years old, 99 who are 13 years old, and 84 who are 14 years old. That amounts to 268 contestants, out of a total of 291.
The Scripps National Spelling Bee has been televised since 1946. Given its enviable distinction as the "longest-running educational program" in the nation, it appears undeniable that Americans are attracted to and supportive of this contest of spelling.
In fact, a spate of movies based around spelling bees led Dana Stevens of The New York Times to comment in 2006 that "the spelling-bee film is fast becoming a genre unto itself." In one of those spelling-centric films, Bad Words, age is the primary driver of both the conflict and the humor. Guy Trilby, the 40-year-old protagonist of the film, exploits a loophole in the by-laws of the spelling bee that restrict contestant eligibility to those who have not passed the 8th grade. Despite his age, Trilby never graduated middle school. Thus, he competes, much to the chagrin and disgust of his fellow competitors and their parents.
No such shenanigans are in the lineup for 2017's Scripps National Spelling Bee. An educated guess based on elementary statistics suggests that whoever is crowned 2017's winner on June 1 will likely be somewhere between ages 11 and 14.