The 'Once Upon A Time' Cast Can Sing & They've Embraced This Musical Episode Opportunity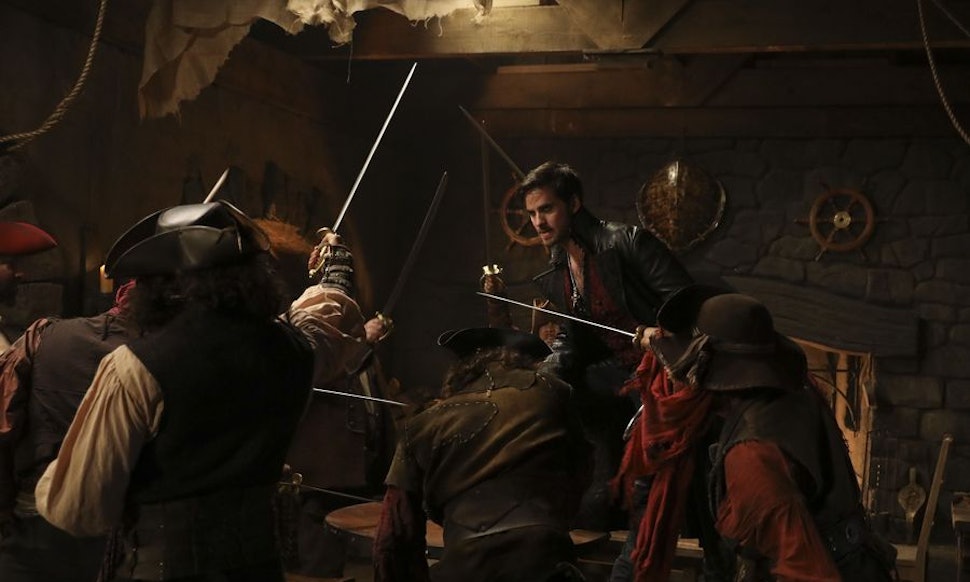 Jack Rowand/ABC
It seems natural that a show like Once Upon A Time, which frequently draws from the wonderful world of Disney in order to populate its fairy tale world, would do a musical episode. Disney princesses and hummable melodies go hand in hand. The thing is, can the cast of Once Upon A Time sing? While you may not have bought any of their albums recently, they're ready to raise their voices.
Typically, or at the very least recently, when a television show does a musical episode there are a handful of known musical theater performers in the cast. It is a time earned tradition for Broadway actors to hop over to television, whether its Law and Order or a popular superhero series. Oddly enough, this is not the case with Once Upon A Time. No Broadway stars in this bunch, but of course that doesn't mean they can't sing. It just means that the clips I found are a little unconventional. For example, Emilie deRavin sung on Lost once, she can clearly carry a tune, but it wasn't a big solo number. None of these actors have hit up a piano bar or a cabaret recently, but they're still equipped to take on "The Song In Your Heart."
So please, join me on my journey to the depths of Youtube. This is what I was able to mine, and I did find a few gems.
Jennifer Morrison
Once music ! on YouTube
Here's a clip of Emma Swan herself singing in Albion: The Enchanted Stallion.
Colin O'Donoghue
Killy Bear Hugs on YouTube
Not only does Hook sing in The Dust Storm, he was also in a band called The Enemies for many years.
Lana Parilla
Alicia mills on YouTube
I'm going to defer to the internet for these short clips of Parilla singing here and there. She's clearly suited for many styles of music.
Josh Dallas
ViolettkaVi on YouTube
Excuse me, how did I not know about this? In 2007, Dallas appeared in the English National Opera production of On The Town alongside Sean Palmer, who would go on to play Prince Eric in The Little Mermaid on Broadway. Dallas also appeared in several shows on the London stage including The Boy Friend and The Secret Garden.
Ginnifer Goodwin
DisneyJuniorUK on YouTube
Here's a Disney connection — Goodwin plays Gwen in this clip, and joins Sofia in song. Very cute!
Rebecca Mader
hmfergie on YouTube
I'm not sure what the context is for this, but I'm not complaining.
Robert Carlyle
May Carrara on YouTube
Finally, Robert Carlyle is clearly an accomplished musician as well as an actor. So really, the Once Upon A Time musical episode is giving this lovely cast of talented singers a chance to stretch their pipes when they aren't usually asked to do so. That's delightful, and I can't wait to see more.