The 'OUAT' Cast Honors A Manchester Victim Who Was A Huge Fan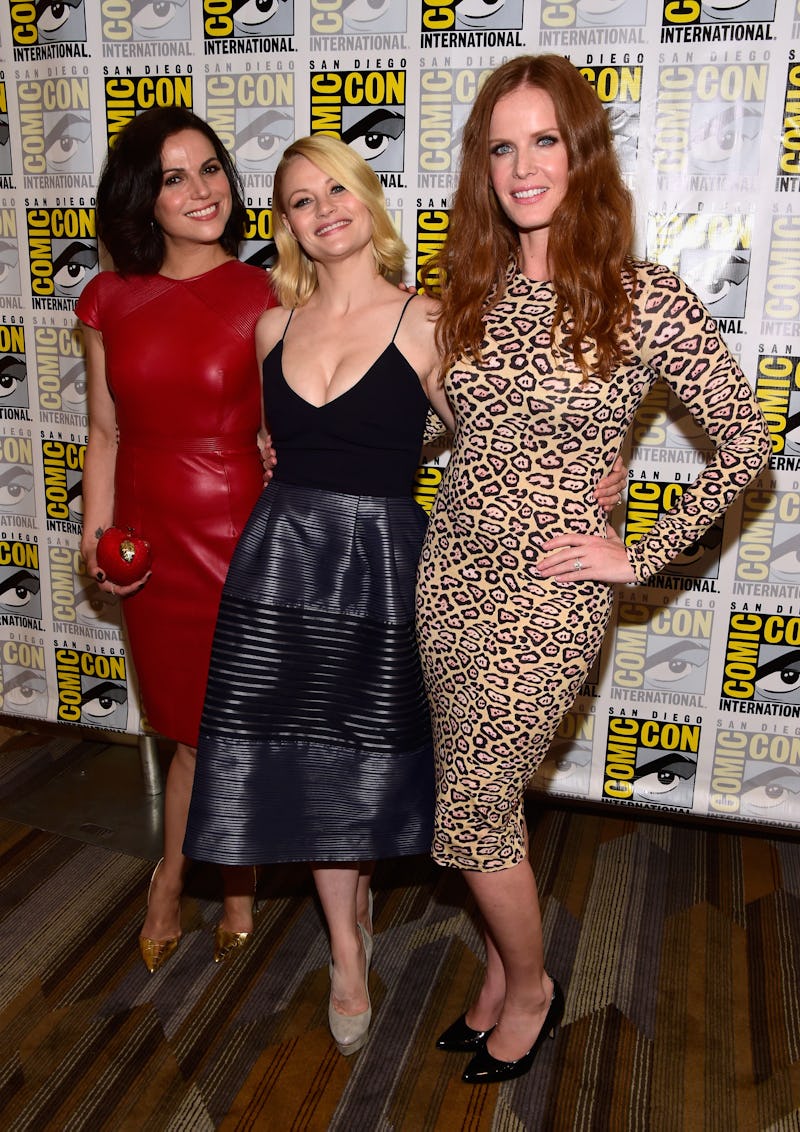 Frazer Harrison/Getty Images Entertainment/Getty Images
The sadness remains (and will for time to come) revolving around the Manchester bombing that took place Monday in England at an Ariana Grande concert. Sadly, according to police officials, the bombing took the lives of 22 people. Tributes for those who died are all over the internet, including ones from the Once Upon a Time cast honoring a Manchester bombing victim, who meant something near and dear to them.
As reported by The New York Times, 18-year-old Georgina Callander, who was a health and social care student, died in the bombing. She was the first victim to be publicly identified, according to the Evening Standard. A friend of Callander spoke to the outlet about her and said, "We were all praying for her to be found safely. Then we were told she had passed away. She was always very open, would talk to everyone. She was so nice. It does not feel real. I just pray for her family."
In addition to her love for Grande, Callander was also a huge OUAT fan and even had the opportunity to meet some of the cast members just this past April. Clearly, she made quite the impression, because several stars from the ABC drama have shared touching messages remembering Callander on both Twitter and Instagram. Based on their images and beautiful words, there's no doubt these actors will forever hold Callander in their hearts.
Emilie de Ravin
De Ravin also took to Instagram, where she wrote:
RIP Georgina you beautiful soul...words can't express my anger and sadness towards the people involved in planing and carrying out the attack last night in #manchester . [broken heart emoji] is an understatement. My love and courage goes out to Georgina's family and friends and to all the families and friends of the victims last night. Praying for eternal peace for Georgina and all involved... [praying hands emoji] xoxo
Rebecca Mader
Mader is understandably upset. "I can't believe Georgina was one of the victims in Manchester... I am so heartbroken," she wrote on Instagram next to a sweet photo of herself hugging Callander. "She was so sweet and kind. Her smile lit up the room. I'm sending love to all that knew and loved her [green heart emoji]."
Sean Maguire
Maguire, who plays Robin Hood, can't believe that Callander is gone, in addition to everyone else who lost their lives or have been affected. "This is Georgina she was young and sweet," he shared on Instagram. "I just met in April. She and 21 others were killed in last nights horrendous attack in Manchester. Our family is praying for all those effected by this senseless tragedy."
Lana Parrilla
"We sadly lost a ONCER in the tragic #Manchester bombing last night," Parrilla wrote on Instagram. "Her name was Georgina Callander. She was a sweet, loving girl and will surely be missed. Sending prayers, love and light to her family & friends. Georgina, you will forever be a part of our ONCE family. We love you [heart emoji] RIP @emiliesatwell [praying hands emoji]." Parrilla has also changed her Twitter profile picture to one of herself and Callander.
Colin O'Donoghue
The man who brings Captain Hook to life is at a loss for words.
Raphael Sbarge
As you can see above, Sbarge is "heartsick" over the events, including Callander's death.
Karen David
David plays Jasmine and wrote quite the lengthy tribute for Callander. Her full Instagram reads as follows:
I'm deeply saddened to hear that this sweet, and beautiful lady, Georgina, who I had the pleasure of meeting and talking to for awhile, only a couple of weeks ago at #SBUK3 was one of the innocent victims in tonight's atrocity in Manchester. It's not fair, it's not right. It makes me so angry and it breaks my heart that such a young and promising life has been stolen away! But I refuse to give in to hatred. I continue to choose love. I continue to choose unity because when we join together, we are strong! We will not be afraid. Dearest Georgina, may your kind soul rest in peace. Heaven has gained an angel...My thoughts and prayers are with you, your family, and your friends.
It's clear that the OUAT cast will never forget Callander and the beautiful young woman they were lucky enough to once meet.